A 19-year-old woman who spent all of her teenage years undocumented has told of her joy and relief after finally being granted permission to remain in Ireland.
Dikhsha Ramsurn was born in Mauritius, but moved to Ireland with her family when she was nine.
She discovered she was undocumented two years later.
"Finding out that you are undocumented at such a young age is very hard.
"I remember asking my mum 'when are we going to go to Mauritius?' Because all of my classmates were going on holiday, to places like Spain. And my mum was like 'we can't go, because we don't have our papers'," she said.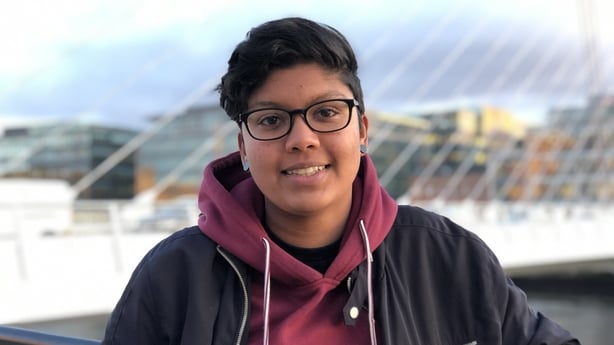 An estimated 20,000-26,000 undocumented migrants, including 2,000-3,000 children and young people, are living and working in Ireland.
Just like undocumented Irish people living in the United States, they cannot become citizens as they have no right to residency.
They are unable to access third-level education and have no right to work.
"We have this saying of a bird being trapped in a cage. But it's worse than that. It's a bird trapped in a cage without any wings," Dikhsha explained.
After years of living in fear and uncertainty, Dikhsha received some life-changing news last month.
She was one of a small group of young people to get their papers through the 2018 Student Scheme.
The scheme allowed certain non-EEA (European Economic Area) nationals, who came to Ireland to study between January 2005 and December 2010, to apply for permission to remain in the State.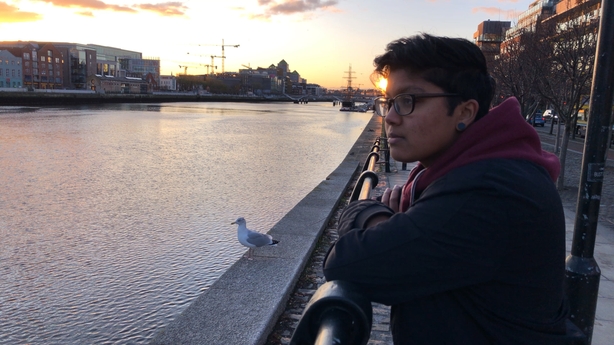 The "special" news that Dikhsha had received her papers was shared on Facebook by Migrant Rights Centre Ireland (MRCI).
It was accompanied by a photograph of her as she travelled to Brussels to speak at a conference about growing up undocumented.
Mairéad McDevitt, a youth worker with MRCI said: "It was just a very proud, very emotive moment because Dikhsha is a founding member of the youth group 'Young, Paperless and Powerful'.
"Yes, she has been public in other spaces, but not as 'undocumented'. And then here she was getting her papers and all those opportunities are coming to her.
"Having the right to work. Access to the labour market. Being able to travel. Going to a conference where we are actually talking about migration and politics and how that impacts people."
MRCI said more than 3,800 people and organisations have signed an open letter calling on the Minister for Justice to open a pathway to papers for undocumented children and young people "to give them stability, security, and hope for the future".
The letter is being delivered to the Dáil today, ahead of Universal Children's Day tomorrow.
Meanwhile, Dikhsha is saving to go to college, where she hopes to study law.
She is also vowing to continue raising awareness of the situation facing the children of undocumented migrants in Ireland.
"I'm still fighting for undocumented young people. I haven't given up because I know the feeling and I know what it feels like," she said.