As part of RTÉ's Big Picture on Climate Change, Correspondent Paul Cunningham has returned to Arctic Greenland to assess what's happened since his last assignment there in 2006.
The tallest icebergs in the world were towering in front of me, pristine and glistening in the Arctic sunshine.
But, standing there in western Greenland three weeks ago, this scene didn't have the effect on me you might have expected. This was no silent awe-inspiring moment. Instead, it felt unnerving.
In a small motorboat with my RTÉ colleague Magnus Kelly, we drifted among the icy skyscrapers on the wonderfully named Disko Bay. The tallest of the icebergs in front of us was around 80 metres high. To put that in context - Cork's County Hall, at 17 storeys, is only 67m tall.
But these magnificent icebergs of Disko Bay were once double that height. This dramatic change has happened in living memory. Our guide and skipper, Jan Cortsen, looked out across the bay and reminisced: "They seem big to you. The icebergs. But not to me. To me, they are so much smaller than when I was a child."
Magnus and I had first travelled to the nearby town of Ilulissat in October 2006 to see the effects of climate change on the icebergs. Already it was clear by then that the entire Arctic region was warming faster than the rest of the world - the icebergs were shrinking and the sea ice was disappearing.
Last month, we saw more evidence - climate change is exacting a continuing toll on Greenland's Arctic environment.
From Jan's boat, we could see that many of the smaller icebergs in Disko Bay looked dirty. They were studded with grit, stones and sand. It wasn't just the odd one, as had been the case in 2006. This time there were blackened icebergs all around us.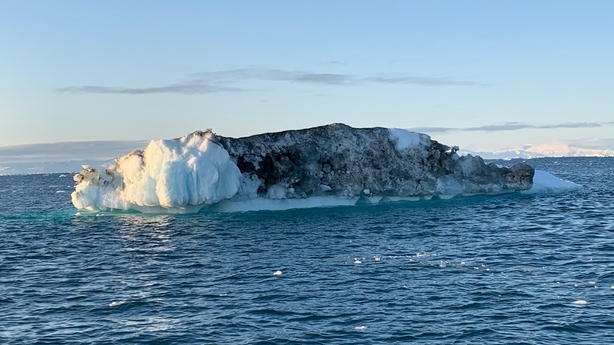 Jan explained to us how the glacier which calved these icebergs - Jakobshavn - had retreated so far back up the ice-fjord, in a decade-and-a-half, that it no longer had much contact with the water in the fjord. Consequently, the icebergs were scraping down the sides of mountains, picking-up the grit, before crashing into the fjord.
Back in the noughties, I had been RTÉ's Environment Correspondent - a time when climate change was beginning to grab the public's attention.
Three big events had happened roughly within a year which triggered a surge in media coverage of the topic: Al Gore released his documentary 'The Inconvenient Truth'; the UK government published its Stern Report on the economics of tackling global warming; and the UN's Intergovernmental Panel on Climate Change (IPCC) released its highly influential 4th Assessment report.
I'd covered all three stories thanks to Frank McDonald, then Environment Editor at the Irish Times, who, years earlier, had badgered me into reporting more on climate change. We were at a government briefing together on Ireland's approach to an upcoming UN summit in Canada at which the Kyoto Protocol, the world's first bid to reduce greenhouse gases, was going to come into force.
After bashing at his keyboard, famously using only two fingers, Frank peered over his glasses and, in his direct way, asked: "Are you going to Montreal?" I think I shrugged my shoulders in reply, and he followed-up with a slightly irritated observation: "Well, you should be reporting from it. You should be there." It worked. I went.
And I continued to report on climate change from Brussels, when I worked there as Europe Correspondent from 2011 - a time when the EU was deciding on targets for emissions reduction which had to be met by 2020.
My current brief, as Political Correspondent, includes reporting on how the Government has devised its Climate Action Plan to meet the EU's 2030 targets.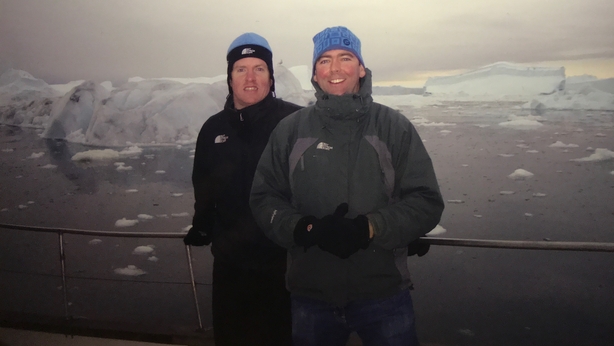 So when RTÉ decided to go big on climate change during Science Week 2019, it was Magnus and I who found ourselves on a flight back to Greenland.
Waking in Ilulissat on a sunny Sunday morning, it was straight out onto the water with our guide Jan. My weather app said '-7C but feels like -14C'. And it did.
Being back in that white Arctic wilderness was breathtaking. The enormous icebergs, some jagged - some smooth, towered over our tiny boat. Several were criss-crossed with dark blue stripes, where the ice had melted and then refrozen.
Jan steered us expertly between the icebergs while regaling us with stories, such as how the icebergs can collapse and trigger a tsunami; or how they can crack underwater causing a gigantic iceberg to emerge like a breaching whale in front of you without warning.
Twenty minutes later, we were filming whales. This time, unlike in 2006, we had brought a drone. The freedom it gave us to film in the wild was heart-stopping.
Magnus hovered the drone over two humpback whales as they navigated the icebergs at the entrance to the icefjord. Filming from the boat, we could only capture the distant spray from the whale's blowhole. Now we could track up close a mother and calf coming up for air and then diving deep into the Arctic waters.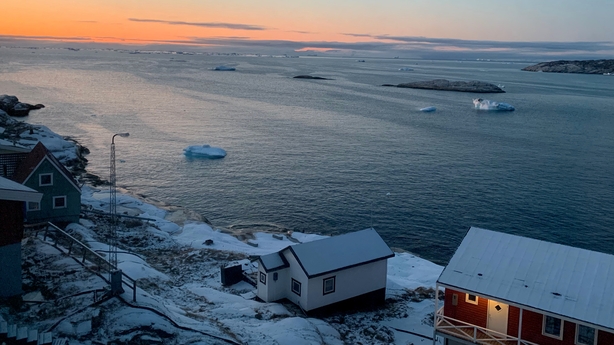 With both the light and temperature dropping, Jan turned back towards Ilulissat and filled us in on how this summer had been unusually warm here.
And the science backs this up. Between 29 July and 3 August 2019, Greenland's ice had experienced its greatest ever summer melt.
A report from the US National Snow and Ice Data Center said the five-day period had set "...temperature records" and that the melting on the ice sheet surface amounted to "...about 90%" of its mass.
It concluded: "Melt runoff was estimated at 55 billion tons during the interval, or about 40 billion tons more than the 1981 to 2010 average for the same period."
Looking at Ilulissat, as it came into view, it was clear to us that the town had grown substantially in the 13 years since our last visit. We had noticed a large number of tour boats on the water. Now we could see the shiny new hotels which had been built to accommodate the visitors.
The following day I would interview one of the hotel managers about this recent tourist boom and interest in the icebergs. His answer said it all: "They want to see the ice before it melts."
---
Paul Cunningham blogs from the Arctic as RTÉ launches #rteonclimate - a week of news reports and programmes on climate change