It's been a tumultuous few weeks for Donald Trump. 'What's new?' I hear you ask.
Well, this time it was different. This time he attracted criticism from Republicans.
Condemnation from Donald Trump's own party is rare, but there were plenty of examples of it in recent times, sparking lots of speculation that his support among Republicans may be wavering.
It started with the US President's controversial decision to pull US troops out of Syria, a move that has been criticised from the highest levels of the Republican party.
One of Donald Trump's strongest supporters and allies, Senator Lindsey Graham, described the Syria decision as the biggest mistake of his presidency.
The Senate Majority Leader Mitch McConnell said the withdrawal of US forces was a grave strategic mistake.
"It will leave the American people and homeland less safe, embolden our enemies, and weaken important alliances," he said.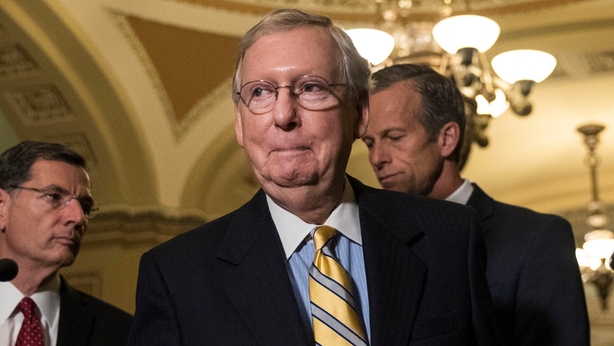 Next came Donald Trump's controversial decision to host next year's G7 Summit at his own resort in Miami, Florida.
The move was announced by his acting Chief of Staff Mick Mulvaney, who told reporters that Trump Doral was "far and away the best physical facility for this meeting" and "perfect for our needs".
But Republicans viewed it as far from perfect and once again there was pushback and criticism from the president's own party.
It forced Donald Trump into announcing a u-turn. The summit would not be taking place at his own resort.
This week, there was more criticism from Republicans when President Trump compared the impeachment inquiry to a "lynching".
"Given the history of our country, I would not compare this to a lynching," Senate Majority Leader Mitch McConnell said. "That was an unfortunate choice of words."
Damaging testimony this week from a key witness in the impeachment inquiry also sparked concerns among Republicans.
The US Envoy to Ukraine Bill Taylor gave evidence that a White House visit and military aid was tied to Ukraine announcing investigations into Donald Trump's political rivals.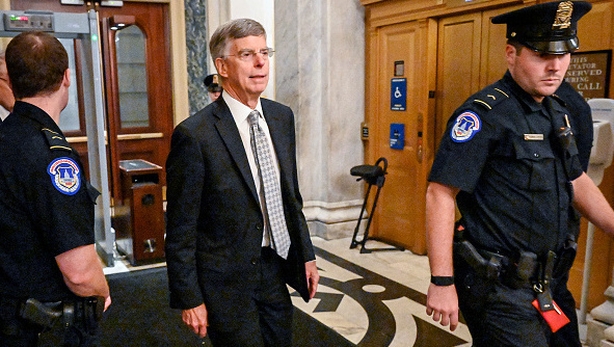 This was a direct contradiction of the president's repeated denials that there was a 'quid pro quo' in his dealings with Ukraine.
Donald Trump fully expects to be impeached in the House of Representatives, which is controlled by the Democrats, but he needs the support of Republicans to block the move in the Senate.
No doubt aware of unease among Republicans, Donald Trump adopted his usual twin-track approach: attack your enemies and rally your support base.
First the rallies. In speeches over the last week, he called on Republicans to be united and strong, and to stand up against the impeachment inquiry, which he has branded a witch-hunt and a scam.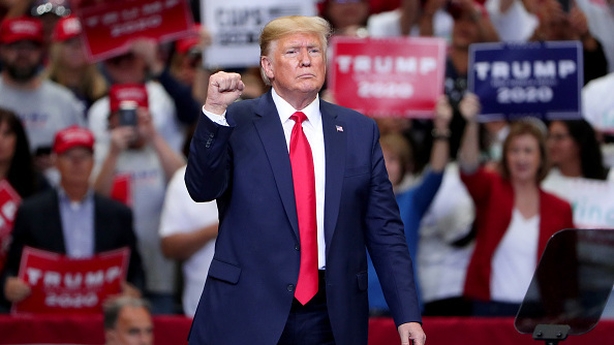 Clearly some were listening. On Wednesday, a group of Republican members of Congress stormed a private impeachment hearing on Capitol Hill to highlight their anger at the fact that the inquiry is taking place behind closed doors.
Democrats dismissed it as a stunt, pointing out that many of the Republicans who 'stormed' the room were entitled to attend the hearing if they wished because the investigations are being carried out by bipartisan committees.
On Twitter, President Trump thanked the Republican members of Congress, describing them as tough and smart.
But he also used Twitter this week for the second phase of his response; attack.
He described Republicans who don't back him as "Never Trumpers". He said they were worse and more dangerous than Democrats and were "human scum".
So will Republicans abandon Donald Trump in his hour of need? Will they allow him to be removed from office?
Unlikely. With one year to go to Election 2020, Republicans know he is their best chance of retaining the White House.
So far, the current Democratic candidates have failed to ignite voters with reports this week of party donors looking at potential big-name late entry candidates such as Hillary Clinton, Michael Bloomberg or Michelle Obama.
Whoever he is up against, Donald Trump will come out fighting once the presidential campaign gets into full swing.
If he calls members of his own party "human scum", what does he have in store for his Democratic opponent?