Now a major event in the public calendar, thousands of people are expected to flock to Cork City centre tomorrow night where upwards of 100 free events will be taking place.
From the English market to Emmet Place, organisers promise something for everyone - from cultural boat trips on the river, to musical bus rides around the city.
At the Glucksman Gallery, there will be 12 hours of music and dance performances. The Kabin Studio rappers will be enlivening Fitzgerald's Park, while Cork's City Hall is to transform into a playground thanks to the "Around the World in 80 Games" extravaganza which will take over the Atrium, Concert & Millennium Halls.
Pitch'd Circus will be performing on the Coal Quay, with Cork University Hospital's Scrubs choir also out and about in full voice.
And the English Market will remain open welcoming visitors keen to sample some great music with their food.
And if you fancy a pint with your history, local historian Tom Spalding will be on tap at Callanan's on George's Quay.
---
More on Culture Night Cork City
---
Across County Cork, there are more than 134 free events taking place with organisers promising something of interest to all comers - young and old.
The atrium in Cork County Council's headquarters will be transformed into the county's biggest craft fair from 4pm with Bosco, the Irish Guitar Quartet and singer Lisa O'Neill among those scheduled to entertain the public.
Novelist Louise O'Neill will be interviewed by Cork County Culture Night Ambassador and star of the Young Offenders, Demi Isaac Oviawe in the Council Chamber at 7pm.
On the Beara peninsula, the Anam Cara Writer's and Artist's Retreat in Eyeries will host local musicians with good time for all guaranteed, according to the organisers.
Baile Mhic Íre in mid Cork is hosting an evening of music and culture while in Bantry, the local community Choir will be raising the roof of Bantry Library with music from the Beatles to Mozart.
In Youghal, there will be historical tours of Freemasons' Hall, and its museum, while the life of Forence Newton, the witch of Youghal, will be explored in a photographic and factual exhibition.
Uillinn West Cork Arts Centre in Skibbereen will host an evening of dance, music, and a celebration of the visual arts.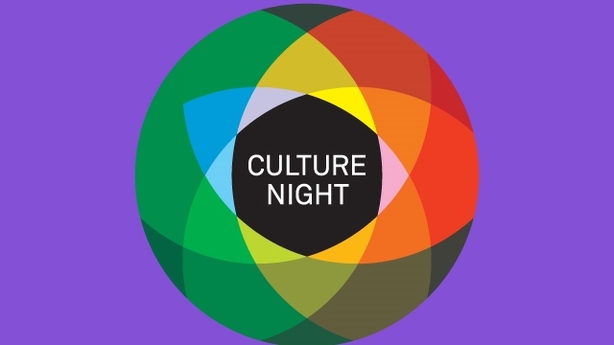 ---
More on Culture Night Cork County
---
In County Kerry, dozens of free events will take place, among them local musicians gathering in Browne's Bar in Castleisland to celebrate the life and work of Daniel J. Hannon, with the music of Sliabh Luachra set to draw the crowds to Tureencahill Community Centre from 8.30pm.
There is plenty for all ages in Dingle too, with the local library shining a spotlight on its special collections of items of local interest, and at An Díseart artist Deirdre McKenna hosting a print workshop.
In Killarney, the fifth Kerry Visual Artists' Showcase launches at 6.30pm at the Department of Culture, Heritage and the Gealtacht offices on New Road, while DB O'Connor will entertain with an hour of storytelling, sean-nós singing and dancing at the newly refurbished Killarney Cultural Centre.
The famous 'Wran' bird will be the subject of a talk by the Kerry Archeological and Historical Society at Killarney Library, while Declan O'Rourke will be in concert at the Muckross Schoolhouse.
And for those with plenty of energy, organisers say Fossa Community Centre will host a set dancing ceilí.
In Listowel, the Kerry Writers' Museum hosts an evening of poetry, story, song and music with Billy Keane taking the reins at Keane's Bar with theatre, song and music.
The hugely popular Ceilí Afro Dabke takes place at the Presentation Primary School Hall in Tralee from 7.30pm while there is a full programme of events running at the Kerry County Museum.
This is just a flavour of what is happening across the Kingdom - more detail and more events can be found on
---
More on Culture Night County Kerry
---