Fewer than one in 250 teenage girls in Ireland cycle to school each day, according An Taisce, and the ones who do cycle say verbal harassment from boys and men is a top deterrent.
The environmental charity is starting a campaign through its 'Green-Schools' initiative, to try to encourage schoolgirls in particular to cycle.
It said people who do not cycle as teenagers are far less likely to cycle as adults.
An Taisce said teenage girls face a range of social barriers that need to be addressed if they are to feel secure and confident on bikes. These barriers are on top of the safety concerns that prevent many people from cycling.
Research carried out on behalf of the organisation found that those social barriers to cycling include regular intimidation and harassment from men and boys, as well as a perception that cycling is not cool.
Teenage girls also complain that wearing school skirts makes cycling more difficult and makes them feel more vulnerable on a bicycle.
Green-Schools Travel Officer Caitriona Buggle said: "It's not that girls are not choosing to cycle, or that they don't want to.
"It's that they feel it's not an option for them. They feel excluded."
The majority of cyclists in Ireland are men and in their 30s, so-called "risk-taking males". Just one in four people who cycle are female.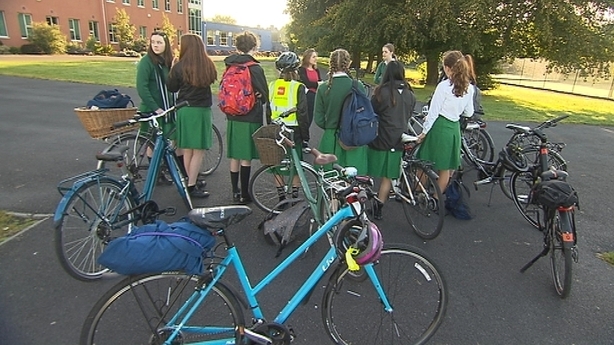 Green-Schools said that for Ireland to move towards becoming a carbon neutral economy, and to develop sustainable transport, cycling needs to become a viable option for everyday journeys for everyone.
According to Census data, in 1996 one in four students who cycled to school were female.
By 2002, that proportion had fallen to just one in ten and that imbalance has not changed since then, An Taisce said.
"You can have all the cycle lanes you want," said Ms Buggle, adding, "but teenage girls still won't cycle because they feel it's not for them."
Among those who participated in the An Taisce research were students from Muckross Park College in Dublin and all-girl Dublin school where many of its students live within easy cycling distance.
However, out of a school of more than 700 students, just around 20 students cycle to school often. This may seem extremely low, but An Taisce said it is a very high proportion compared to other schools.
"A lot of people, particularly men drivers, tend to yell at us and they are just really unkind"
Speaking about the barriers they face, some students at Muckross outlined physical impediments and safety concerns experienced by many cyclists, such as narrow roads with no space for cyclists, difficult junctions, potholes, car doors opening suddenly, and feeling intimidated by passing buses.
However, they also outlined one other physical barrier unique to them - school skirts and said wearing a skirt restricts their movement and also makes them feel self-conscious.
"It's more difficult to get on your bicycle," said Róise. "It's not practical, it can get caught in the wheels; having to wear a skirt could have stopped me from cycling.
"You can't stand up on your bicycle because you have to rearrange your skirt when you sit down again", said another student.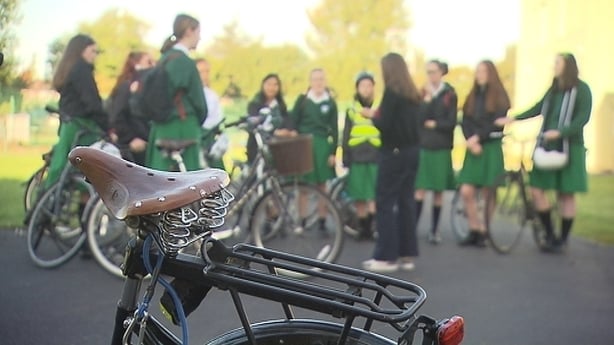 But even more of a deterrent is the intimidation and harassment the girls encounter when they are on a bike.
"A lot of people, particularly men drivers, tend to yell at us and they are just really unkind and they yell horrible things," Kate said. "It's horrible," she adds. "We really take it to heart."
"When I'm cycling home, more than half the time I'll get boys and men shouting at me," said Katie.
"It just makes me feel really uncomfortable and really inferior."
"There is a belief that female cyclists are 'not as good' as male."
Another girl spoke about a group of boys who shout at her when they see her on her bicycle. "It's so embarrassing," she said. "I am already red from cycling and I just get redder."
The girls agreed that girls get shouted at and harassed anyway. "It happens everywhere," one said. "It happens whether you are on a bike or not.
"But it's worse when you are cycling because you are more noticeable," another added.
"Once you get on a bike everyone feels they can say whatever they want to you, and it puts you off cycling," said Ella.
The girls feel that they receive these unwanted comments because they are young and because they are girls.
"I feel that women are embarrassed to cycle," said Alannah. "A bit like female drivers, there is a belief that female cyclists are 'not as good' as male."
Peer pressure from other girls, and the desire to "fit in", is an issue too. Some said that they did not like arriving at the school with their bikes and with a helmet on.
It is clear that they feel self-conscious about cycling. "I feel a bit silly in a helmet, and the high-viz," said Maria, who is in first year.
The new campaign aims to challenge these issues and perceptions, and change them.
Through its Green-School initiative, and using the hashtag #andshecycles, An Taisce hopes to work with schools to support and encourage female students to cycle.
Despite all the drawbacks however, the girls at Muckross Park say cycling is still a joy, and they say other girls should try it. 
"It's the headspace," said Kate, who is in sixth year., adding that she loves the feeling of the cold air in the morning. "It really wakes you up."
The students say that cycling is liberating. It gives them independence.
For Róise, this is the thing she loves most about cycling. "I'm not allowed to walk places by myself when it's dark, but I can cycle because it's safe," she said. 
"It's just a really nice thing to do," said Lily. "It's time to yourself, and it's good for your mental health."