Kevin Kelly raises his hands to his face and jumps out of his seat.
There is a roar from the crowd watching Bohemians play Waterford FC at Dalymount Park.
Bohs have just hit the crossbar and Kevin is just as excited as the rest of the home supporters sat around him.
But this is all a unique experience for the 32-year-old, who is originally from Donegal.
Kevin, who lost his sight following retinal detachment in 2001, usually listens to matches on the radio.
But tonight he is experiencing the thrills and spills of a live League of Ireland game for the first time in almost 20 years.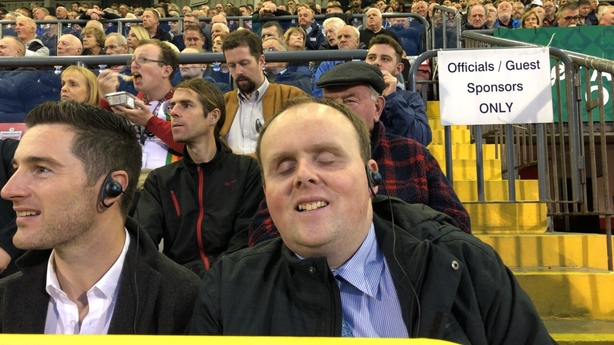 It's thanks to a new initiative from Bohs and the National Council for the Blind in Ireland (NCBI).
They have teamed up to make live games more accessible to visually impaired football fans through audio description.
NCBI visual impairment specialist James Flanagan said: "This is the very first time in the League of Ireland that there will be audio described commentary for visually impaired people.
"This is happening at other clubs across Europe. So I thought we should offer it to fans here too. Sport should be accessible for everyone."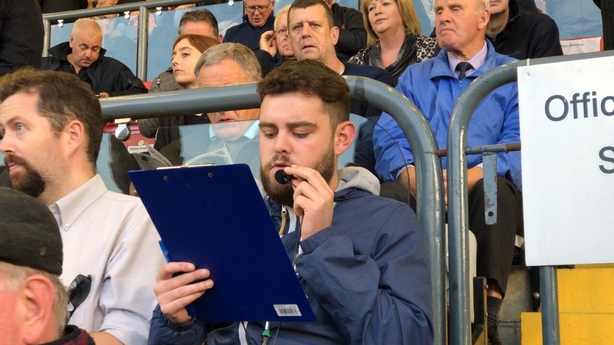 James is providing audio description to Kevin and two other visually impaired fans.
The commentary comes in through an ear piece in one ear, leaving the other ear free to hear the crowd and match noises.
Kevin said: "Tonight is a historic night for people who are blind and visually impaired in Ireland. There are 54,000 people living in Ireland with sight loss. Quite a number of them have a real interest in football.
"There's nothing better to make you feel part of your community than going along and supporting your team."
The pilot project will run at Dalymount for the rest of the season.
The NCBI hopes to partner with other clubs next season.