Protesters have attended marches in London and elsewhere across the UK today over the British Prime Minister's approach to Brexit.
The March for Change rally held in Parliament Square was largely seen as a key event, alongside 35 other marches held at the same time across the country.
It featured appearances from speakers including Labour and Co-operative MP Lloyd Russell-Moyle and Green Party co-leader Sian Berry.
Speaking on stage in London, Mr Lloyd Russell-Moyle branded Brexit as "evil", praising every day that the UK remains part of the European Union as a "victory to our movement".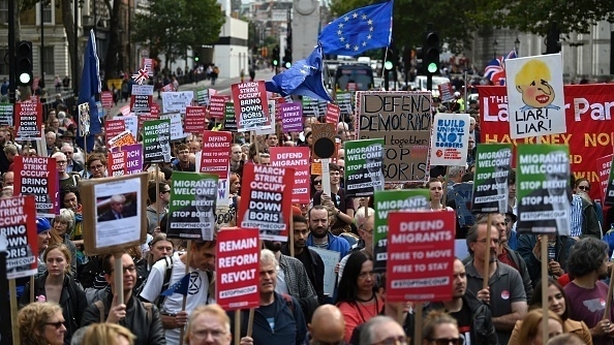 He said they were not the ones trying to turn the country into "an English, white nationalist country", adding: "We are not the ones destroying the rights of migrants, they are. Just like all things, good will triumph over evil and Brexit is evil."
Mr Russell-Moyle continued: "This country has a proud history of getting things wrong and learning from our pasts and getting it right.
"We will learn from the errors of Brexit. We might be the first country to vote out, but we will be the first country to vote back in and be proud Europeans," ha said.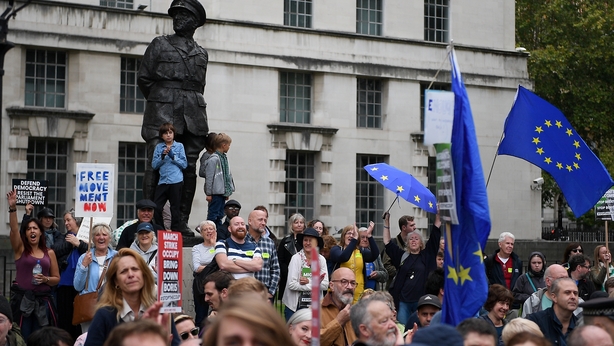 Green Party co-leader Sian Berry praised the work of opposition MPs for proposing and passing a Bill to prevent a no-deal Brexit prior to the suspension of Parliament.
Speaking at the rally, she said: "They have all worked so hard this week, adding: "We are here to defend the very core of our society, our democracy."
Ms Berry then addressed the pro-Brexit protesters on the other side of Parliament Square.
"That's why they're here today, they know they're losing," she said.
Meanwhile, another anti-Brexit key speaker and MP Anna Soubry cancelled her speech at the March for Change rally saying she was too frightened to speak due to protesters who support Brexit.
The leader of the Independent Group for Change had been scheduled to speak at the rally but shortly before the event she told organisers she was too frightened to speak due to intimidation from counter-protests held by the Democratic Football Lads Alliance.
Ms Soubry said: "I don't know what I'm going to do. It's awful but there's also a side of me that thinks that this is our country.
"I'm a parliamentarian and I have a right to speak and I shouldn't be frightened but it's very, very, very disturbing, and I'm very frightened actually."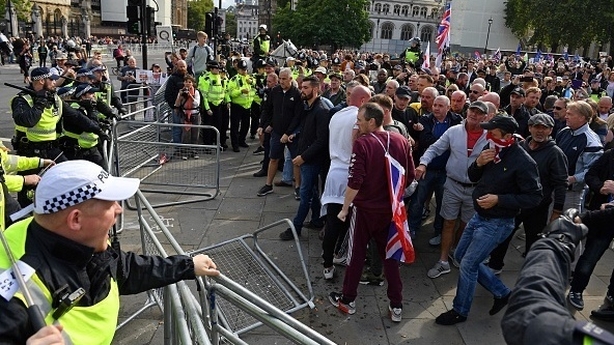 After consulting with the police and protest organisers, Ms Soubry left the rally, telling officers she did not want to cause additional issues for them as they monitored both events.
Two groups of pro and anti-Brexit protesters clashed earlier on Parliament Square when about 200 people joined a pro-Brexit demonstration organised by the Democratic Football Lads Alliance (DFLA) this morning.
When members of the anti-Brexit group March for Change began to set up for a rally of their own, some members of the DFLA approached and began shouting.
Following the altercation, the anti-Brexit march organisers decided not to use a blimp in the shape of Boris Johnson that had been set to fly during the rally.
Tom Brufatto, one of the directors of the March for Change, said: "We are here to demonstrate peacefully and defend our democracy.
"We have been attacked three times. We respect people's right to protest but we do not respect people's rights to intimidate and be aggressive.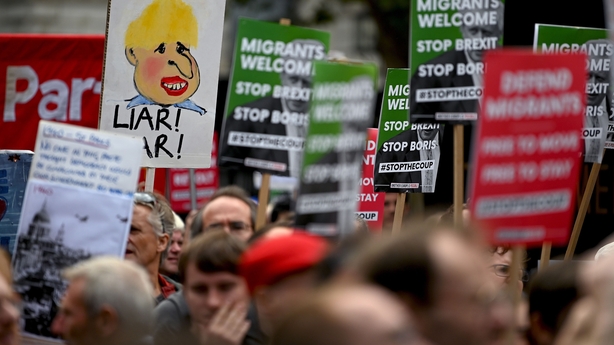 "It's very disappointing that because of the aggression we have received today even before getting started, we have had to send the Boris blimp home because we feared it was going to be used as an excuse for violence against our supporters.
"We hope that despite the disruption that we are still able to prove an interesting and big event for our supporters."
In a separate event, hundreds of people also gathered outside nearby Downing Street to demand Prime Minister Boris Johnson's resignation.
Organised by groups including Another Europe is Possible, Momentum and the Green Party, the Demand Democracy: Johnson Out protesters said the Prime Minister was "attacking democracy".
A human barricade of police was formed after a small group of pro-Brexit protesters started attacking police officers.
The march was eventually allowed to start, surrounded by a heavy police presence, occasionally pausing in a tense stand-off with counter-protesters.
Marchers chanted "fascist scum off our streets" and "refugees welcome".
---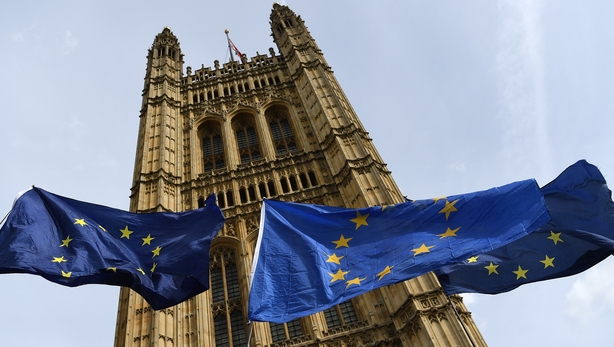 British politicians are preparing legal action in case Boris Johnson tries to defy legislation compelling him to seek a further delay to Brexit, opposition Labour Party leader Jeremy Corbyn has said.
An opposition bill which would force Mr Johnson to ask the European Union for an extension to Britain's departure to avoid a 31 October exit without a transition deal was approved by parliament's appointed upper chamber, the House of Lords, yesterday.
Britain's Queen Elizabeth is expected to sign it into law tomorrow.
'We're in quite extraordinary territory when the prime minister says he is above the law' - @jeremycorbyn #Brexit pic.twitter.com/MZ22gHFrwh

— RTÉ News (@rtenews) September 7, 2019
The BBC said earlier that politicians, including moderate Conservatives expelled this week from their party for backing the bill, have lined up a legal team and are willing to go to court to enforce the legislation if necessary.
The government had no immediate comment.
Mr Johnson, a leader of the campaign to leave the EU during the 2016 Brexit referendum, took office in July after Conservative party predecessor Theresa May quit following three failed attempts to get a deal with Brussels through parliament.
The new prime minister vows to take Britain out of the EU on 31 October, with or without a deal with the bloc.
Mr Johnson has said he has no intention of seeking an extension and would rather "die in a ditch" than delay Brexit.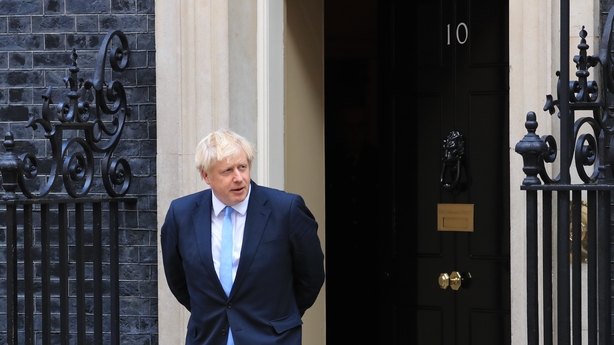 Today's Daily Telegraph reported that the prime minister is prepared to defy parliament's instruction to request an extension to the Brexit process if he fails to agree a new deal.
The newspaper quoted Mr Johnson as saying he was only bound "in theory" by the new legislation.
---
Read more:
UK opposition parties will not back PM's demand for election
House of Lords approves bill that seeks to delay Brexit
EU 'gradual approach' to border checks in no-deal Brexit - sources
---
But a former director of British public prosecutions (DPP) told Sky News that Mr Johnson could face prison if he refuses to delay Brexit in the face of court action.
It quoted Ken MacDonald, DPP in 2003-2008, as saying that legal action would result in a court ordering that the law should be followed: "A refusal in the face of that would amount to contempt of court, which could find that person in prison."
Mr Corbyn said Labour was not as a party taking legal action but was aware of lawmakers' manoeuvres on the matter.
"The courts making a decision to try to make a prime minister abide by the law, made by a parliament, of which he is a member. These are strange times for democracy," Mr Corbyn told BBC television.
David Lidington, who was deputy prime minister under Mrs May, said that obeying the rule of law was a fundamental principle of the ministerial code.
"Defying any particular law sets a really, really dangerous precedent," he told BBC radio.
Mr Lidington resigned just before Mr Johnson took office.
Mr Johnson says the only solution to the Brexit deadlock is a new election, which he wants to take place on 15 October and could give him a new mandate to quit the EU on schedule.
Two-thirds of parliament's MPs need to back an early election, but opposition parties, including Labour, said they would either vote against or abstain on this until the law to force Mr Johnson to seek a Brexit delay is implemented.
"We need a clear statement from the prime minister that he is going to abide by that act of parliament," Mr Corbyn said.
Mr Johnson failed to win enough support in a vote on Wednesday for an election.
Another vote is scheduled for Monday.
Additional Reporting PA