The Beef Plan Movement has said it will not endorse the outcome of talks involving the Minister for Agriculture aimed at securing better beef prices for farmers.
The group issued a statement to RTÉ News accusing Minister Michael Creed of failing farmers.
It said: "While we would like to thank Minister Creed for facilitating the round table talks and also recognising Beef Plan as an official farmer organisation, he has failed … to deliver for the working farmer on the ground during the negotiations where he himself had stated that failure was not an option."
Last week, Minister Creed hailed the talks a success following days of discussions.
A range of actions were agreed, including a review of the system used to value cattle when they are presented for slaughter.
The farm advisory body, Teagasc, is to undertake that review.
The Beef Plan Movement said Meat Industry Ireland, which represents meat processors, had not taken the steps necessary to "return fairness and transparency to the industry".
The group wants what it calls "price controlling measures" to be addressed.
Meanwhile, unofficial pickets have been placed on some meat processing facilities since yesterday evening.
Farmers gathered at plants in Co Kilkenny and at other locations. The Beef Plan Movement has insisted it was not organising the pickets.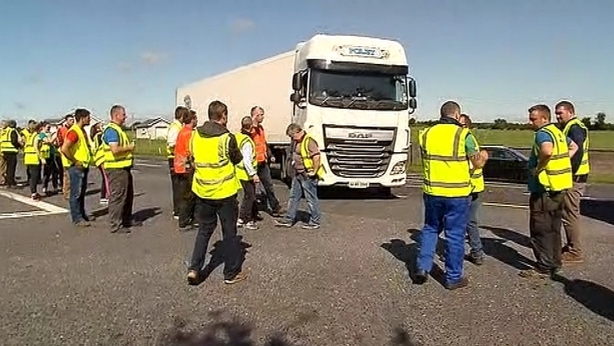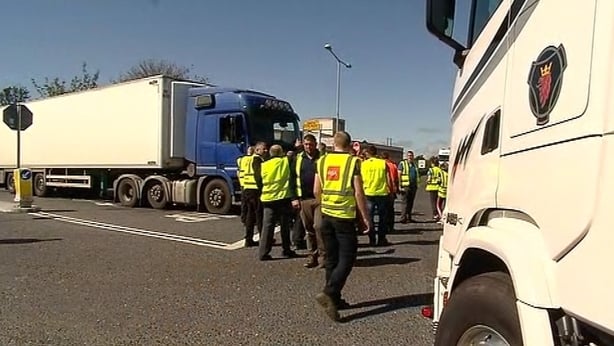 A spokesperson for Mr Creed said he continues to be available to engage with all farm organisations.
The spokesperson also said it should be noted that this morning's protests were "not endorsed by any farm organisation".
Several directors of the organisation have been threatened with legal action by processors if it continues to organise pickets at meat factories.
The discussions began earlier this month after several weeks of pickets outside meat plants around the country by members of the Beef Plan Movement.
Meat industry Ireland said it was "very disappointing that protests have resumed at a small number of beef processing sites".
It said that progress had been made in the talks and the ongoing work would have a positive impact on the beef sector.
However, it added: "Obviously beef price remains a major talking point since the conclusions of the beef talks last week but beef price was not and could not be discussed during these talks.
"Furthermore, price is determined by conditions in the market at present which are acknowledged by all as being extremely challenging. There simply isn't more in the marketplace right now.
"Peaceful protest is a right of all, but any disruption of normal processing activity which impacts businesses, staff and farmer suppliers is unacceptable and will only do further damage in an already difficult trading environment."
Vice-Chairman of the Beef Plan West Region David Whelehan said that following consultations with members they concluded that despite a few small gains, the main key issues have not been addressed in an adequate or meaningful way.
He said the document was only a draft proposal and had not been signed off on.
Speaking on RTÉ's Morning Ireland, Mr Whelan said: "We didn't consent to the deal. We've actually signed off on nothing, the document is only a draft proposal.
"Because we are a volunteer organisation the majority of our members would be part-time farmers who have day jobs and we have had to consult with our membership base, because the whole basis and foundation of our organisation is based around transparency and about listening to our members based on the ground."
Mr Whelehan also said "absolutely no way" when asked about organising protests, adding that they have officially stood down.
He said the pickets seem to have been organised by individual farmers who are aggrieved and he said that farmers on the picket lines feel that the talks have not worked.
Senior Director Of Meat Industry Ireland Cormac Healy said the specifications in place are important and it would be wrong to deconstruct those just eight weeks away from Brexit.
Speaking on RTÉ's Today with Miriam, Mr Healy said when market conditions allow, prices have been and hopefully will again be higher, but he added that they were in a very difficult point at the moment.
 
He said at this stage they need to give some time to the progress that has been made on a wide number of issues.
Sinn Féin TD Brian Stanley called on Mr Creed to reconvene the talks "as a matter of urgency".
"It is clear from what the Beef Plan Movement has had to say, and from the emergence of a number of unofficial protests across the country that Irish beef farmers are not happy with the outcome of the beef talks.
"It is completely unacceptable that the substantive issue of pricing was not discussed at the last round of talks.
"For the sake of the Irish agricultural economy, Minister Creed must move with urgency and he must ensure that the issue of pricing is on the negotiation table."