China's Hong Kong affairs office condemned what it called "near-terrorist acts" at Hong Kong's airport and reiterated support for local authorities to severely punish those responsible amid an escalating crisis in the city.
The Hong Kong and Macao Affairs Office, in a statement issued this morning, also strongly condemned attacks against a reporter from China's Global Times newspaper and a traveller at the airport by what it said were violent protesters.
Hong Kong's airport has resumed operations, rescheduling hundreds of flights that had been disrupted over the past two days as protesters clashed with riot police.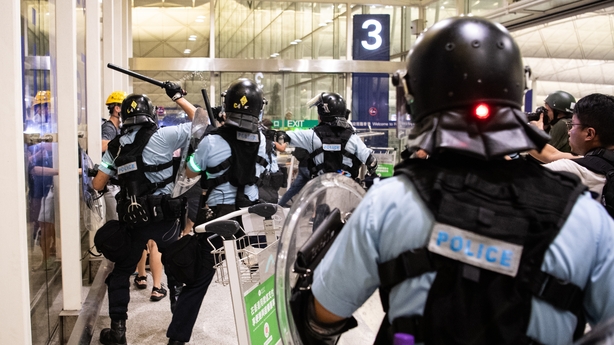 The protests paralysed one of the world's busiest travel hubs, deepening a ten-week crisis that is the biggest challenge to Chinese rule of Hong Kong since its 1997 British handover.
US President Donald Trump added to fears China may be prepared to stage a military intervention to end the unrest, saying his intelligence had confirmed Chinese troop movements toward the Hong Kong border.
Our Intelligence has informed us that the Chinese Government is moving troops to the Border with Hong Kong. Everyone should be calm and safe!

— Donald J. Trump (@realDonaldTrump) August 13, 2019
The people power movement, which has seen millions take to Hong Kong's streets, was sparked by opposition to a planned law that would have allowed extraditions to mainland China.
It quickly evolved into a much broader campaign for democratic freedoms, and to stop the growing influence of China's authoritarian rule in the semi-autonomous city.
The Chinese government has repeatedly signalled the protesters are reaching the limits of the "one country, two systems" legal framework that gives Hong Kong its autonomy.
The United Nations' human rights chief yesterday voiced concern over force used against protesters and called for an impartial probe.
Meanwhile, Cathay Pacific has said two pilots have been sacked, as the Hong Kong carrier comes under huge pressure from Beijing to clamp down on staff supportive the anti-government rallies.
"Cathay Pacific confirms that two pilots have been terminated in accordance with the terms and conditions of their employment contracts," the airline said in a statement.
"One is currently involved in legal proceedings. The other misused company information on Flight CX216/12 August."