The napkin illustrations of a woman based in Meath and the story behind them has become a social media hit.
Martha Fitzpatrick began drawing funny sketches on the lunchbox napkins for her daughter Ailbhe Comerford nearly two years ago.
At the time Ailbhe was going through a tough time at primary school.
"She had always loved school and there had never been a problem with her going.
"Suddenly, I found myself in the position that I had a child who didn't want to go to school at all. I wanted her to still go but to have something in the middle of the day where she would know she wasn't alone and somebody was thinking about her," said Ms Fitzpatrick.
Ms Fitzpatrick's comedian husband, Aidan Comerford, recently shared photos of the drawings on Twitter.
The @MarthasNapkins account now has over 3,500 followers.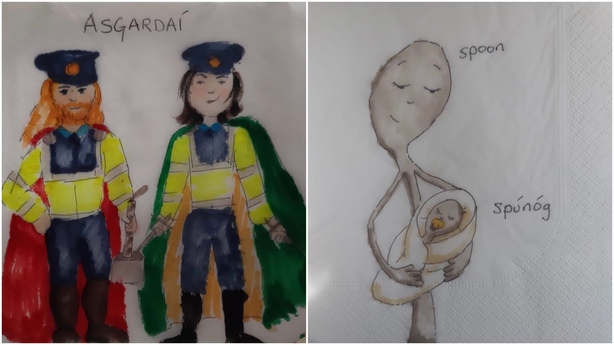 "My head was turned by the fact that people were liking them and commenting on them but I did say to Aidan and he agreed that what matters is that it's about me and Ailbhe," said Ms Fitzpatrick.
Ailbhe is no longer having a hard time in school.
She has just completed primary school and is due to start secondary school in September but has told her mother she still wants her daily bespoke napkin.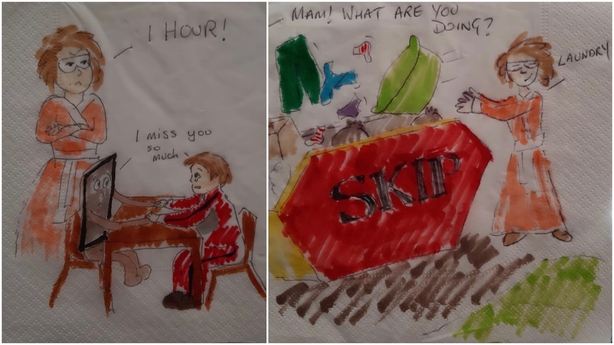 "She knew I liked them. I was never allowed to see them before lunchtime because it was a mystery of what's it going to be today? Then I'd always end up laughing. I hope she doesn't think that when I am in secondary school that I want her to stop because I really don't want her to," Ailbhe said.