The murder of Bobby Ryan and concealment of his body is unique for many horrific reasons. Ahead of his special Prime Time documentary tonight at 9.35pm on RTÉ One, Barry Cummins delves into the background of the disturbing crime.
Bobby Ryan lay face down. He was naked, with his arms by his side. The whole upsetting scene was unnatural, but the positioning of his arms was particularly strange.
The body of the father-of-two lay in a tank over 1.5m (5ft) deep.
As gardaí viewed the body in situ that day in May 2013, they took in a most distressing and intriguing scene.
Detectives would in time come to the view that the body was not simply thrown into the tank, it was not dumped from ground level.
There was an element of staging about the scene. Bobby's hands were in perfect symmetry, positioned alongside his hips; investigators would speculate if the hands were moved into position after Bobby's body was put face down in the tank.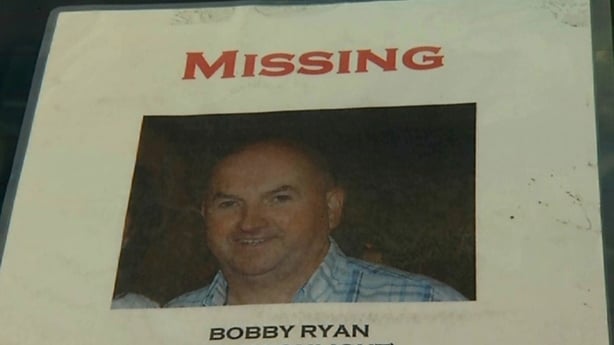 The two most senior detectives on site when the body was recovered were Detective Superintendent Dominic Hayes and Detective Inspector Paddy O'Callaghan, men with decades of experience in criminal investigations. But neither man had ever encountered a case like this.
Back in 1999, Hayes had been involved in the arrest and successful prosecution of John Crerar for the murder of Phyllis Murphy, who was abducted in Co Kildare in December 1979. That case had involved amazing advances in DNA technology, which meant a killer was caught after 20 years.
But gardaí would soon learn that whoever murdered Bobby Ryan had been very forensically aware. The killer had stripped Bobby of his clothes and his phone. The investigation would be a "forensically barren" case.
Bobby Ryan's body was removed from the tank with the assistance of the Fire Service. It was a difficult task, and one which those present would never forget. In one particularly upsetting moment, as a garda assisted in bringing the body to the surface, one of Bobby's arms became detached from his shoulder.
It was later at the post-mortem examination at University Hospital Waterford that samples were taken that would prove the body was that of Bobby Ryan. However, everyone already knew the body must be Bobby, last seen 22 months before as he left the home of his partner Mary Lowry.
Now, it was becoming apparent that Bobby's body had been hidden on the Lowry land in an underground structure, a 'run-off' tank for water from a nearby milking parlour. The tank was ordinarily sealed by a concrete cover, and grass, muck and nettles would normally settle on and around it.
During the initial search for Bobby when he disappeared in June 2011, gardaí who searched the Lowry land hadn't noticed the tank at all. When the recent trial commenced, two officers remembered that bales of silage had been around the location where, unbeknownst to searchers, Bobby's body lay in what the prosecution would describe as a "concrete sarcophagus".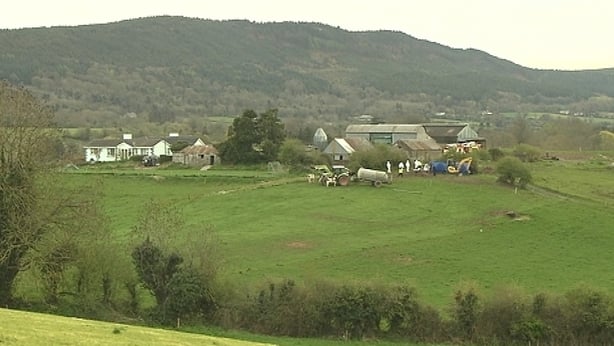 At the post-mortem examination, Deputy State Pathologist Dr Khalid Jaber washed down the body, removing the muck that surrounded Bobby's remains. The post-mortem examination would establish a number of facts.
Bobby Ryan was stripped of his clothing before his body was placed in the underground tank. He was only wearing his watch when his body was found. His clothing and mobile phone would never be found. Dr Jaber detected fly activity within the body. This would prove to be an important discovery, because the fly activity was relatively recent.
A world expert in forensic entomology, John Manlove, travelled from England to give evidence in the case. He described how he detected a third Instar fly larvae - meaning the tank must have been opened 11 days or more before gardaí were alerted. This opened up the possibility that Bobby Ryan's killer had opened the tank at some stage in early to mid 2013 to check on the condition of Bobby's remains.
Dr Jaber examined Bobby's body further and discovered he had suffered a number of fractured ribs and a fractured thigh bone. But the cause of Bobby's death were the seven fracture injuries found on his skull. He had injuries to the front, side and back of his skull, consistent with blunt force trauma.
Dr Jaber left Ireland some years ago and the trial was told he had not made himself available to give evidence. This meant a retired Northern Ireland Pathologist, Professor Jack Crane, had to interpret the notes of Dr Jaber's post-mortem examination and Professor Crane said that wherever Bobby Ryan met his death there would have been a significant amount of blood.
However, the murder scene was never located, the murder weapon was never found. And so, detectives built a case based entirely on circumstantial evidence. Their investigations would eventually lead them to charge the man who had actually reported finding the body.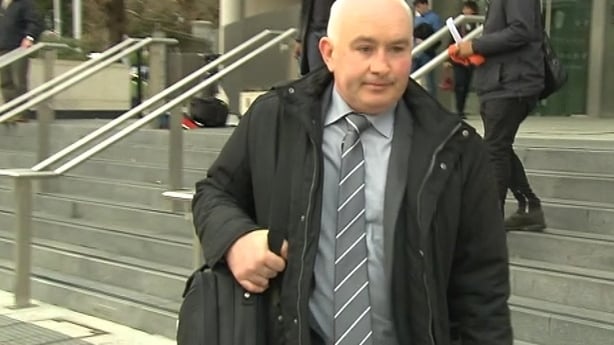 When he raised the alarm that day in May 2013, Patrick Quirke had phoned his wife and asked her to come to the scene and she in turn then phoned a garda she knew.
By the time Bobby Ryan's body was found, detectives already knew that his partner Mary Lowry had previously had an affair with her brother-in-law Patrick Quirke. It was Mary herself who had told gardaí in the aftermath of Bobby's disappearance, and some time after she had confessed the affair to one of the volunteers searching for Bobby.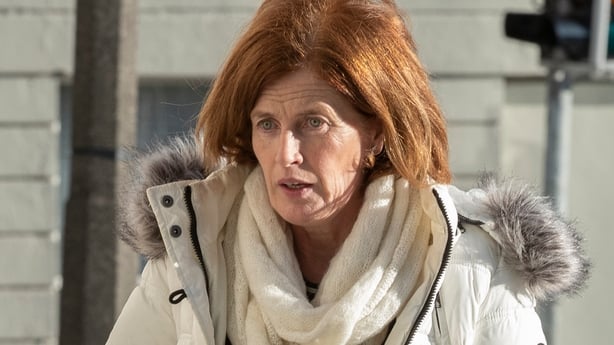 Catherine Costello of the group Searching For The Missing told the trial how she and many other volunteers had searched for days in Bansha Woods and beyond looking for Bobby. She had met Mary Lowry at a garage in Bansha village, and Mary confided in her that she had had an affair.
"I met her, she was enormously distressed," she told me during filming for the Prime Time documentary about the case.
"She told me that she had been keeping a secret. She told me of a relationship, a sexual relationship with her brother-in-law Pat Quirke." Catherine advised Mary to speak with gardaí.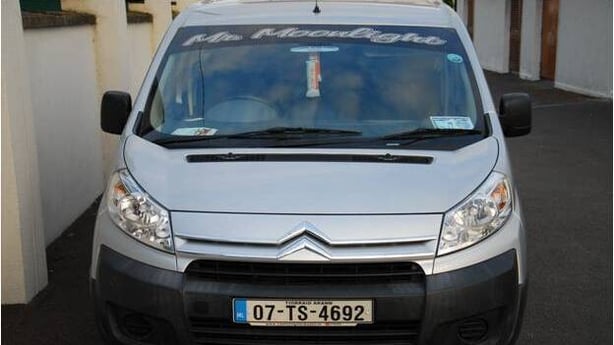 The initial searching had been in Bansha Woods because that's where Bobby's van had been found on the day he vanished. Bobby had left the Lowry house at around 6.30am but never arrived in work at Killough Quarry later that morning.
The alarm was quickly raised and Bobby's daughter Michelle was searching with Mary Lowry, when shortly after 2pm Michelle spotted her Dad's van. The silver van was readily identifiable – it had a Mr Moonlight sign on the front windscreen – Bobby's nickname on the part-time DJ circuit in Co Tipperary.
Michelle said she immediately knew her Dad hadn't parked the van in the Bansha Woods car park – the car was in gear, something her father wouldn't do, the driver's seat was in a strange position and the van was unlocked with all Bobby's DJ gear still in the back.
And so, from the afternoon of 3 June 2011, Bobby's loved ones knew something very strange, and very sinister was afoot. It would however be 22 months later before Bobby's body was found, and a murder investigation would begin.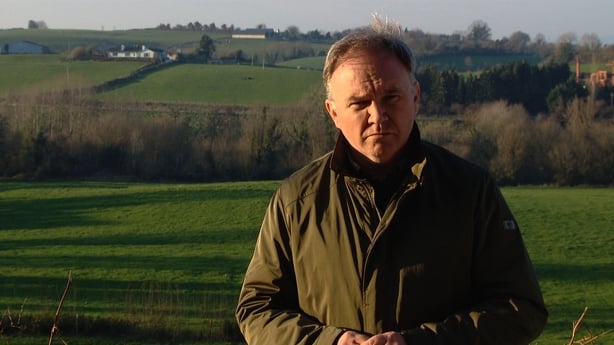 Only a small number of people knew about the underground tank. It was built in the 1970s to take waste water from a nearby milking parlour. Similar structures exist on many other farms around the country. It measures approximately 12ft long, 6ft wide and over 5ft deep.
It was built with cavity blocks, and so was porous. It was never designed to hold a large amount of water. The water would naturally seep out into the nearby field. The tank's lid was a series of concrete covers, which when in place formed a complete seal.
Patrick Quirke had described how he had removed one part of the concrete cover and looked into the tank and had seen what he initially thought was rolled up carpet, but quickly established was a body. Gardaí came to believe that Patrick Quirke could not have seen the body through the small gap that he had exposed when he lifted one of the covers.
In the incident room at Tipperary Garda Station, officers also examined why Patrick Quirke had opened the tank. He said he had done so to get water to agitate slurry. But detectives came to believe the porous underground tank would not have contained enough water to mix with hardened slurry, and did not accept that an experienced farmer would have thought that it could have.
"When I think of Bobby lying in that cold place I get a shiver down my back. What his family have gone through, what they are still going through, I can only imagine."
When the jury of six men and six women took the oath at the Criminal Courts of Justice in Dublin city to begin their jury service last January, they could not have imagined the trial that would come to dominate their lives for four months would bring them deep into rural Ireland. Those with little or no knowledge of agriculture quickly got up to speed with terms such as "milking times", "slatted sheds" and "slurry tanks".
Soon after the trial began the jury was taken down to Fawnagowan to view the location where Bobby Ryan's body was located. The surrounding land is some of the most beautiful and fertile land in the country. It is chilling to consider that this seemingly ordinary place was the location where a killer chose to hide a body.
The victim was universally liked. Bobby Ryan, from Cashel, was a happy-go-lucky type of man, always jolly. It was striking that the prosecution barrister Michael Bowman noted to the jury how every person who knew Bobby lit up in the witness box when asked to describe him. One friend, Mossie Richardson, who also works on the local DJ circuit as 'DJ Mossie', told me how Bobby was always in good form.
"When myself and my wife got engaged, Bobby was the first person to give us a present. Bobby was always jolly, always happy. When I think of Bobby lying in that cold place I get a shiver down my back. What his family have gone through, what they are still going through, I can only imagine."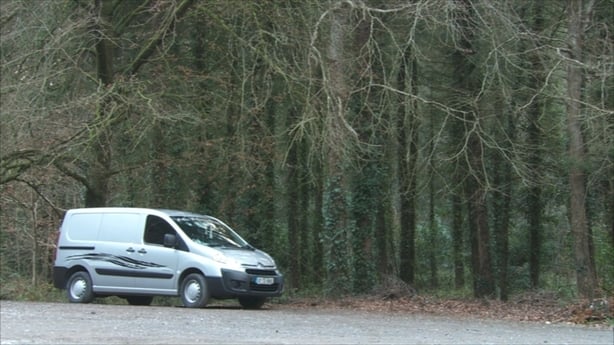 Bobby Ryan's daughter Michelle and son Robert Jnr attended every day of the trial. They sat through some very detailed and distressing evidence. They were supported by a wider family network.
Another constant presence in the courtroom was Imelda Quirke, wife of Patrick Quirke. She also was in court every single day, sitting one row back from the Ryan family. Imelda came to, and left court, with her husband every day of the trial.
It was in 2012 that Patrick Quirke confessed to his wife that he had had an affair with her late brother's wife. Imelda's brother Martin Lowry had tragically passed away from cancer in 2007. Martin had asked Patrick to look out for his family when he had passed, and Patrick Quirke assisted Martin's widow Mary with financial and farming matters.
Their affair began in January 2008 and lasted through to 2010. Mary Lowry met Bobby Ryan in September of that year, and within months Mary and Bobby were in a relationship, Mary having ended her affair with Quirke.
Mary Lowry gave evidence at the start of the case and once again towards the end. She described Bobby Ryan as a "breath of fresh air" in her life. She described her affair with Patrick Quirke as "seedy", and at one point while being cross-examined, she said she was not the person on trial.
The reason she returned to give evidence for a second time was to confirm that an audio recording found in Patrick Quirke's home was of her and a man she began seeing the year after Bobby disappeared. Mary and Flor Cantillon were heard on the audio laughing during a light-hearted discussion in her kitchen. How the recording came to be made, or how it was in Patrick Quirke's home, was never explained. Mary and Flor both said they did not know their private conversation had been recorded.
"Some of the innermost secrets of people's lives have been made public in the pursuit of justice for a murder victim who suffered a violent death in a place unknown, with a weapon unknown, and at a time unknown."
The murder investigation was the biggest ever undertaken in Co Tipperary. Some 300 witness statements were taken and 700 lines of inquiry were followed up - a remarkable number given the rural location in which the crime occurred.
A number of specialist garda units also assisted in the case. Detective Garda Paul Fitzpatrick of the Garda National Cyber Crime Bureau analysed a computer found at Patrick Quirke's home.
Referred to in court as 'KKPQ1' a significant amount of this computer's internet search history was recovered. It showed that from the end of July 2012 until December 2012, at various times searches were undertaken on the internet relating to "human body decomposition".
There was also evidence of YouTube videos embedded into pages viewed. Whether the full videos had been viewed could not be established. The videos related to a research facility in Tennessee that studies the decomposition of corpses in different environments. The text associated with one video entitled 'Body Farm and Beyond' contained reference to "human remains, skin slippage and DNA analysis".
When it came to closing arguments, Quirke's barrister Bernard Condon told the jury people do strange things on computers, but such Google searches were not suggestive of guilt.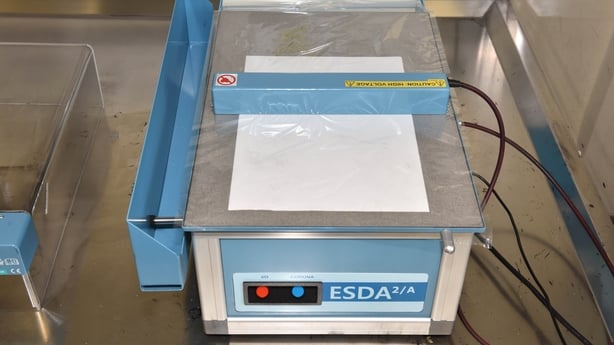 A specialist machine known as an Electrostatic Data Detection Device was used by the Garda Technical Bureau to view indentations on a writing pad found at Patrick Quirke's home.
The indentations are not normally visible to the naked eye but the machine allowed for certain words to be detected which had been written on pages which had once rested on the pages which were examined. It showed that someone had written the words "What the guards will know" and "Dispose of clothes, phone, any other evidence".
As part of research for our Prime Time documentary, myself and producer Sallyanne Godson travelled to Cornwall to meet world renowned entomologist Dr John Manlove. He has given evidence in cases in Ireland, Britain and New Zealand.
His work on the Bobby Ryan case, indicated the underground tank had been opened 11 days or so before detectives were alerted that a body had been found. From his analysis of a fly larvae detected on Bobby Ryan's body he was able to state such fly activity had been relatively recent, prior to the body being discovered.
The work of a forensic entomologist is a very specialised subject and not for the faint-hearted, but is so important in investigations where a body has lain undiscovered for a considerable period of time.
"In any case my job is to look at the evidence I've been given, to offer an assessment of how we got there," Dr Manlove told me. "Yes, it is quite unpleasant, but that individual's pain and suffering has passed, but there are still families. It's all about doing the job honestly and evaluating the evidence impartially."
It was 30 April 2013 when Patrick Quirke phoned his wife saying he had found a body. He later told detectives he had been looking for water to agitate slurry when he opened the run-off tank, something he had never done before. And so began a murder investigation that would become the biggest ever case in Co Tipperary.
For four months this year, a team of officers from Tipperary town sat in Court 13 of the Criminal Courts of Justice in Dublin as the longest murder trial in recent times took place.
Some of the innermost secrets of people's lives have been made public in the pursuit of justice for a murder victim who suffered a violent death in a place unknown, with a weapon unknown, and at a time unknown. And whose body lay face down in a tank five feet deep for 22 months, his hands positioned, placed by his sides, after he was stripped of his clothing, his dignity, in a murder most foul.