This week businessman Denis O'Brien lost his Supreme Court action over statements made in the Dáil about his banking affairs.
The case began with a story which I had as an exclusive and RTÉ proposed to publish in April 2015.
Except Mr O'Brien went to law to stop it appearing. 
The planned report was quite s traightforward: Denis O'Brien sought more time to repay his loans to IBRC, the former Anglo Irish Bank in 2013. 
The businessman owed the State-owned bank €320 million and had already repaid €525m of his borrowings. 
One month after the bank was put into liquidation in February 2013, Mr O'Brien's investment advisor David Sykes told the liquidator that "Denis has received verbal confirmation" of an extension for his €320m loans from the bank's former CEO Mike Anysley. 
Negotiations had been underway about Mr O'Brien's loans when the bank was suddenly liquidated and Mr Anysley's contract was terminated. 
In March 2013 the businessman requested approval to repay his facilities over a three-year period with scheduled capital repayments. 
The liquidators KPMG told him he could only extend for up to 12 months. 
Following further correspondence in October 2013, Mr O'Brien requested a 12-month extension with no capital repayment. Mr O'Brien said he had dealt "proactively" with his loans in the past. 
An internal note from the bank's credit committee said that "in conclusion, it is regrettable that we cannot achieve consensual agreement from the borrower to maintain the expected repayment schedule by delivery of a further €100m capital repayment in November 2013..." 
Internal documentation seen by RTÉ News did not show how the issue regarding Mr O'Brien's loans were ultimately resolved. 
We contacted the businessman to give him an opportunity to comment. Mr O'Brien subsequently wrote about what happened next. 
"I woke up in Haiti on the morning of April 29th (2015) to a phone message saying that RTÉ had sent me a letter regarding my confidential banking arrangements with Anglo Irish Bank/IBRC." 
He said his immediate reaction was one of "astonishment" and noted that he had always repaid his loans with interest and met promises and undertakings. 
Mr O'Brien took legal action. RTÉ argued that publication of the story was in the public interest given the money was owed to a State-owned bank. 
After a five-day hearing, the High Court granted an injunction in May 2015.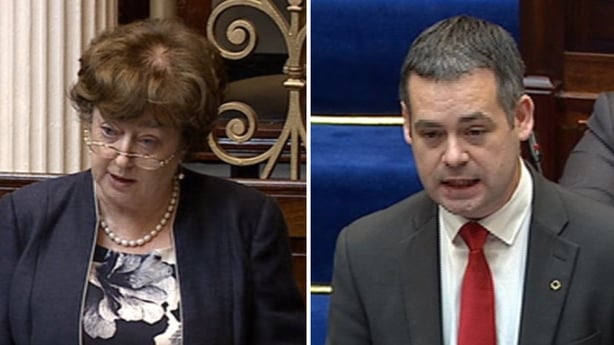 The following month, Sinn Féin TD Pearse Doherty and Social Democrats' TD Catherine Murphy read out on the floor of the Dáil similar information to the material which RTÉ had tried to broadcast. 
The houses of the Oireachtas have parliamentary privilege, which means politicians cannot be sued for statements they make in the Dáil or Seanad. 
However, this information was already the subject of a High Court injunction. 
Details of Mr O'Brien's banking affairs were then reported in the media. The businessman complained to the Dáil's Committee on Procedure and Privileges. 
It found the TDs had not breached relevant rules by discussing matters that were before the courts. 
Mr O'Brien then brought the matter to the High Court, arguing the committee's finding was based on an error in interpreting a Dáil standing order. 
The High Court ruled the courts could not intervene in statements made in the Dáil, nor how they were dealt with by the committee. 
Mr O'Brien then appealed that judgement to the Supreme Court. 
This week it dismissed the appeal. 
We need your consent to load this rte-player contentWe use rte-player to manage extra content that can set cookies on your device and collect data about your activity. Please review their details and accept them to load the content.Manage Preferences
 Mr Justice Frank Clarke said the High Court had noted that in Mr O'Brien's case any undue interference by the courts would have a "chilling" effect on free speech in the Oireachtas and on its legitimate business. 
In essence, the judgment means the courts cannot get involved in policing what is said in the Dáil or Seanad. 
In a statement this week, the businessman said "a consequence of this decision would seem to be that an elected representative can make any allegation about any citizen in Dáil Éireann – be it true or untrue, defamatory or otherwise". 
He said he would consider the judgement further. 
However, the outcome has had the effect of confirming parliamentary privilege. It removes any question mark about restrictions on what TDs and Senators can say in either the Dáil or Seanad. 
The issue for politicians is how they use this powerful right in future. 
Ironically, had the story been published without Mr O'Brien taking a case against RTÉ it may have been quickly forgotten.