Ireland will have to increase overseas aid spending by an estimated €115 million per year for the next decade if it is to reach its target of 0.7% of Gross National Income (GNI) by 2030.
The target set by the United Nations is restated in a new policy for international development 'A Better World', which is being launched by Taoiseach Leo Varadkar and Tánaiste Simon Coveney today.
Speaking this morning, Mr Varadkar has said the Government is to recommit to meeting the UN target.
He said that the Government currently spends over €800 million a year on its development aid programmes, but would increase spending with a focus on climate change, governance and relief efforts.
Aid spending currently stands at 0.31% of GNI following an increase of €110m in last year's budget, bringing overall aid spending to €817m.
Irish Aid says that development aid has an impact in 130 countries through direct spending, supporting humanitarian organisations and contributions to EU and UN programmes.
The effectiveness of aid programmes are due to be evaluated by the OECD every five years as part of a scheduled five-year review.
Among the spending areas highlighted in the new policy are a doubling of Ireland's funding to education, energy and aid projects in Palestine since 2017.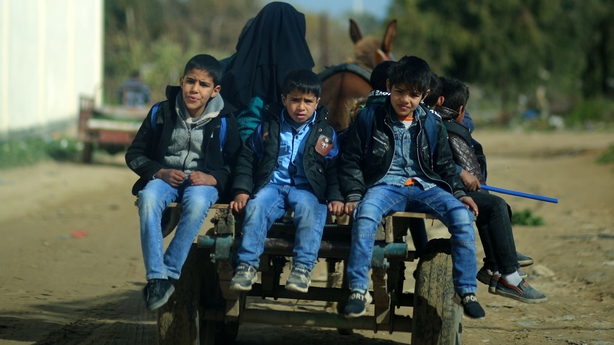 Irish Aid has also funded civil society organisations in Zimbabwe, which have documented more than 22,000 cases of human rights abuses.
The new policy focuses on four main areas: gender equality, reducing humanitarian need, climate action and strengthening governance.
Under the Gender Equality heading, Ireland has committed to further supporting women's education projects and economic empowerment.
In Sierre Leone, more than 8,000 teenagers have been supported in returning to education after childbirth. Scholarships have also been provided to hundreds of girls in Zambia.
In Ethiopia, Ireland has funded pregnancy support services.
While initiatives are mainly focused in Africa, Ireland has also supported a number of projects in Vietnam, including essential care for newborns in seven provinces of the southeast Asian country.
Ireland's past transition from subsistence farming to having a modern agri-food sector is being used as a template for some projects.
In Kenya, Teagasc and a number of NGOs are working with potato farmers to try to increase their yield per hectare.
It is also hoped that private sector expertise will help add value to the potato crop within Kenya by growing an indigenous crisp and snack manufacturing sector.
Ireland is also contributing to a Risk Reinsurance Fund in the Caribbean to help with adverse weather events, as well as offering technical help to vulnerable small island countries with grant aid applications to mitigate the effects of climate change.