There is a beautiful old forest just outside the picturesque village of Enniskerry in Co Wicklow.
It is Knocksink Wood, a nature reserve with a river running through it, sessile oak woodlands, and seepage areas listed as a priority habitat under the EU Habitats Directive.
The saddest thing you'll see there however is the abandoned and decaying National Environmental Education Centre.
A relatively modern construct located just beside the small car park this centre used to host guided nature walks and workshops for children throughout the year so they could learn about the environment and nature and biodiversity.
It hosted special nature events and other activities for older members of the public too.
But the National Environmental Education Centre at Knocksink is closed thanks to Government budget cuts.
The large green metal door with its printed white closure sign is dirty and ugly.
It is a disgrace to find it in a place once dedicated to highlighting the value we place on nature and the wonder of biodiversity.
I have come here to meet ecologist Padraic Fogarty, a member of the Irish Wildlife Trust and author of "Whittled Away, Ireland's Vanishing Nature".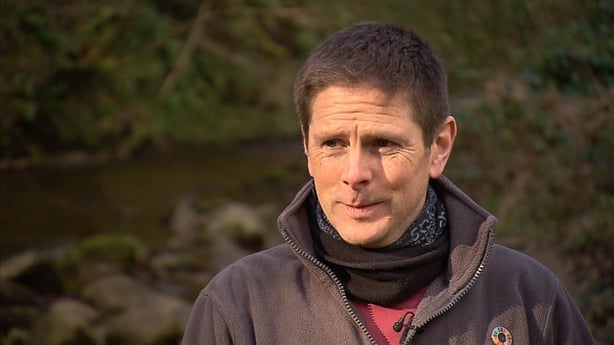 He tells me that the living world this centre was dedicated to is all around us. Yet, it so much of it is in peril.
A lot of our species in Ireland are in danger. Over 100 of our plants and animals are already extinct.
We know from scientific studies that about a third of all the species that have been monitored in Ireland are either threatened with extinction or considered to be near threatened with extinction. Some of those are literally hanging by a thread, about to disappear.
At a small pond not far from the rundown and abandoned Education Centre we came across some frogs.
We spotted at least six of these little amphibians scooting about and oodles of frogspawn. Frogs are a protected species in Ireland but thankfully they're not on the endangered species list.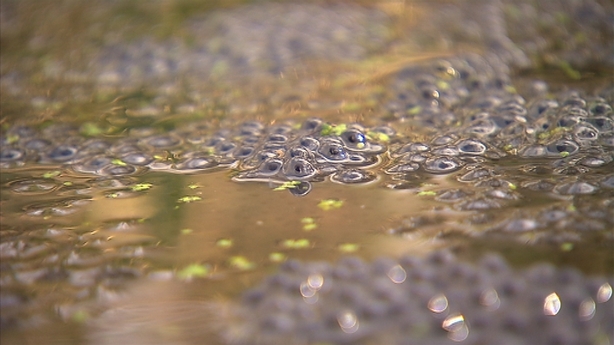 "They've been asleep in the mud and leaves under the water for the winter. But as the temperatures have started to rise in recent weeks they have come up for the spring and started spawning with gusto. It's one of the first signs of spring. You can see all sorts of ponds and pools just like this one in many parts of the country full of frogspawn at this time of year," Padraic explains.

There is so much to notice in this woodland if you take the time. If you stop and stay still for a minute or two you will finding everything is moving, nature is happening.
Even though it could appear that woodland like this is still asleep at this stage of the year, it is, in reality, very much alive.
And it's not just frogs here. Plenty of little green plants and duckweed are floating on the water. Older plants that were growing here last summer look ready to sprout again.
There are plants that look like irises in the water. And the trees growing all around the pond are about to burst to life. Birds are chirping away. And so many insects live in and around the pond.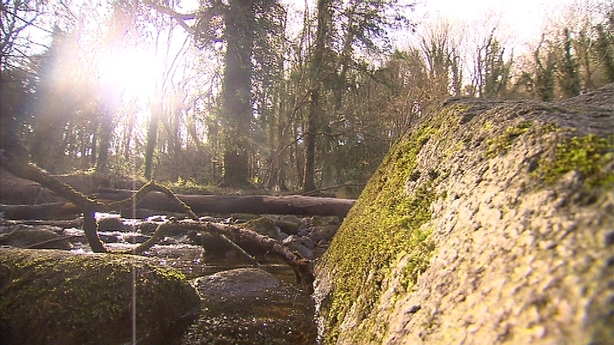 All of these organisms are interacting in ways that we can scarcely imagine. It is a huge amount of biodiversity right in front of our eyes - an incredibly complicated web of life.
It is easy for people to forget just how connected we are to nature and how truly dependent we are on the biodiversity and the interconnections we see in simple places like this forest.
It is fundamental to everything we rely on - fundamental to our food, our mental health, the air we breathe, the water we drink. All of this stuff comes from nature.
But because we live in cities and we are surrounded by concrete, and drive around in cars we can forget so quickly that we are surrounded by nature all the time.
Padraic says nature provides fantastic value for money.
"Everybody loves being around it and ultimately it is essential for all of health and well-being. Anything that we invest in nature we get returned in huge amounts".
The sad truth however, is that nature is being completely hammered. Everywhere we look - our rivers, our seas, and our farmland - you will find nature is disappearing before our eyes.
It's all down to human pressure of that there is no doubt. It is pollution, it is overfishing, it is chemicals on farmland, it is dredging and draining of rivers and watercourses, it is dams. And we now have climate change to top it all off.
Ecologists like Padraic Fogarty are keen to point out however that climate change has not caused the collapse of biodiversity in Ireland. However, now that it is happening it makes recovery for nature that much more difficult.
"Nature is in enormous trouble. Looking at where we are today in this forest - this is just a tiny fragment of what's left of the native forests that used to exist in Ireland.
"We know that our bogs are practically extinct. Our rivers are polluted. They've been drained and dredged. Our farmland has been more or less soaked with chemical herbicides and pesticides. Our seas have been dredged almost to oblivion at this stage.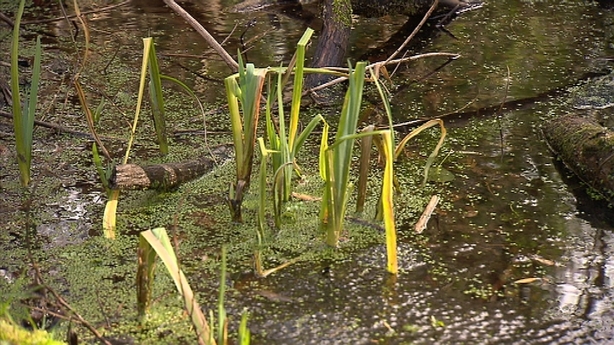 "Nature has more or less collapsed in Ireland and the risk is that if we make nature collapse all over the world then we will be in really big trouble," he says.
To say that Padraic Fogarty is less than complimentary about the Government might be an understatement.
"We are doing really terribly" he says.
"We actually have some very good environmental laws for protecting nature and for protecting places like this forest. But we don't implement those laws. We have about three biodiversity action plans already but we don't implement them.
"And the reason for that is because there is total political apathy to the issue of nature. Politicians are not seeing this as a priority. That has to change. Money is important. Yet the National Parks and Wildlife Service gets about the same amount of money from Government as the Greyhound racing board.
"That means that the NPWS doesn't have the money to do all of the things that it needs to do. That has to change.
"It comes down to our own values and how are we see nature as being value for us. We have to fund the National Parks and Wildlife Service properly".