Over 20,000 buildings are at risk from flooding in Dublin city and another 10,000 are likely to become at risk according to Dublin City Council.
Gerry O'Connell of the council's Water Framework Directive Division said Dublin Bay's average sea level appears to be rising faster than initially forecasted and has risen by twice the global average in the last 20 years.
The number of days with heavy rainfall has also increased.
"All of our new river flood defences incorporate an allowance for increase river peak flows due to climate change which are currently estimated at 20%-30% to the end of the century depending on the river catchment."
It comes as Dubliners are being asked to give their views on action against climate change, with the four local authorities aiming for a 40% reduction in greenhouse gases by 2040.
Information events have begun in Dublin ahead of a public consultation on climate action. It comes as Dublin City Council said thousands of buildings are at risk of flooding | https://t.co/tJQ2Jq7uin pic.twitter.com/3xefKX40NX

— RTÉ News (@rtenews) February 16, 2019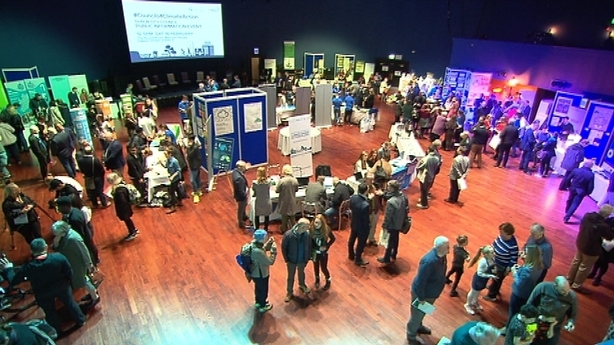 The public consultation begins on Monday and a series of public information events began in the Mansion House today, with information on how to reduce energy consumption and efforts to deal with the effects of climate change like flooding.
One initiative is the Dublin District Heating Scheme (DDHS) project which aims to capture heat from industrial projects on Poolbeg penninsula like Poolbeg incinerator and pipe it to 50,000 homes in the south city.
The project, which was originally meant to be ready with the opening of the Waste to Energy facility, has recently been given €20 million in Government funding and is due to start in 2021 with new homes being built as part of the Poolbeg West development.
Victor Coe of the council's Environment and Transport department says it will mean low cost heating for the homes involved and has the capacity to reduce save 48,000 tonnes of carbon dioxide a year, equivalent to 5% of Dublin City's total CO2 emissions from heat.
The public consultation will last until 25 March.