There was an air of excitement at Liverpool's Irish Centre in Everton as word spread that President Michael D Higgins and his wife Sabina had arrived.
Mr Higgins and Sabina visited the Liverpool Irish Centre on the final day of their visit to the UK yesterday.
Two hundred Irish people were packed into the small hall, anxious to catch a glimpse of the president who previously visited in 2012 when the centre was known as 'St Michaels'.
A mostly elderly crowd rose to their feet in applause as President Higgins and Sabina arrived. Everyone in the audience had broad smiles spread across their faces.
Almost immediately President Higgins had the Irish diaspora laughing when he stated that Ireland could claim three of the Beatles.
"I think Ringo is the only one who gets away," Mr Higgins said to the delight of the audience.
The mood started to shift when Mr Higgins referenced Brexit.
Liverpool voted to remain in the EU and is considered a pro-European city.
As Britain prepares to leave the European Union, many in the Irish community expressed their sadness and regret about the changes ahead.
As the crowds lined up to meet Mr Higgins, three life-long friends pondered what life will be like after 29 March.
"I don't really know much about Brexit!" laughs Mary Cooke from Galway who moved to Liverpool in 1968.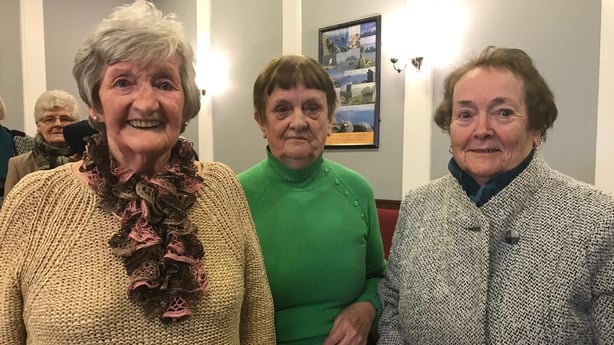 "There's no point in worrying," she laughs to nods of approval from her two octogenarian friends Peggy and Maureen.
Her close friend Maureen McTighe voted to leave the EU and she still believes it was the right decision.
"There is going to be changes but we've come through the war so why can't we come through this?" she says.
Parents Cathy and Jimmy Campbell have a different perspective on what life will be like after Brexit.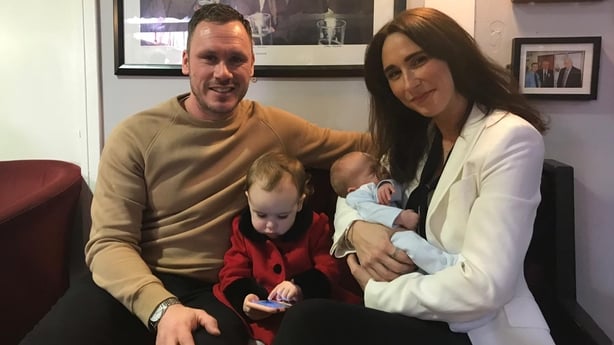 Cathy has lived in Liverpool for 18 years and is worried about the future for her two-year-old daughter Maggie and three-week-old son Shay.
"It is such a shame coming from a border town like Fermanagh, the thought of going back to a hard border."
"I remember the cars getting searched and stopped and the thought of going back to that is scary," she told RTÉ News.
The President told the crowd he wanted Britain and Ireland to build on their links. He praised the contribution of Irish people to all sectors of British life and the "extraordinary connection" Liverpool has with Ireland.
"Irrespective of whatever happens in proximate political events it's so important that we build on those important links of interaction we have," Mr Higgins told the audience.
Jim Egan, aged 80, is a fixture at the Liverpool Irish Centre. He's lived in Liverpool for the past 50 years but has kept his Dublin accent. "I'm proud of where I come from," he says.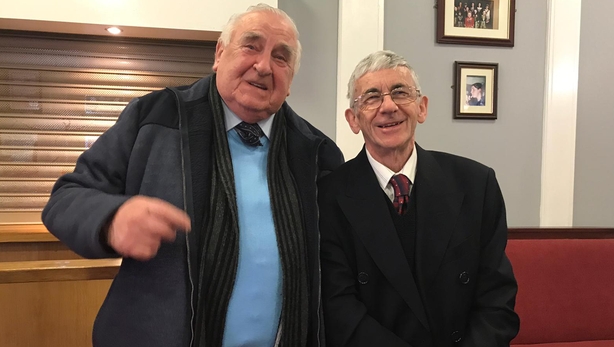 His friend Finbar, from Cork, tells him to get in line because President Higgins is wrapping up his meet and greet.
"Tell Michael D to come over here and meet me instead," Jim replies to roars of laughter among the close-knit community.
When he does eventually meet the President, Jim shouts "Up the Dubs!" as Finbar trails behind laughing.
"What message do you have for Theresa May or Boris Johnson if you met them today?" I sheepishly inquire as Jim gets back to his seat.
"Tell them all to get stuffed," retorts Jim to more howls of laughter from everyone seated around him.
"I've got a brother, two sisters and myself and we are all in our 80s so it is not going to bother me much, is it?"
As President Higgins departed there was some regret that the next time he visits the UK the relationship between the two neighbours will be different.
"Are relations going to change between the North and the South, between England and Ireland, it's the massive unknown," says Cathy Campbell as she cradles her newborn son in her arms.
"I've still got my Irish passport, so I'm alright!" Jim Egan interrupts.
He may have spent half a century in what President Higgins has described as "the most Irish of cities" but he will always be a true Dub at heart.