There have been calls for the Minister for Health to take responsibility for the rising costs of the National Children's Hospital, up to and including resigning if necessary.
Independent TD Dr Michael Harty has said Simon Harris needs to take responsibility, adding that if that means resigning then that is what should happen.
Speaking on RTÉ's Drivetime programme, Dr Harty, who is Chairperson of the Oireachtas Health Committee, said that he cannot see the enormous cost of the hospital being avoided at this stage.
"I think the Department of Health are in serious trouble," he said.
When asked should the minister step aside, he said: "I'm not one for calling for resignations but I do expect people to take responsibility and if part of that responsibility is resigning well that's what should happen".
He added: "We shouldn't make a judgement until we have all of the information but certainly the limelight is certainly on the department and on the minister".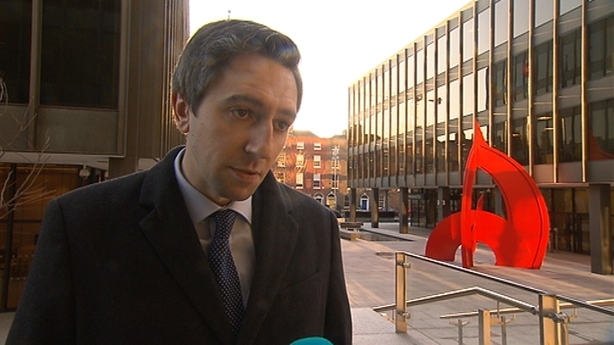 Earlier, Minister Harris said there will be personnel changes in the governance structure of the hospital project.
"I've been very clear that there does need to be accountability in relation to this. We are building a world class children's hospital after decades of kids waiting in this country, but people still need to answer as to how the overrun happened."
The Government has commissioned a report by PwC, which Minister Harris said is very important to ensure lessons can be learned.
"But there will also need to be personnel changes so that confidence can be restored in the project. There are people charged with delivering this project working in relation to that and the governance of the project and I would image that there will need to be personnel changes in that regard," he told RTÉ News.
Fianna Fáil's health spokesperson has said it is absolutely extraordinary that we have a situation today where there is a €500,000 report looking at a €500 million overspend on the hospital that is not allowed look into who is responsible or how to reduce the cost.
Speaking on RTÉ's Six One News, Stephen Donnelly said that an overspend of this type probably would not happen in the private sector because people in that sector are held to account.
Mr Donnelly said that we live in a world of public sector contracting where there is absolutely no accountability.
He said that over the last three weeks at the Oireachtas Health Committee, he had asked the department, the HSE and the development board whether anyone had been fired, had anyone resigned or been asked to resign, or whether any sanction of any kind had been taken against anybody?
He said the answer to all of these questions had been no.
The Labour Party has criticised the terms of reference into the review on the spiralling costs of the hospital.
Party health spokesperson Alan Kelly said Minister Harris is not up to speed about how the public feel about it and how this could happen with taxpayers money.
He said the fact that the review will not find individuals accountable is bizarre.
The review's terms of reference says it will deal with the role and accountability of the relevant key parties, but will stop short of determining culpability at an individual level.
In a statement this evening, Mr Kelly said: "A pointless review is under way into the costs of the National Children's Hospital where no one will be held responsible.
"The Minister says there will be accountability and that there will be personnel changes but he hasn't said who.
"The Minister continually says he will be very clear but he has been anything but on the soaring costs of the children's hospital."