Teenagers are less likely to do well academically if they attend a school with a concentration of students from poor backgrounds, and this negative effect has seen a "substantial" increase in recent years, according to a report published today.
A study by the Education Research Centre has found that while there continues to be a "very strong relationship" between an individual's home background and their achievement at school, being a student in a school with a concentration of pupils from poorer socio-economic backgrounds has a substantial negative impact on achievement, regardless of a student's own individual background.
The 'evaluation of DEIS at post-primary level' study, which measured attainment in DEIS – or disadvantaged - and non-DEIS schools, found that the gap between schools in this regard has grown since it was last measured in 1998.
In that year, the 'variance' attributed to schools as a result of their socioeconomic make up was 17% and 18% for English and Maths performance.
By 2016, that variance had increased to 25% for both subjects.
The study also identifies significant positive trends in achievement, based on Junior Certificate performance in English and Maths, across all schools in recent years.
Retention levels have also improved. It found that improvements are more marked in DEIS schools.
Since the DEIS programme of support for disadvantaged schools was introduced in 2006, there has been a reduction in the proportion of students in those schools sitting Foundation level papers in English and Maths at Junior Certificate level.
Foundation is the lowest level of examination.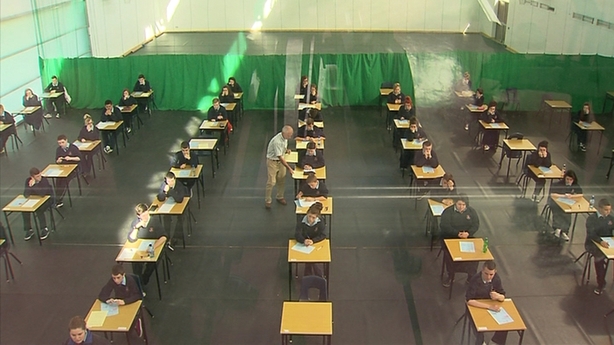 There has also been an increase in the proportion of students sitting Higher Level papers in these subjects.
In 2007, one quarter of all students in DEIS schools sat Foundation level Maths papers. By 2016, this had fallen to 13%.
The proportion of students taking Higher Level Maths rose during the same period from 19% to 33%.
The study uses possession of a medical card as an indicator of socio-economic status.
It found that the overall attainment gap between DEIS and non-DEIS schools continues to narrow, despite the growth of between-school differences in achievement based on their overall socioeconomic contexts.
It says this "social context effect" is a difficult issue to address from a policy point of view because it is based on a multiplicity of factors, including parental choice and housing policy.
The study states that "at the very least, this finding provides a compelling reason to continue to target resources at schools with concentrations of students from poor socioeconomic backgrounds".
The Minister for Education, whose department commissioned this ongoing evaluation of the DEIS programme, has welcomed the findings.
Joe McHugh said the study provided "further valuable evidence that the DEIS programme is working" and that it supported the rationale for providing additional supports to those schools with the highest concentrations of students from disadvantaged backgrounds.