Katie Hannon recalls her first impressions of Maurice McCabe ahead of her two part documentary 'Whistleblower: the Maurice McCabe Story'.
In the programme, Maurice and Lorraine McCabe tell their extraordinary story for the first time.
On a dark winter's evening in early 2014, the Garda Commissioner Martin Callinan was on a mission.
Sgt Maurice McCabe had been invited to appear before the Public Accounts Committee (PAC) to give evidence about the widespread cancellation of penalty points for motoring offences by senior gardai.
Having failed to block this appearance through the normal channels, Martin Callinan decided to launch what would later be described as a 'frontal attack'.
He arranged to meet the chairman of the PAC, John McGuinness, in a car park on the outskirts of Dublin. Callinan told McGuinness he had made a grave error in facilitating Maurice McCabe.
He said the garda whistleblower could not be trusted; that he was a man who had sexually abused children, including members of his own family.
Before he left his car, the Garda Commissioner grabbed the TD's arm and warned: "You're in real trouble."
This was of course an outrageous lie. We now know that it was all part of Callinan's 'campaign of calumny' against Maurice McCabe.
Mostly it appeared that he left the dirty business of spreading rumours and innuendo about McCabe to his loyal press officer Supt David Taylor.
But on that January evening, he decided to take the matter into his own hands. It appears it was a reckless, last ditch effort to discredit Maurice McCabe and keep the officer's allegations away from those who could independently assess them.
It's easy to denigrate the character of a stranger – to say that they "can't be trusted", to claim there is a sordid back story and describe how they are going about their business as "disgusting". However, this becomes trickier if that person becomes flesh and blood.
"Martin Callinan had one major disadvantage. John McGuinness had met Maurice McCabe."
Martin Callinan had good reason to fear that the story that he had propagated - that they were dealing with a disgruntled cop with an unsavoury past bent on settling a personal grudge - would be exposed for the lie that it was.
In person, Maurice McCabe's low-key, earnest demeanour bore no resemblance to the dubious character being whispered about in newsrooms and in the corridors of the Dáil.
His mission almost succeeded. John McGuinness recalls feeling shocked and fearful as he drove home that evening. But Martin Callinan had one major disadvantage. John McGuinness had met Maurice McCabe.
As he considered what he should do over that weekend, the TD thought about the man he had met. And he decided this was a man he could trust.
Maurice McCabe gave evidence to the PAC a few days later. Again, he impressed committee members as a credible and committed police officer.
In 'Whistleblower: The Maurice McCabe Story' the public will now be able to see why the small number of politicians, public figures and journalists who had actually met Maurice McCabe came to believe in him.
The first time I met Maurice McCabe in his home on Mountnugent he took the leftovers of a roast dinner out of the fridge and made me a chicken sandwich.
I would learn that no visitor leaves the McCabes' home without being well fed. That's the kind of people they are.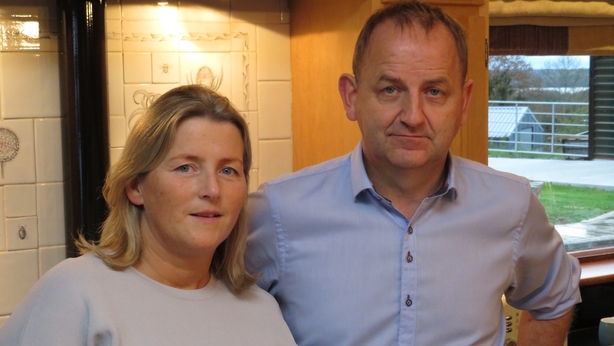 Maurice McCabe immediately impressed me as being a serious person, not given to wild allegations or reckless accusations, but rather someone who was meticulous about facts and fair minded about the challenges faced by others.
He was a guard to his fingertips with an uncomplicated view of justice – you stood up for what was right and you exposed what was wrong.
He didn't get everything right. Nobody could. But, as Mr Justice Peter Charleton would note, he acted at all times out of "a legitimate drive to ensure that the national police force serves the people".
His refusal to turn a blind eye to malpractice had sucked him into a vortex that threatened to destroy not just the career that he loved, but everything he held dear.
By the time our paths crossed, he was fighting on several fronts to protect his reputation and his family. At that point, he wasn't sure it was a battle he could win.
You could not but marvel at his resilience. How could one man have the strength of character to absorb all that pressure and stress over so many years and battle on, apparently unscathed? And then I met Lorraine McCabe. And it was instantly apparent that Lorraine was his secret weapon.
Lorraine McCabe is the sort of smart, no-nonsense, competent woman who coolly keeps the show on the road. We met in traumatic circumstances.
She paced her kitchen as I read through documents from the Child and Family Agency Tusla, which laid bare in graphic detail how social workers outrageously mishandled an entirely false allegation of child rape against her husband.
What had hit the McCabes hardest was learning that files that had been opened in four of their children's names, suggesting they may be at risk of abuse from their father.
"It's a story of one family's survival against almost impossible odds."
We discussed the potential fallout from reporting that this had happened. That it would necessarily mean the painful, public airing of some the family's most private information.
But Lorraine McCabe was adamant. Her children were now involved. They would do whatever was necessary to put it right.
After featuring in countless articles and news broadcasts for over five years, now Maurice and Lorraine McCabe finally get to tell their extraordinary story in their own words.
From the thrill of getting his first uniform in the Garda College in Templemore in the early 80s, to the devastation of the moment in 2006 when Maurice was confronted with a sexual assault allegation - for which he was completely exonerated - right up to his decision to retire from the force after his complete vindication in the Disclosures Tribunal Report 12 years later.
It's a story of one family's survival against almost impossible odds. They tell it well.
'Whistleblower: The Maurice McCabe Story' airs on RTÉ One Monday and Tuesday at 9.35pm.