The Garda National Economic Crime Bureau has been asked to investigate occurrences at Kildare and Wicklow Education and Training Board by an investigator appointed by the Department of Education and Skills.
Dr Richard Thorn's report has been published today.
It makes findings strongly critical of former KWETB chief executive Sean Ashe, and raises a number of concerns around past tendering and public procurement procedures at the body.
Mr Ashe took early retirement last December.
He told the Oireachtas Public Accounts Committee that his decision to retire - announced two days after the establishment of this investigation - was for personal reasons and that its timing was "purely coincidental".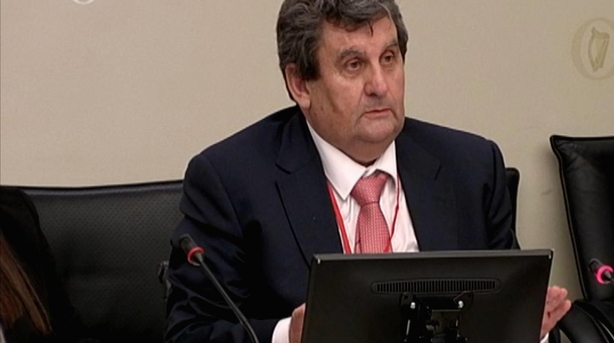 The Thorn investigation has found what it calls "inconsistencies" surrounding procurement of some works that "are beyond the powers of the investigator to reconcile".
It has referred this matter to the GNECB.
Dr Thorn investigated the use of a company, with which it states Mr Ashe had family connections, to renovate a property used by KWETB.
The company, which is not named in this report, was named in an RTÉ Investigates report, broadcast on Prime Time in June, as Ashten Engineering.
Dr Thorn finds that there was "no contemporaneous documentary or oral confirmation from other than the chief executive" that a tendering process had taken place for this work.
He states that the only records are a tender report and documentation "disclosed at a very late stage in the investigation".
Dr Thorn concludes that he cannot make a finding as to the authenticity of this tender process.
The report states that "reconciliation of the inconsistencies requires investigative powers beyond the scope of this Investigation, and the matter has been forwarded to the Garda National Economic Crime Bureau".
The report also criticises events surrounding the payment of an additional almost €500,000 to a company that was building a school for KWETB.
The school, which is not named in the report, is Glenart College in Arklow.
The money was paid over as part of an "acceleration" process, which is a procedure invoked when there is a requirement that a building project be completed earlier than originally agreed.
This report finds that the acceleration was "not in accord with Department contract management guidelines".
The "apparent direct involvement" of Mr Ashe "was ill-conceived and likely to lead to confusion and increased difficulty in agreeing final accounts", it states.
The report finds that the chief executive entered into a contract with the company building Arklow College "on the basis of urgency", but that "no approval process documentation is available".
It finds that this contract, as well as a subsequent one entered into by Mr Ashe, "breached the KWETB's own procurement guidelines and, in the case of the roll-over, the EU and Irish requirements".
Responding to the report KWETB said the findings are clearly a matter of regret.
But it says that Dr Thorn's recommendations "align clearly with organisational, leadership, and change management processes that our senior management team are actively promoting and directing".
This investigation was commissioned following queries raised by the Comptroller and Auditor General in an audit of the 2015 financial statements of KWETB.
In a response published as an appendix to Dr Thorn's report, the KWETB said the report identifies deficiencies in key practices, particularly around procurement and construction project management, and that it is "satisfied to report that improvements in these areas will be achieved".
The Department of Education and Skills said it has referred the report in full to the Garda Crime Bureau. In a statement Minister for Education Richard Bruton said the report made a number of findings in relation to matters which he considered to be of serious concern.
He said it was essential that KWETB make all necessary efforts to address all of the issues raised.
Mr Bruton said he understood that work was well underway on implementation of an action plan which was developed in response to a draft of the report.
He said he wanted the action plan to be reviewed and agreed with his department and, once finalised, he expected that it would be implemented by KWETB swiftly.