A body representing the parents of children with special needs has called on the Department of Education to track and collate evidence on the use of restraints and isolation practices for children with special needs in schools.
Lorraine Dempsey of the Special Needs Parents Association told an Oireachtas committee this evening the country was "one step away from the death of a child" due to the use of inappropriate methods of restraint by adult staff on children in schools.
Ms Dempsey was referring to the use of physical restraint methods such as prone restraint, which is when a person is held face down.
Speaking to RTÉ News after her address to the committee, she said, if done incorrectly, this could potentially suffocate a child.
She also criticised the practice of isolating children in rooms or other areas.
Ms Dempsey said the organisation was very concerned that these practices may be going on. "It is definitely something that should not be allowed," she said.
However, she criticised the fact that no data was being collected on the use of isolation rooms or spaces, or on the use of physical restraint.
"There's children locked in cupboards", she said, and she said children were being traumatised by such practices.
"We do not track or collate evidence on this," Ms Dempsey said.
Speaking at an education committee hearing on the issue of special education provision in mainstream schools, Ms Dempsey criticised the insufficient number of educational psychologists, as well as major shortages of therapists to support children.
The SNPA says waiting lists for provision of services continue to rise and can have a detrimental impact on children's developmental potential, and for the school staff who need guidance and support.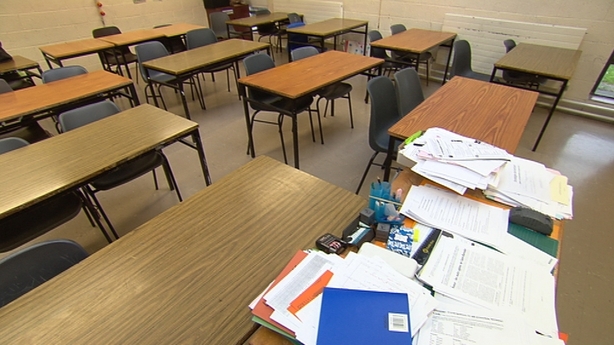 The group told the committee that less than one third of the number of teams proposed under a new national policy known as 'Progressing Disability' were in place, and there had been no investment over the past two years to recruit additional therapists.
Ms Dempsey said it was doing "a major disservice to children, and the schools trying to meet their educational needs", to not adequately provide the therapeutic interventions that they need.
She also called for more mixed special classes in mainstream schools, especially at second level, and for a geographical spread.
On staffing for special classes in mainstream schools, Ms Dempsey complained that it was often the "youngest or the newest" teacher who was given these classes.
"People should want to be working with our children," she said.
The National Council for Special Education told the committee that by this coming September there would be 1,454 special classes in operation in mainstream schools.
CEO Teresa Griffin said 27% were in post-primary schools and 82% were for students with ASD.
Ms Griffin said the current special class model may not be the most suitable for post-primary students and work needed to be done around this issue.
She also said the NCSE had found that students, once enrolled in special schools or classes, rarely re-enrolled in mainstream education and their level of inclusion in mainstream classes and access to the full curriculum may be limited.
She said the NCSE was working with the Department of Education on these issues.
Adam Harris of autism support group AsIAm said inclusion should not be optional for schools.
He said children with autism should face only the same enrolment processes as other students.
Mr Harris said support should be provided to help schools to change their cultures and become more inclusive, and that there should be mandatory training in autism for all teachers and SNAs.