The funeral of 15-year-old Jack Kenneally, who died in a drowning accident on Thursday, has taken place in the Pro-Cathedral in Ennis, Co Clare.
His parents Sean and Tina and three sisters Danielle, Katie and Aisling, as well as hundreds of friends from rugby and sports clubs and the wider community, came to support his family.
His coffin was draped in the Munster Rugby flag; he had been recently selected for the under-16 Munster Cadets.
Parish priest Fr Tom Hogan said Jack's untimely death had caused unbelievable sadness in the entire community and their powerful presence here today was an acknowledgement of the families' pain.
Jack's coach from Ennis Ruby Club, Paraic Brennan said Jack had everything as a sportsman, strength, speed and valour, an exceptional young man who was going all the way.
Jack and his friend Shay Moloney died last Thursday after getting into difficulty while swimming in a quarry on the Tulla Road near Ennis.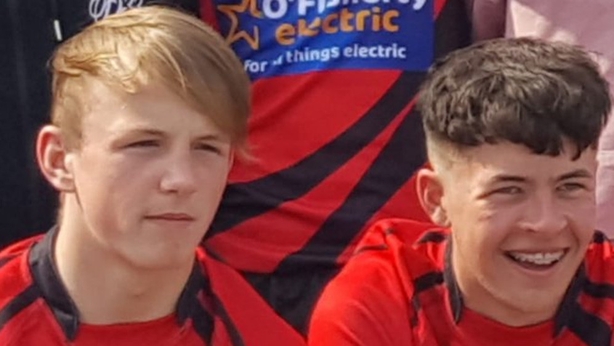 Gifts brought to the alter reflected Jack's life as an accomplished sportsman.
They included a rugby ball recently by his under-15 rugby team and signed by his teammates, as well as a jersey from his beloved Liverpool Football club.
Jack's father Sean said they never believed something like this could happen to their family and it had caused a huge sense of shock and disbelief.
He wished this was a bad dream but it wasn't. He said they had been blown away by the huge messages of support but Jack's death had left a huge void in their lives.
He acknowledged that his son had achieved so much in his jam-packed but short-lived life as an outstanding athlete and person.
He also paid tribute to Shay Moloney, Jack's good buddy, who lost his own life trying to save his son.
15 year old Jack Kenneally's coffin draped in the Munster flag leaves Ennis Catheral. His rugby team mates formed a guard of honour pic.twitter.com/HJgECpZqGJ

— Cathy Halloran (@HalloranCathy) June 3, 2018