Twenty-six severely mentally ill patients who are a danger to themselves and others are being kept in prisons because there are no beds available to them at the Central Mental Hospital.
The Hospital's Medical Director has raised serious safety concerns for prison staff and inmates who are dealing with what he says are "unmedicated and untreated" patients.
Professor Harry Kennedy said a lack of capacity at the Central Mental Hospital has resulted in prisoners and staff at other facilities being injured by severely mentally ill patients who require specialist treatment.
Prof Kennedy said a shortage of beds means that people on the waiting list "get more and more ill, and it is more difficult to treat them when we eventually do get them in".
He also said he, as clinical director of the Central Mental Hospital, is failing to meet his own legal obligation to provide a safe treatment facility for people with severe mental illness.
Prof Kennedy said as an administrator he was effectively breaking the law by not providing a bed for a severely ill patient when ordered to do so by the courts.
On occasion he said he had been advised by HSE lawyers that there was a chance he himself could go to jail for contempt of court for not meeting his obligations as clinical director of the hospital.
"As a state we are failing severely mentally ill people, they're in prison instead of being in care, this is not good," he said.
"Although all of those people have a history of serious violence to other people, it is also very likely that they will seriously harm themselves as the next thing that happens."
"That is not as easy to manage while they are untreated in a prison, where as we are entirely designed to manage that while they are here."
"So the simple clinical and humanitarian obligation to look after extremely ill people isn't being met" he said.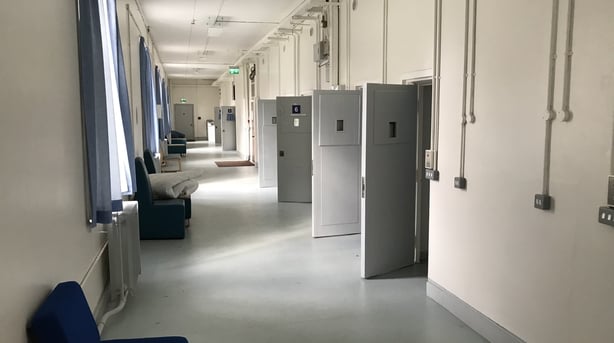 Prof Kennedy said the Central Mental Hospital itself was operating "at the edge" of safe levels, and did not have a full complement of nurses.
He said the Central Mental Hospital has the capacity to house an additional ten patients in a recently refurbished unit, but there are no nursing staff available to run the unit.
"We have the doctors, psychologists, social workers, and occupational therapists to staff it, but we don't have the nurses" he said.
"Its now in a condition where we could use it, but we cannot find the nurses to staff it."
He said other countries operate a skills mix, where healthcare workers who do not have degree level qualifications are allowed to work under the supervision of nurses, but this does not happen in Ireland.
"At the moment we are completely failing if we don't address that" he said.
A new mental hospital is currently under construction in Portrane with capacity for 170 needs, however it will not be ready until 2020.
We need your consent to load this rte-player contentWe use rte-player to manage extra content that can set cookies on your device and collect data about your activity. Please review their details and accept them to load the content.Manage Preferences