Russian President Vladimir Putin has warned that further Western attacks on Syria would bring "chaos" to world affairs, as Washington has said it is preparing to increase pressure on Russia with new economic sanctions.
In a telephone conversation with his Iranian counterpart Hassan Rouhani, Mr Putin and Mr Rouhani agreed that the Western strikes had damaged the chances of achieving a political resolution in the seven-year Syria conflict, according to a Kremlin statement.
Mr Putin said: "If such actions, carried out in violation of the United Nations Charter, are repeated, that would inevitably provoke chaos in international relations," according to a statement from the Kremlin.
The two leaders "found that this illegal action seriously damaged the prospects of a political settlement in Syria," the statement said.
Mr Putin denounced "with the utmost firmness" the strikes which he described as "an act of aggression against a sovereign state which is at the forefront of the fight against terrorism".
Meanwhile, US ambassador to the United Nations, Nikki Haley has said that the United States would announce new economic sanctions on Monday aimed at companies "that were dealing with equipment" related to Syrian President Bashar al-Assad's alleged chemical weapons use.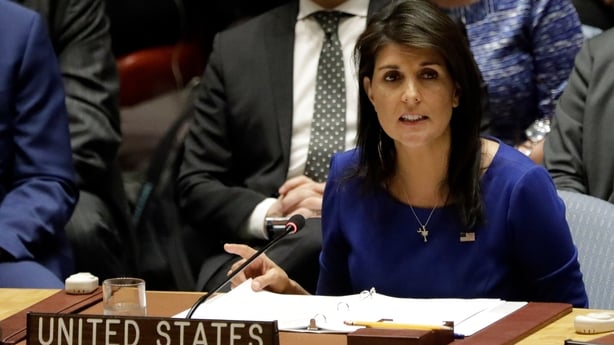 On Saturday, the United States, France and Britain launched 105 missiles targeting what the Pentagon said were three chemical weapons facilities in Syria in retaliation for a suspected poison gas attack in Douma on 7 April.
The Western countries blame Assad for the Douma attack that killed dozens of people.
The Syrian government and its ally Russia have denied involvement in any such attack.
The bombings marked the biggest intervention by Western countries against Assad and ally Russia but the United States, France and Britain have said the missile strikes were limited to Syria's chemical weapons capabilities and not aimed at toppling Assad or intervening in the civil war.
In Damascus, Syria's deputy foreign minister met inspectors from the global chemical weapons watchdog OPCW for about three hours in the presence of Russian officers and a senior Syrian security official.
The inspectors were due to attempt to visit the Douma site.
Moscow condemned the Western states for refusing to wait for the OPCW's findings before attacking.
President Assad told a group of visiting Russian officials that the Western missile strikes were an act of aggression.
Syria released video of the wreckage of a bombed-out research lab, but also of Assad arriving at work as usual, with the caption "morning of resilience" and there were no immediate reports of casualties.
Russian agencies quoted the officials as saying that Assad was in a "good mood", had praised the Soviet-era air defence systems Syria used to repel the Western attacks and had accepted an invitation to visit Russia at an unspecified time.
Mr Trump had said "mission accomplished" on Twitter after the strikes, though US Lieutenant General Kenneth McKenzie at the Pentagon acknowledged elements of the programme remain and he could not guarantee that Syria would be unable to conduct a chemical attack in the future.
---
US says air strikes cripple Syria chemical weapons programme
Russia fails in UN bid to condemn air strikes on Syria
Chemical weapons inspectors, how do they work?
---
Russian and Iranian military help over the past three years has allowed Assad to crush the rebel threat to topple him.
Though Israel has at times urged stronger US involvement against Assad and his Iranian and Lebanese Hezbollah reinforcements in Syria, it voiced backing for Saturdays airstrikes by Western powers.
Israel's Prime Minister Benjamin Netanyahu told his cabinet in broadcast remarks that Israel fully supports President Trump's decision to act against the use of chemical weapons in Syria, adding that he had commended his British counterpart, Theresa May, in a phone call.
France, the United States and Britain circulated a draft resolution to the UN Security Council late on Saturday that aims to establish a new independent inquiry into who is to responsible for chemical weapons attacks in Syria.
The mechanism would look at cases where the OPCW fact-finding mission has established chemical weapons were used or likely used.
Diplomats said negotiations on the draft resolution would begin on Monday and it was not immediately clear when the United States, France and Britain wanted to put it to a vote.
Following yesterday's air strikes, British foreign minister Boris Johnson has said western powers will study "options" if Syria's government again uses chemical weapons, but nothing is planned as yet.
Mr Johnson made the comments following raids on Syrian targets, which triggered a heated debate over their legality and effectiveness.
Speaking on BBC's Andrew Marr show, Mr Johnson threw his weight behind UK Prime Minister Theresa May's decision to take part in the attack, saying it was the right thing to do to deter further use of chemical weapons.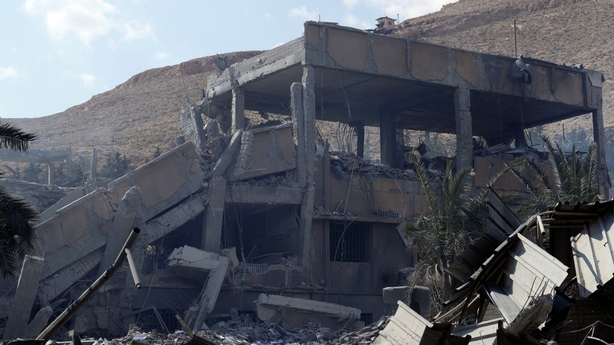 "There is no proposal on the table at the moment for further attacks because so far - thank heavens - the Assad regime have not been so foolish as to launch another chemical weapons attack," he said.
He added: "If and when such a thing were to happen, then clearly with allies we would study what the options were."
His comments appeared in line with those of Ms Haley, who said at an emergency meeting of the UN Security Council that President Donald Trump told her that if Syria uses poisonous gas again, "The United States is locked and loaded."
British opposition leader Jeremy Corbyn said that the legal basis used to support the British role was debatable, adding that he would only support action backed by the United Nations Security Council.