US Defence Secretary James Mattis has warned that it would be "very unwise" for Syrian government forces to use weaponised gas. 
The comments come amid unconfirmed reports of chlorine attacks in Eastern Ghouta.
Mr Mattis stopped short of threatening to retaliate against Syrian forces if a chlorine attack was confirmed.
Speaking to reporters ahead of a visit to Oman, Mr Mattis said: "It would be very unwise for them to use weaponised gas. And I think President Trump made that very clear early in his administration."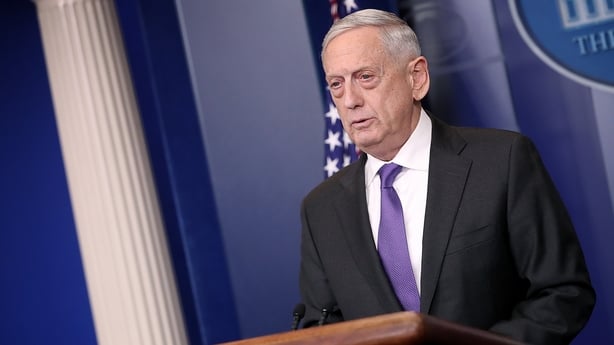 He added that he did not currently have clear evidence of any recent chlorine gas attacks but noted numerous media reports about chlorine use.
Rescue workers and opposition activists in Eastern Ghouta have accused the Syrian government of using chlorine gas during the conflict.
Damascus denies this and along with Moscow have accused rebel forces of planning to orchestrate poison gas attacks in order to blame the Syrian government.
Syrian President Bashar al-Assad has vowed to continue the offensive in Eastern Ghouta.
With the conflict entering its eighth year, capturing Eastern Ghouta would be a major victory for Mr Assad, who has steadily regained control of rebel areas with Russian and Iranian support.
Meanwhile, the Syrian army and rebel groups engaged in fierce battles early on Sunday on a critical front in Eastern Ghouta where government advances have in effect splintered the insurgent enclave into three areas. 
More than 1,100 civilians have been killed in the onslaught on the biggest rebel stronghold near Damascus according to the Syrian Observatory for Human Rights.        
It said there was intense fighting on several fronts accompanied by a government artillery barrage, continuous air raids and attacks by helicopters. 
Mr Mattis hit out at Moscow for partnering with Mr Assad, suggesting it might even be a partner in the Syrian government's strikes on civilians.
"Either Russia is incompetent or in cahoots with Assad. There's an awful lot of reports about chlorine gas use or about symptoms that could be resulting from chlorine gas," he said.
The United Nations High Commissioner for Human Rights said earlier this month that Syrian government air strikes on Eastern Ghouta and shelling from the rebel-held zone into Damascus probably constitute war crimes.
The White House has said Russian military aircraft took off from Humaymim Airfield in Syria and carried out at least 20 daily bombing missions in Damascus and Eastern Ghouta between 24-28 February.
Washington did not say whether the jets dropped ordnance, which could be harder to determine than tracking the flight paths of Russian aircraft on US radar. But the United States directly accused Russia of killing civilians.
Mr Mattis declined to elaborate on whether Russian jets directly carried out bombings, saying Moscow was involved either way.
"They are Assad's partner and whether the airplane dropping the bomb is a Russian airplane or a Syrian airplane, I'd prefer not to say right now," he said.