Trade union representatives for Ryanair pilots have said that the threat of strike action remains a possibility unless management responds to their collective bargaining proposals by noon on Thursday.
Following a conclusion of talks between IMPACT and Ryanair airline management, the union expressed disappointment that they were not presented with a written collective agreement from management recognising the union.
IMPACT's Head of Communications, Bernard Harbor, said they presented management with proposals to set up a framework for negotiations.
When asked about whether the prospect of industrial action following the talks had receded or increased, Mr Harbor said "the ball is in Ryanair management's court".
We need your consent to load this rte-player contentWe use rte-player to manage extra content that can set cookies on your device and collect data about your activity. Please review their details and accept them to load the content.Manage Preferences
It was the first meeting between the airline and a trade union in the company's 32-year history.
Ryanair's director of personnel Eddie Wilson described the meeting as very positive.
He said the union put forward a set of proposals to set up a framework to fast track the negotiations.
He said management have taken them away and will respond to them in writing by Thursday.
Mr Wilson said management was happy that the union has taken the approach of fast-tracking matters, as management wants to deal with the issues quickly.
"We have meetings with the German unions tomorrow and Portuguese on Thursday, and we have meetings set up throughout January," he said.
"We crossed a rubicon last Friday and now we have to deal with this and we want to deal with it quickly," he added.
Mr Wilson said Ryanair was interested in the outcome and not the rituals but that they would get there.
He said Ireland amounted to about 8% of traffic to the business and added that it was only a small part of the business.
He said it was management's objective to protect their business model in this new era.
He said Ryanair had very competitive terms and conditions for pilots but added that there were "things" they needed to sort out when they get down to negotiations and said today was only about the framework.
Ryanair estimates €100m rise in cost base following union recognition
Ryanair has estimated that its cost base will rise by a total of €100 million a year following its decision to recognise unions.
Financial analysts had calculated yesterday that the decision to recognise pilots unions could add €150 million to the annual payroll - with an even higher cost once unions representing 8,000 cabin crew are factored in.
However, arriving earlier for the meeting with the pilots' union IMPACT, Chief Operations Officer Peter Bellew said that expected a total increase of €100 million across pilots and cabin crew, and that there would be no change to the airline's guidance for profitability.
He said Ryanair was sincere about embracing the collective bargaining model, and would not be attending today's meeting if they were not.
Asked why he had described the mood in Ryanair as "miserable", Mr Bellew said they should have good cooperation with unions, and make things great for people.
Mr Wilson earlier said this was the new reality for Ryanair - they were recognising unions and this was the first meeting today.
He said they would also be recognising unions for their 8,000 cabin crew.
IMPACT described today's first meeting with management as an important, historic day.
Arriving for the meeting, Mr Harbor said they expected the company would confirm its decision to recognise the union for negotiating purposes.
He said IMPACT would be asking them to put in place very quickly the procedures required to make a reality out of the company's commitment to recognise unions - including how they are going to engage over the coming weeks and months.
He said the union needed something concrete from management to demonstrate to Ryanair pilots and to the wider public that they really do mean business, and that there has been a real change in the company.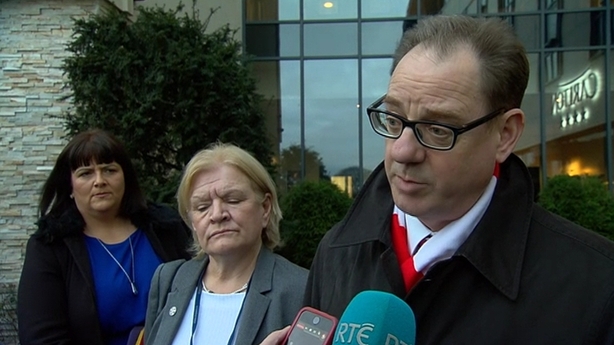 Asked about concerns of financial analysts that unionisation could increase the cost base of the airlines, Mr Harbor said trade unions were productive and constructive partners in negotiations, who represented pilots in every airline operating out of Ireland.
He said they had helped a lot of airlines at difficult times during the recession, and that shareholders had nothing to fear from them.
He described IMPACT as professional negotiators who believe they can make things work better for pilots, passengers, shareholders and management at Ryanair.
A one-day strike had been planned for tomorrow and would have mostly involved captains operating out of Irish bases but doubtless have a severe knock-on effect.
Ryanair has also offered to meet the Portuguese union on Thursday and the British and Italian organisations in early January.
The airline reversed its long standing policy of refusing to recognise unions last Friday when faced with pilot strikes in Ireland, Italy and Portugal tomorrow.
Pilots suspended their strike to allow for talks but reserved the right to resume their industrial action if Ryanair does not engage in good faith.
The climbdown by Ryanair and its Chief Executive Michael O'Leary means that for the first time, pilots can bring in professional representation.
Market analysts anticipate the increase in Ryanair's cost base could affect the airline's ability to meet its targets for 2018 and 2019, due to higher labour and fuel costs.
Shares in the airline reversed some of its recent losses and were higher in Dublin trade today.