Outgoing Sinn Féin President Gerry Adams has said he "won't miss the Dáil" when he stands down as TD for Louth in the next general election.
Speaking on RTÉ's The Week In Politics, he said: "I won't miss it at all at all. I think it's a small cosy little club. I think it has all of the worst aspects of the old British system."
While he said there was "some good work done there", he added: "I can tell ya, it would fry your head to listen to the nonsense that is talked."
Mr Adams has also said the party's Ard Comhairle may meet before Christmas and consider putting together a process for the election of a new party leader, after last nights announcement he will be stepping down.
Will Gerry Adams miss the Dáil? #twip pic.twitter.com/KEmOpGtJU0

— The Week in Politics (@rtetwip) November 19, 2017
He added on that he does not see the issue being addressed until the new year.
Speaking on RTÉ's This Week, he said he wants to ensure that the party's new leader has time to prepare ahead of the next general election.
He said the Ard Comhairle is bound to meet a month before a Special Ard Fheis but he added that the party is very relaxed about the timescale for the election and they were working to a plan for regeneration.
He also said he had not thought about staying on the party's Ard Comhairle.
Meanwhile, Fine Gael, Fianna Fáil and the Labour Party have all rejected any suggestion that they may be prepared to go into coalition government with Sinn Féin after the next general election.
Minister for Housing Eoghan Murphy claimed Sinn Féin was "no-where near ready to go into government", despite the party's Ard Fheis opening up the possibility of going into government as a junior partner.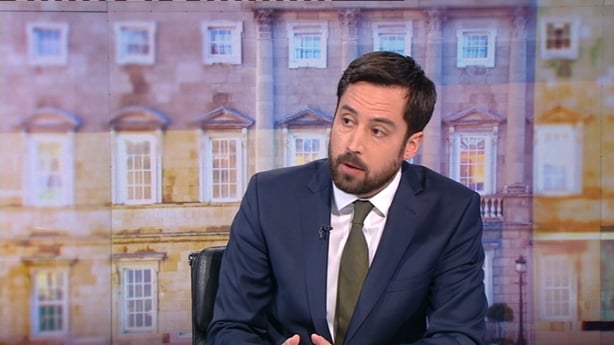 He told The Week In Politics that Gerry Adams' decision to stand-down as party president "won't change anything in Sinn Féin because the officer corp he has brought-in beneath him, that will now take over the party, show the same undemocratic tendencies."
Labour's Jan O'Sullivan said she remained "very concerned about the party's culture" after the party's Ard Fheis in the RDS.
She said: "I don't think there's any great evidence that the culture has changed. You saw for example yesterday that the biggest round of applause came for the representative for Foyle in talking about [Martin] McGuinness as being a proud member of the IRA."
Fianna Fáil's Barry Cowen maintained that "nothing will change" about Sinn Féin after Mr Adams stands-down.
He said: "Fianna Fáil doesn't believe it its policies... in the way it does its business - not only the Fianna Fáil leadership but the Fianna Fáil front bench, parliamentary party and membership."