The Cabinet could examine proposals to address pension rules which discriminate against tens of thousands of women as early as next Tuesday.
Minister for Children and Youth Affairs Katherine Zappone told RTÉ's The Week In Politics: "We will be dealing with a memo. I hope that it comes forward this Tuesday. It will, I think, particularly focus on fairness for women."
Opposition parties have been demanding immediate incremental changes to assist more than 35,000 women who are estimated to be €35 a week worse off, because they took time off to look after children.
Also speaking on The Week In Politics, the Taoiseach indicated a time-frame, stating that "interim measures" would be introduced in "the next couple of months".
Leo Varadkar said: "We are looking at some interim measures that will help alleviate the situation... We don't have them worked-out and costed, but it is something we want to do."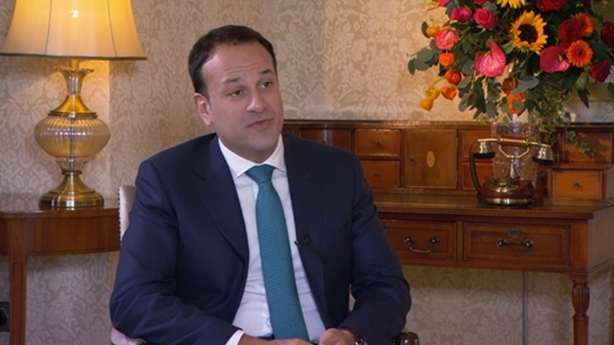 However, he repeated that fully resolving the problem would take time.
He said: "We are going to bring-in a new system by 2020, and it does take time to do this.
"Under that system, it will be called 'the total contributions approach'. It won't matter if you had gaps - what will matter is the total contributions you made over the period of your working life."
Taoiseach says Apple move was result of Budget 2015 decisions
Mr Varadkar also said that the Apple's decision to move "huge amounts of intellectual property to Ireland" was "an unintended consequence" of decisions in Budget 2015.
Mr Varadkar said: "I think Michael Noonan made the right decision at the time - which was to get rid of the Double Irish ... to get rid of stateless corporations. [But] I do think there was an unintended consequence."
The Taoiseach, who sat at Cabinet at the time, said the subsequent tax decisions by Apple were "... not anticipated at the time - certainly when it was being discussed at the time. And this often happens with policy decisions - there can be unintended consequences".
Mr Varadkar maintained: "We've reversed that. And in the Finance Bill going through the Dáil we're sorting it."
However, Sinn Féin's Peadar Tóibín dismissed the Taoiseach's argument saying: "These were not unintended consequences. We said it at the time, when Michael Noonan introduced the law."
The move by Apple led to huge revisions to Irish GDP levels, which in turn led to the data being derided as "leprechaun economics".