Minister of State for Training and Skills John Halligan told RTÉ News this afternoon that he cannot remember if he had asked a male candidate the same questions about family circumstances as he had asked a female candidate in a job interview.
A Government department was ordered to pay €7,500 in compensation to a woman after Minister Halligan had asked her if she was married and if she had children.
Mr Halligan said he may have asked the male candidate the questions, but cannot remember, as it was 14 months ago.
However, speaking on RTÉ's Today with Seán O'Rourke programme earlier today, Mr Halligan said that he had asked a male candidate similar questions.
He said his reasoning was to be able to accommodate the people who worked for him.
He said he operated a family-friendly environment in all three of his offices and there had always been an ethos of allowing employees starting late to allow them to bring their children to school.
He said he had hoped to attend the WRC hearing but could not, though he did apologise and admitted it was a genuine mistake.
Mr Halligan said he was disappointed that he asked the discriminatory question in the job interview with the woman, but said the question was asked unintentionally.
He said it was purely his intention to relax the interviewee.
"That was all I was trying to do, it was a mistake, a genuine mistake," he said.
He said he was not a "professional interviewer" but he did not want to hold anyone else responsible.
"It is my responsibility; it is my mistake ... the buck stops with me on this."
.@IndepAlliance Minister of State @JohnHalligan tells @TodaySOR that he has not considered resigning. @rtenews

— Martina Fitzgerald (@MartinaFitzg) November 10, 2017
Mr Halligan said he would "do the right thing" and would pay costs and the settlement award set down by the Workplace Relations Commission.
He said he had a record of championing women's rights and that he would have no problem meeting the candidate involved to apologise.
Mr Halligan said he was not appealing the ruling and said it was "an error of judgement".
He said he does his job well as a Government minister. He also told the programme that he had not considered resigning from his position.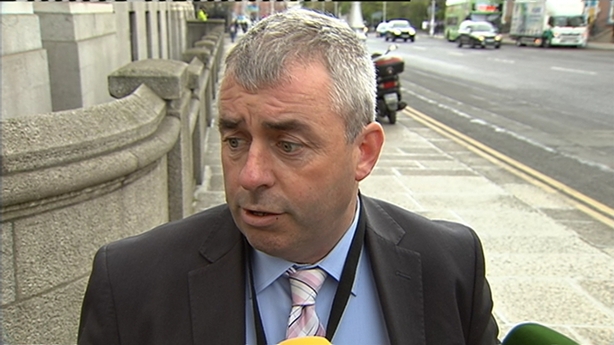 Minister for Foreign Affairs Charlie Flanagan said Mr Halligan's actions were wrong and he accepts that but they are not a hanging offence.
He also said Mr Halligan had apologised and has undertaken to pay the €7.5k compensation and costs.
Earlier, Minister of State for the Office of Public Works and Flood Relief Kevin 'Boxer' Moran said Mr Halligan made "a vast mistake" in asking discriminatory questions during the interview.
Speaking on RTÉ's Morning Ireland, Minister Moran said that he wanted to apologise to the family involved on behalf of the Government and on behalf of the Independent Alliance.
He said he did not condone what Mr Halligan did that day.
"He has apologised. John is a decent guy and no person is more hurt than him. We have to accept what he said and move on," he said.
On calls for Minister Halligan to resign, Mr Moran said it was a matter for the Taoiseach and for Mr Halligan himself.
Minister Moran was speaking ahead of the unveiling of the first phase of a flood alleviation scheme in Athlone.
He said it was the start of a series of flood relief initiatives, with the Government guaranteeing investment of €130m between now and 2021.
Separately, Minister for Foreign Affairs Simon Coveney said he had confidence in the Government's working relationship with members of the Independent Alliance, saying: "We work well together".
Speaking on RTÉ's Morning Ireland, he said Mr Halligan's questions were an error of judgement and a mistake.
Mr Coveney said it was inappropriate to ask such questions, but Mr Halliigan accepted that and everybody now should move on.
Halligan: N Korea trip 'appears to be off'
Meanwhile, Mr Moran also said he was annoyed and embarrassed when he heard of plans for a North Korea peace mission by some members of the Independent Alliance.
He confirmed the peace mission that had been proposed by some of his Independent Alliance colleagues was not happening, now or ever.
Mr Moran said: "I was embarrassed as it's something I didn't condone... We had meetings over the last couple of days. We had a constructive meeting and the trip to North Korea is off the agenda."
Minister for Transport Shane Ross told RTÉ Prime Time last night that the proposed trip was off.
Mr Halligan today said the trip "appears to be off".
He said the plan was "to see how far we could get" and then sit down and discuss the situation with Mr Coveney.
He said "tentative approaches" were made to the North Korean Embassy and members of the United Nations, and he would like to put those views together and discuss it with the Department of Foreign Affairs.
Mr Halligan said he always advocated that peace was better than war and "if we can talk about it, we should".
He said the Independent Alliance were all individual independents and had differing views on issues.
A spokesperson for the Independent Alliance said that the proposal referred to by Mr Halligan that he planned to discuss with the Department of Foreign Affairs, does not involve any future trip to North Korea.
The spokesperson added that Mr Halligan acknowledges that a trip to North Korea is off the agenda.