A 69-year-old Cork man will be sentenced next month for regularly raping one of his daughters over a period of five years and indecently assaulting another daughter on a regular basis.
Jerry O'Keeffe, a former soldier, of Oakhill, Youghal in Co Cork pleaded guilty to nine sample charges out of a total of 78 original counts, shortly before his trial was due to start in July.
Both daughters have waived their right to anonymity, the court heard.
The Central Criminal Court heard that one of O'Keeffe's daughters reported the abuse to gardaí when she was 16, but her parents put her under pressure to withdraw her statement.
The abuse was reported to the Southern Health Board in 1999, after both sisters went to the Rape Crisis Centre.
No further action was taken after O'Keeffe agreed to move out of the family home.
He remained in the army until 2004.
The sisters reported the abuse to gardaí again in 2014.
O'Keeffe pleaded guilty to nine sample charges shortly before he was due to go on trial in July this year.
---
WARNING: The following report contains details that some people may find upsetting
---
The offences date back to 1980, when the oldest daughter, Amy, was just seven years old.
She said her father would ask her to sit on his lap before sexually abusing her and then taking her to his bedroom and raping her.
Prosecuting counsel, Timothy O'Leary, told the court that she tried to get her father to stop but she was limited in what she could do as she was such a young girl.
The rapes occurred on a regular basis until she was 12 years old in 1985.
The court heard the indecent assaults against Melissa O'Keeffe began when she was just 11 years old and went on for six years.
They would usually happen at night, when her father returned from the pub, the court heard.
---
Court hears victim impact statements from both daughters
In her victim impact statement, Ms Barratt told the court the rapes had a very traumatic effect on her and she would never forget the physical pain of the abuse.
She said her father had betrayed her and she felt a "mixed bag" of confusion and terror.
Mrs Barratt told the court she found it hard to make friends as she felt different to everyone else.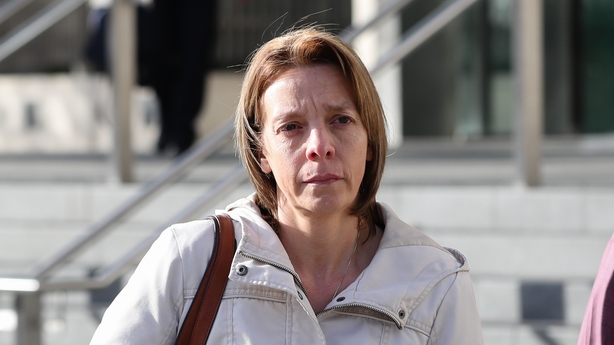 She said in her teenage years, the anger grew inside her and she left home as soon as she was old enough and tried to put the abuse behind her.
However, she said the memories would never leave her.
She eventually contacted the Rape Crisis Centre and social workers became involved when it emerged that there were younger children at home.
Ms Barratt told the court this put a strain on her relationship with her family. She said she felt suicidal and very alone.
She also said she was constantly looking over her shoulder for fear her children or anyone else's children would be around her dad.
She said in the lead up to the trial, she hoped her dad would do the right thing and she was very hurt that her father was prepared to put her through all of this.
She said time was supposed to heal all wounds but this would never go away.
Ms Barratt added that the abuse left her with feelings of guilt that she had not reported it earlier.
She said she felt shame, embarrassment and hurt but today she was giving those feelings back to her father.
The victim impact statement of Amy's sister, Melissa was read to the court.
She said she did not understand what was going on when she was abused, but she knew it felt was wrong. She said she felt very alone and hurt.
She thought that if she called out to her mother she would get into trouble.
She also asked how she could explain it to her mother when she barely understood it herself.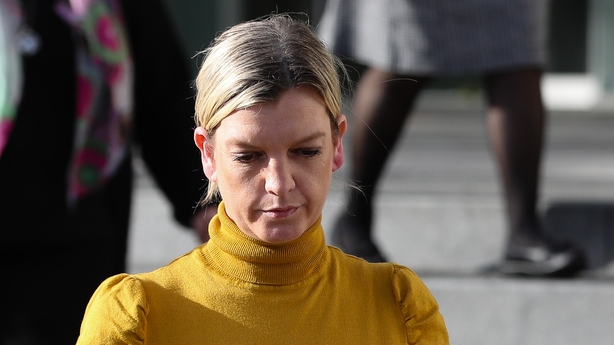 Ms O'Keeffe said when she was 16 she made a statement to gardaí, but her parents told her to withdraw it, as her father would lose his job and they would lose their house.
She said she told gardaí that she had made it up and she had to try to move on.
When she raised it later with an aunt, she said she was again told by her parents to stop talking about it.
Ms O'Keeffe said she had found the last year, in the lead up to her father's trial, very difficult. But she said today meant so much to her. She said she now finally had her voice, which she was not allowed when she was 16.
---
Sergeant John Sharkey told the court that O'Keeffe was separated from his wife and had no previous convictions.
O'Keeffe's defence counsel, Ronan Munro, said that O'Keeffe was clearly conflicted between self-preservation and admitting his behaviour.
In garda interviews in late 2014, he had denied the allegations but he now took full responsibility for what he had done and apologised to both of his daughters.
The court was told O'Keeffe had been in the Army from 1982 until 2004 and had served three tours of Lebanon.
After his daughters went to the Rape Crisis Centre in 1999, O'Keeffe had made some admissions to a psychiatrist.
The court heard he agreed to leave the family home and an investigation by the Health Service Executive "petered out".
At one stage, he had alleged to one psychiatrist that he himself had been abused when he was a child.
Mr Munro said O'Keeffe's health was bad and his mental health was not particularly stable.
He said that even at this stage in his life some rehabilitation was possible and he asked the court to consider allowing him to serve part of his sentence in the community under the supervision of the relevant professionals.
Mr Justice Patrick McCarthy said he would sentence O'Keeffe on 6 November.
He was remanded in custody until then.