A review of the Co Roscommon mental health services, undertaken after allegations of improper sexual contacts at a facility in the county, has found there were systemic failings in reporting and managing incidents of sexualised behaviour.
In a damning report published this afternoon, an external team said the Mental Health Service in the county was marked by control, negativity and a culture of blame.
The report's authors said some senior staff normalised bad behaviour and others perpetrated it.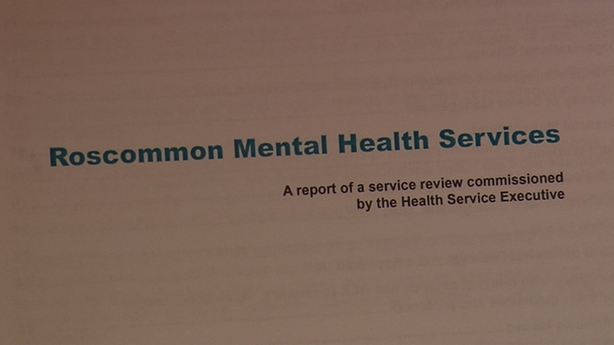 The review team, which visited nine different mental health facilities in Co Roscommon, was highly critical on the financial focus of those running the service.
The team found no evidence of satisfactory supervision for consultant medical staff.
The review team said there was a serious issue with interrelations among staff which led to widespread friction and tensions particularly between some senior managers and staff groupings.
The review found the focus was on cost containment to the detriment of quality care in the minds of staff.
It said there was no overall coherent and collective senior management approach to either recognise the extent of the problems or deal with them effectively.
The review found allegations by a small number of staff of a malicious campaign of conspiracy by some of their colleagues during the inquiry process.
The report's authors found evidence of some members of staff refusing to work with other team members and that a majority of staff interviewed felt frustrated, disillusioned and unsupported within the multidisciplinary team setting.
The review said some members of staff refused to cooperate with the inquiry until its draft report was published and supplied to them.
The report was carried out for the Health Service Executive by experts from the South Eastern Health & Social Care Trust in Northern Ireland.
The team consisted of SEHSCT Associate Risk Director Brendan Mullen, SEHSCT Clinical Director and Consultant Psychiatrist Nial Quigley and SEHSCT Assistant Director Adult Mental Health Services Don Bradley.