South Korea's defence ministry has said it still sees signs that North Korea is planning to stage more ballistic missile launches, possibly including an intercontinental ballistic missile.
"We have continued to see signs of possibly more ballistic missile launches. We also forecast North Korea could fire an intercontinental ballistic missile," defence ministry official Chang Kyung-soo said.
It did not give details, or indicate when a launch might take place.
The ministry believes that North Korea has a "warhead-sized nuclear weapon."
The defence ministry was called by parliament today to answer questions about North Korea's sixth and largest nuclear test that was carried out yesterday.
South Korea's defence ministry said the blast had a strength of 50 kilotons, which would make it five times the size of the North's previous test in September 2016, and more than three times bigger than the US device that destroyed Hiroshima in 1945.
The official did not confirm whether the tested device was a hydrogen bomb but said "a variety of nuclear material" appeared to have been used.
The defence ministry said it will deploy more anti-missile defences in response to yesterday's nuclear test by North Korea, as will the United States.
The Terminal High-Altitude Area Defense (THAAD) system already installed in the South has infuriated China, but the ministry said in a statement: "Four remaining launchers will soon be temporarily deployed through consulations between South Korea and the US to counter growing nuclear and missile threats from the North."
China has lodged an official protest with North Korea following the launch.
Foreign ministry spokesman Geng Shuang said China has "launched stern representations with the person in charge of the DPRK embassy in China."
South Korea launched a ballistic missile exercise yesterday in response to Pyongyang's provocative detonation of what it claimed was a miniaturised hydrogen bomb, state news agency Yonhap reported.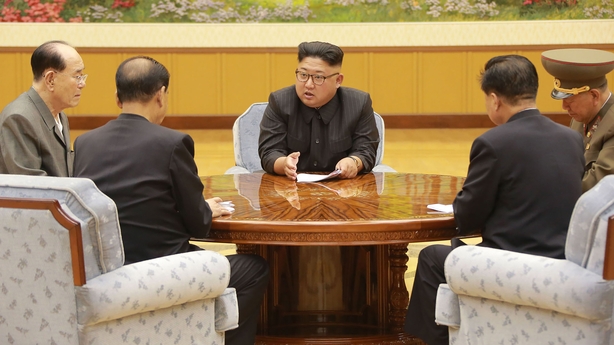 Meanwhile Switzerland has said that it is prepared to act an a mediator to help resolve the crisis, by hosting ministerial talks, Swiss President Doris Leuthard has said.
She said Swiss troops were deployed on the demarcation zone between South Korea and North Korea and the country had a long history of neutral diplomacy.
However, she added that China and the US had to take their share of responsibility.
Speaking at a news conference, Ms Leuthard said: "We are ready to offer our role ...as a mediator.
"It is really time now to sit down at a table. Big powers have a responsibility."
The South's military conducted a live-fire exercise simulating an attack on the North's nuclear site, hitting "designated targets in the East Sea", the report added, quoting the Joint Chiefs of Staff.
"The training came in response to the North's sixth nuclear test... and involved the country's Hyunmoo ballistic missile and the F-15K fighter jets," it said.
The South's military said the range to the simulated targets was equivalent to the North's Punggye-ri nuclear test site in its northeastern province.
US President Donald Trump has criticised Seoul.
He said South Korea "is finding, as I have told them, that their talk of appeasement with North Korea will not work, they only understand one thing!"
The United States warned it could launch a "massive military response" to threats from North Korea.