Chinese leader Xi Jinping has urged US President Donald Trump to avoid rhetoric that could inflame tensions with North Korea as an escalating war of words raised global alarm.
Mr Xi made the plea in a phone call hours after Mr Trump ramped up his warnings to Pyongyang, saying the regime would "truly regret" taking hostile action against the United States.
The White House said in a statement that the two leaders "agreed North Korea must stop provocative and escalatory behaviour" and that they are both committed to the denuclearisation of the peninsula.
But the Chinese foreign ministry said Mr Xi urged Mr Trump to avoid "words and deeds" that would "exacerbate" the already-tense situation, exercise restraint and seek a political settlement.
Mr Trump has been engaged all week in verbal sparring with the North over its weapons and missile programmes, as US media reported Pyongyang has successfully miniaturised a nuclear warhead.
Military solutions are now fully in place,locked and loaded,should North Korea act unwisely. Hopefully Kim Jong Un will find another path!

— Donald J. Trump (@realDonaldTrump) August 11, 2017
The US president has progressively ramped up the tone throughout the week and yesterday declared that the US military is "locked and loaded".
In a call with Guam Governor Eddie Calvo yesterday, Mr Trump said the US military is prepared to "ensure the safety and security of the people of Guam" in response to Pyongyang's plans to launch missiles towards the Pacific territory.
Trump tells Guam governor: You are safe. We are with you 1,000% ...All over the world they're talking about Guam & they're talking about you pic.twitter.com/bK53SsoB3x

— RTÉ News (@rtenews) August 12, 2017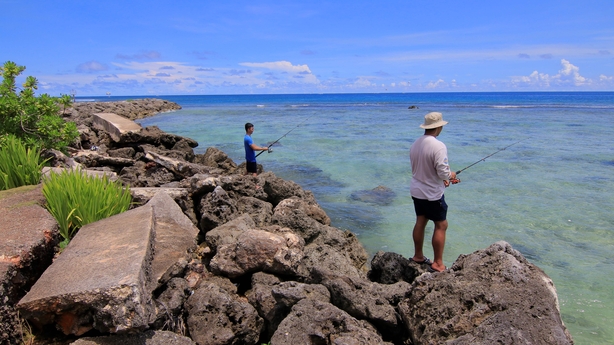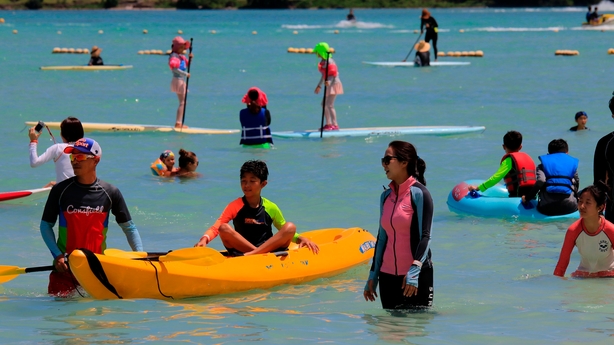 Guam posted emergency guidelines yesterday to help residents prepare for any potential nuclear attack.
It is home to a US air base, a navy installation, a coast guard group and roughly 6,000 US military personnel.
Japanese media said Tokyo was deploying its Patriot missile defence system following Pyongyang's threat to fire ballistic missiles over the country towards Guam.
International concern at rising tensions
The threat of military force has sparked worldwide concerns that a miscalculation by either side could trigger a catastrophic conflict on the Korean Peninsula.
Russia and Germany have also urged both sides to tone down the rhetoric.
The British Foreign Secretary has blamed North Korea for the stand-off with the US and said London wanted a diplomatic end to the crisis.
Boris Johnson said the North Korean regime was the cause of the problem and must fix it.
French President Emmanuel Macron has warned against an escalation of tensions over North Korea.
In a statement, President Macron said the international community needed to work to get Pyongyang to "resume the path of dialogue without conditions".
Tensions on the Korean peninsula tend to increase when Seoul and Washington launch major military joint exercises, and the next is set to kick off around 21 August.
Satellite images suggest N Korea preparing for fresh tests
In another move that could further fan the flames, satellite photos posted by defence expert Joseph Bermudez suggested that North Korea could be preparing for fresh submarine-based ballistic missile tests.
Mr Trump had earlier brandished a threat of unleashing "fire and fury" on Pyongyang, then noted Thursday maybe that statement "wasn't tough enough".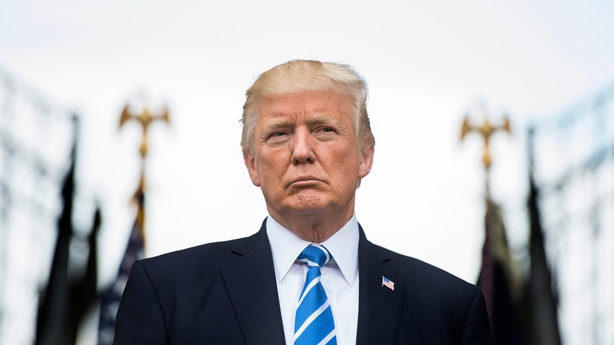 China, North Korea's biggest ally and trade partner, has been voicing concern at the mounting exchanges and a state-run newspaper suggested that Beijing should stay neutral if Pyongyang struck the US first.
Previously accused by Mr Trump of not doing enough to rein in the authoritarian regime, China voted in favour of a series of wide-sweeping UN Security Council sanctions against North Korea last weekend.
According to the Chinese foreign ministry, Mr Trump told Mr Xi over the phone that he "fully understands China's role in the nuclear issue in the Korean Peninsula".
The North's official KCNA news service in an editorial blamed Mr Trump for "driving the situation on the Korean peninsula to the brink of a nuclear war," calling the US "the heinous nuclear war fanatic".