Accusations made by US Vice President Mike Pence that Russia is working to divide the Balkans from the west are destabilising southern Europe and expose Washington's Cold War mentality, the Russian Foreign Ministry has said.
Mr Pence made the comments yesterday in Montenegro on the final leg of a tour designed to reassure Eastern Europe of the US's commitment to its security.
US President Donald Trump's lukewarm support for NATO sowed doubts among some eastern European nations.
"It is regrettable to note that Washington is sliding ever deeper into the primitive ideology of the Cold War era, which is completely detached from reality," the ministry said.
It had called on the US to stop defaming Russia and its foreign policy, which it said was based on respect for allies and a readiness to work with international partners, the ministry said in a statement.
Earlier Mr Trump said relations between the US and Russia have hit an "all-time and very dangerous low" after he approved sanctions against Russia passed by Congress.
"Our relationship with Russia is at an all-time & very dangerous low," Mr Trump wrote on Twitter.
"You can thank Congress, the same people that can't even give us HCare," he added in reference to a recent defeat in the Senate on his health reform plans.
Our relationship with Russia is at an all-time & very dangerous low. You can thank Congress, the same people that can't even give us HCare!

— Donald J. Trump (@realDonaldTrump) August 3, 2017
The US President's view was echoed by Republican senator John McCain, who tweeted: "You can thank Putin for attacking our democracy, invading neighbours, and threatening our allies."
Our relationship w/ Russia is at dangerous low. You can thank Putin for attacking our democracy, invading neighbors & threatening our allies

— John McCain (@SenJohnMcCain) August 3, 2017
Mr Trump's comment comes one day after he signed new sanctions against Russia into law.
Russian Prime Minister Dmitry Medvedev has said the sanctions amount to a full-scale trade war and an end to hopes for better ties with the Trump administration.
Congress overwhelmingly approved the legislation last week, passing a measure that conflicts with the Republican president's desire to improve relations with Moscow.
Mr Trump signed the bill behind closed doors, without the fanfare that has customarily accompanied his signing of executive orders.
He criticised the measure as infringing on his powers to shape foreign policy, and said he could make "far better deals" with governments than congress can.
Mr Medvedev called the sanctions tantamount to a "full-scale trade war," adding in a Facebook post that they showed the Trump administration had demonstrated "utter powerlessness".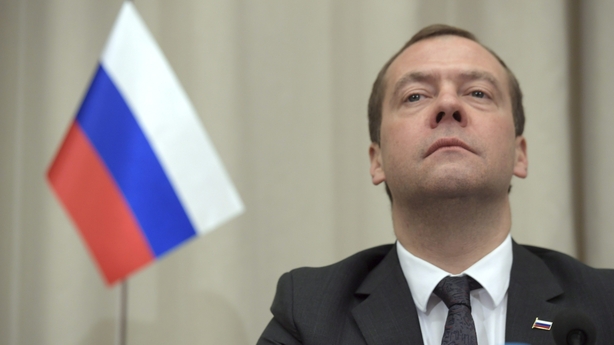 "The hope that our relations with the new American administration would improve is finished," he wrote.
Mr Trump's litany of concerns about the sanctions, which also affect Iran and North Korea, raised the question of how vigorously Mr Trump will implement them regarding Russia.
"While I favour tough measures to punish and deter aggressive and destabilising behavior by Iran, North Korea, and Russia, this legislation is significantly flawed," Mr Trump said in a message to politicians known as a signing statement.
The new law allows congress, which passed the measure to punish Russia over alleged interference in the 2016 US presidential election and the annexation of Ukraine's Crimea, to halt any effort by Mr Trump to ease sanctions on Russia.
His hands were tied after the Republican-controlled congress approved the legislation by such a large margin last week that any presidential veto of the bill would have been overridden.
The legislation provoked counter measures by Russian President Vladimir Putin, who said on Sunday that the US diplomatic mission in Russia must reduce its staff by 755 people.
Russia is also seizing two properties near Moscow used by American diplomats.
Mr Trump has repeatedly said he wants to improve relations with Russia.
That desire has been stymied by US intelligence agencies' findings that Russia interfered to help the Republican against Democratic presidential candidate Hillary Clinton.
US congressional panels and a special counsel are investigating.
Russia denies any meddling and Mr Trump denies any collusion by his campaign.