Emergency services have assisted a group of 70 British army cadets and instructors who got into difficulty on the Mourne Mountains in Co Down.
The group consists of 63 cadets and seven instructors.
It is understood the group of cadets, aged between 12 and 17, got into difficulty in poor weather conditions.
Three coastguard helicopters were involved in the operation, one from Dublin and two from the UK.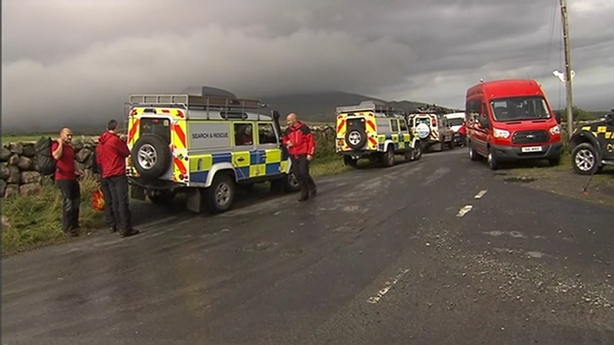 Forty-six of the cadets were said to be "OK" and walked down the mountain to be assessed on lower ground, according to the coastguard.
Five cadets suffered ankle injuries after slipping on wet stones and a number were treated for the effects of exposure, the Ministry of Defence said.
The instructors are also reported to be OK.
The group from Middlesbrough in England were at their annual camp in Northern Ireland, carrying out adventure training and cultural visits.
A Mourne Mountain Rescue spokesman said: "Weather has caught them out. At the minute it is not a major incident."
The Mourne Mountain Rescue Team posted a statement saying seven of the group are being stretchered as a precaution due to minor injuries.
The coastguard also tasked three Search and Rescue aircraft which have remained on standby due to unsuitable weather conditions.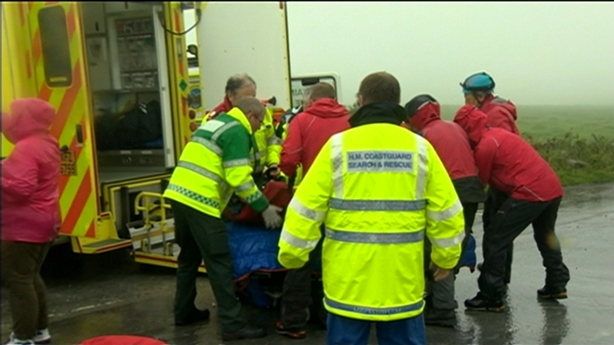 A Mourne Mountain Rescue spokesman said it was not a major incident but weather had caught them out.
He added: "It is nothing out of the ordinary.
"Everything is under control and within normal team procedure."
Northern Ireland Ambulance Service paramedics provided medical support.