The first stage of the repair on the burst water main supplying the Staleen Water Treatment Plant in Co Meath has been complete and the plant is back in production.
More than 50,000 homes and businesses in the northeast of the country have been without water since the pipe burst last week.
Reservoir levels are slowly refilling following repair works on the burst main.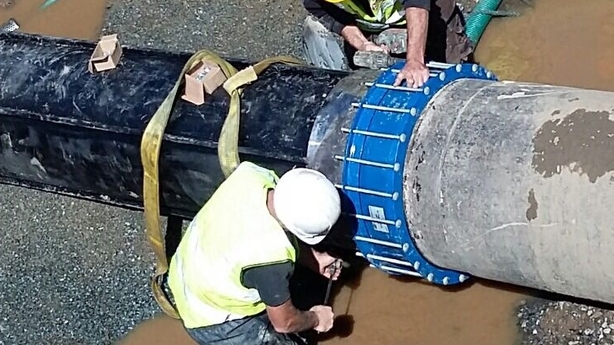 Sean Laffey of Irish Water said water is running through the pipe following the completion of a temporary patch on the pipe.
He added that a permanent fix would be completed in two weeks' time.
He said the the third stage of the process would be to replace the 2.2km part of the pipe which would be completed in two to three years.
He said that Irish Water does not anticipate that this work would impact on customers as reservoirs would be full by then.
However it could take days for a full supply to return to all households and businesses.
In relation to whether this problem was likely to happen again, he said out of the 63,000km of water pipes, 10% was at high risk of bursting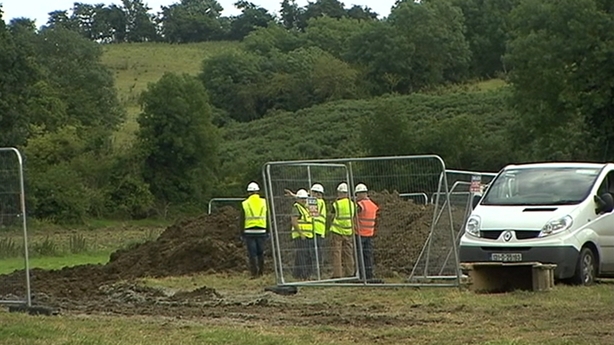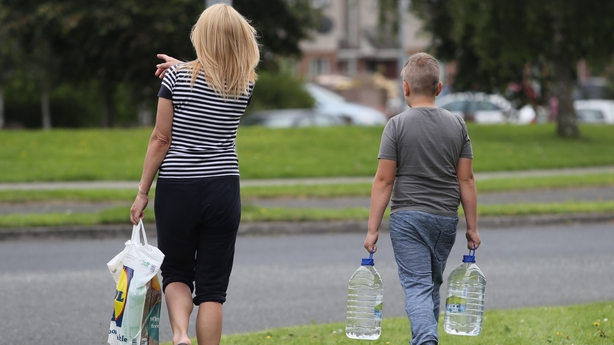 Yesterday, Irish Water said it could be the weekend before the water supply returns to normal.
The utility said it, along with Louth and Meath County Councils, will continue to ensure water tankers and temporary supplies are mobilised to as many impacted people as possible.
Irish Water Managing Director Jerry Grant has also confirmed Irish Water's commitment to prioritising the replacement of the water main serving the Staleen treatment plant.
Last night, Minister for Housing, Planning and Local Government Eoghan Murphy visited some of the areas affected and was confronted by locals in Drogheda who criticised the lack of information about the expected duration of the water outage.
This morning, Mr Murphy said a review will be conducted in relation to the response to the burst water main.
Speaking on RTÉ's Morning Ireland, Mr Murphy said it will examine what exactly happened in this case to see how it can be improved upon in the future.
He said while efforts are being made to try to maintain a temporary water supply, he said he knows this is not good enough.
Mr Murphy said it is hoped it will be clear by this afternoon if the specially-made piece of piping will fix the problem.
He said that given the state of Ireland's infrastructure, it is possible that what happened in the northeast could happen elsewhere.
He acknowledged that it is almost unbelievable what happened in terms of the number of people affected and the length of time they have been without water.
But he added that there have been decades of underinvestment or no investment in some parts of the country in water infrastructure.
He said the system was not fit for purpose and was in need of serious repair and said that was the rationale in setting up Irish Water.
He said Irish Water was competing for funding with other Government departments but that it was his job to fight that fight in Cabinet to make sure it gets funding.
Water outage in Kildare
Separately, Irish Water has said that the water supply for up to 5,000 people affected by a breakdown in Co Kildare overnight, will be restored in the next few hours.
Kildare County Council had reported an issue affecting supply to Kill, Sallins, Clane and surrounding areas.
In a statement this morning Irish Water said that due to a lightning strike one of the water stations in the Kill area tripped yesterday.
Kildare County Council is currently in the process of resetting the station, and expects the water supply/pressure to return to affected areas of Kill, Sallins in the next few hours and slightly later to areas in the north of Kildare, including Kilcock.
---
Update on Louth at 7.30pm
All temporary water locations around Louth continue to be manned and replenished.
Permanent supply has been maintained in the following priority areas of Drogheda:
Our Lady of Lourdes Hospital in Drogheda & Commercial centre in Drogheda town in the Mell area
Donore Road, Marley's Lane, Cement Road, Ballsgrove, Marian Park, Crosslanes, and some adjoining estates in the vicinity of these locations.
All areas in Clogherhead now have mains water supply with the exception of the Strand Hill area which has a temporary tank supply in place at the entrance to the Stand Hill housing estate.
Vulnerable customers around Drogheda, Clogherhead and Termonfeckin continue to be supplied on milk round basis coordinated by Louth County Council Community Section assisted by Civil Defence and Community Groups.
A rolling water supply is remains in place in Drogheda Town Centre and will be reviewed tomorrow morning.

Stationary Tankers in Louth:

Marleys Lane
Stameen
Termon Abbey
Termon Abbey Aston Village
Platin Road
Rathmullen Park
Termonfeckin School
Clogherhead
Baltray

Standpipes can be found at:
Bothar Bruagha
Harmons Gardens
Ballsgrove
Shop St/North Quay
Mell Church
Marley Court
Donore Road (at Costa Coffee)

There are a total of 26 Bulk Water Containers stationed at the following 11 locations. Water is available over a 24 hour period at the locations below:

Wheaton Hall Shops
Bryanstown, St Mary's School
Shrewsburry Manner
Newtown Meadows
Boyne Business Park
Harmony Heights
College Rise
Forest Park
Newfield Estate
Yellowbatter
Brookeville Estate

---

Update on Meath at 7.30pm
A limited mains water supply is now available in the following main urban centres in east and southeast Meath (during daylight hours):
Duleek
Ashbourne
Stamullen
Ratoath
Laytown
Bettystown
Mornington
Mains water supply to Southern parts of Ashbourne
Mains water supply to Kilbride
Mains water supply to parts of Ratoath

A limited mains water supply will return to the Donacarney and Grangerath areas for a period this evening.

The limited mains water supply will cease during night-time hours in order to allow reservoirs to replenish.

Bottled water is being distributed to vulnerable customers

In East Meath stations are located across the network at the following locations:

Duleek: 3 (Church) 2 (St Cianans Villas) 1 (Industrial Estate) - Fire Service
Knockcommon/Rathdrinagh: 1 (National School))
Rossnaree: 1 (Church))
Ashbourne: 2 (Race hill)
Donore: 1 (Church)
Lagavoreen: 1 (Entrance to Housing Estate)
Grange Rath: 2 (Entrance to Housing Estate)
Ratoath: 2 (National School Fairyhouse Road ) 2 ( St Paul's School) - ( Nursing Home Town Centre)
Stamullen: 2 ( Church )
Clonalvey: 1 (Church)
Ardcath: 1 (Church)
Kilmoon: 1 (Snailbox Carpark)
Curragha: 1 (Church)
Skryne: 1 (GAA Pitch)
Kentstown: 1 (Londis Car park)
Ashbourne Town : 1 Community Centre - 1 Retail Park - 1 Supervalu Carpark
Bettystown : 1 (Tesco Carpark)
Donecarney : 1 (Church)
Colaiste Na Hinse Secondary School : 1
Mornington: 1 (Harrys Shop)
Kilbride: 2 (Church)
Drogheda: Deepforde Hsg Estate
Drogheda: Highlands Hsg Estate
Rathfeigh : National School 1
Julianstown