Google's parent company Alphabet has reported a quarterly profit of $3.5 billion.
The figure would have been higher if it were not for a massive $2.74bn anti-trust fine imposed by the European Commission in June biting into Google's earnings.
Revenue was up 21% compared to the same quarter last year, rising to $26bn.
Alphabet shares slid about 2.9% to $969.03 in after-market trades following the release of the earnings figures.
Investors have been concerned about what the regulatory trouble in Europe means for Alphabet, which gets most of its money from Google advertising while investing in "other bets" such as self-driving cars.
Alphabet took in $248 million in revenue and posted a narrowed loss of $772 million in its "other bets" category in the recently ended quarter.
Meanwhile, Google and the EU are gearing up for a battle that could last years, with the Silicon Valley behemoth facing a challenge to its ambition to expand beyond search results.
Brussels has already spent seven years targeting Google, fueled by a deep apprehension of the company's dominance of internet search across Europe, where it commands about 90% of the market.
In a verdict that could redraw the online map worldwide, EU anti-trust chief Margrethe Vestager in June imposed a record fine on Google for illegally favouring its shopping service in search results.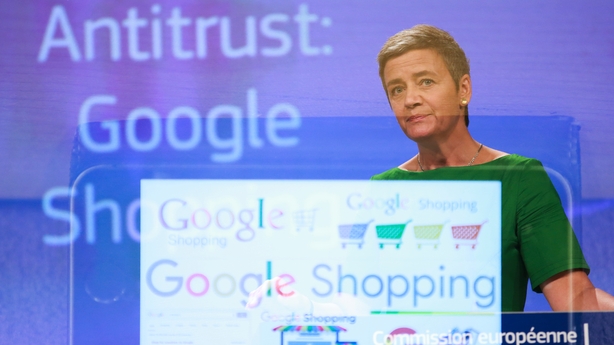 The EU accuses Google of giving its multitude of services too much priority in search results to the detriment of other price comparison services.
The decision, if it survives an expected appeal process, could prove to be momentous for Google, as well as for competition law in general.
The EU is also examining Google's AdSense advertising service and its Android mobile phone software.