Post-mortem examinations have taken place at Letterkenny General Hospital on the bodies of two men recovered from the water off Gleann Cholm Cille in Co Donegal yesterday.
The results of the examinations are not being released.
The men have been identified as Rimantis Barauskas who was in his 50s and had an address at Oldcastle in Co Meath, and Raimondas Jezdauskas, who was in his 40s, who lived in Ballymahon, Co Longford.
The two are believed to be originally from eastern Europe, possibly Lithuania.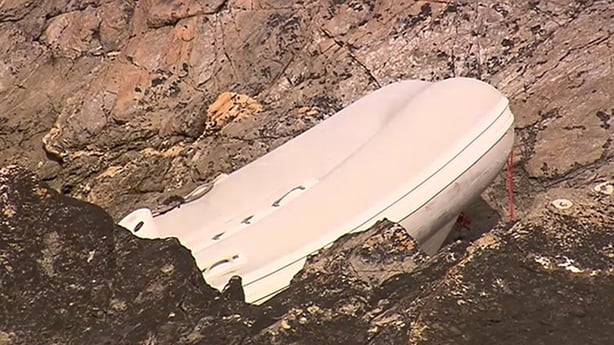 One of the bodies was found yesterday morning washed up on the shore at Málainn Bhig by a local farmer who notified gardaí.
Gardaí then alerted the Coast Guard, and the Sligo-based Coast Guard helicopter located the body of the second man shortly afterwards.
It is understood the two men left Teileann on Saturday night in a rigid inflatable boat.
The Coast Guard said no distress calls were received.
Local people who saw the men leave the pier believe they were the same men who were rescued from the sea about four or five weeks ago.
The Coast Guard has confirmed there was such a rescue but could not confirm the identities of those involved.
The operations manager with the Coast Guard thanked those who assisted with the rescue operation.
Speaking on RTÉ's Drivetime, Gerard O'Flynn said the "flow of information was very efficient, in terms of the local man who saw the casualty on the rocks initially and that allowed us to immediately initiate a search and rescue operation which led to the location of the second casualty.
"I think it highlights that if you see somebody in trouble in the water, or you think you are in trouble, dial 112 and ask for the coastguard," he added.