The DUP has questioned the Government's neutrality after it reiterated its commitment to an Irish Language Act in Northern Ireland, a key demand of Sinn Féin in power-sharing negotiations.
Chair of the Assembly and Executive Review Committee Christopher Stalford said: "By publicly declaring its support for Sinn Féin's position in negotiations, the Irish Government has undermined its own credibility as being neutral" and called on Minister for Foreign Affairs Simon Coveney to "address this".
In a statement, he added: "The DUP wants a constructive relationship with the Irish Government but it must be founded upon matters of mutual interest and respect between Northern Ireland and the Republic of Ireland."
Sinn Féin is sticking to its position that any agreement will have to include a standalone Irish Language Act.
The DUP is willing to legislate on the language issue, but only if Ulster Scots speakers are included in any Act - a condition Sinn Féin has rejected.
The parties have until 4pm tomorrow to nominate ministers or face the prospect of some version of direct rule from Westminster or yet another assembly election.
However if progress is being made in the discussions, Northern Ireland Secretary James Brokenshire may come under pressure to find a mechanism for creating a new deadline.
Mr Brokenshire has returned from Westminster to lead discussions at Stormont.
Sinn Féin negotiator John O'Dowd said: "There is clearly an onus on the governments to inject energy into these talks, to inject leadership into talks and ensure the outstanding issues are resolved in the time-scale we have left to us."
The DUP has told Sinn Féin to stop indulging in "high-wire acts" and get down to the job of delivering for the people.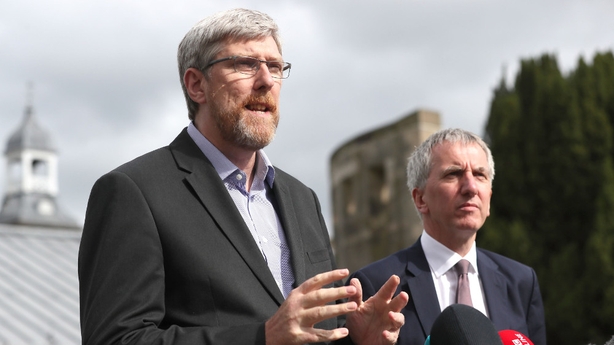 DUP negotiator Edwin Poots said his party was ready to re-establish devolved government tomorrow.
"We will be happy to run D'Hondt (to select ministers) tomorrow and continue with negotiations in a fair and reasonable manner to get the solutions.
"It is up to Sinn Féin if they wish to do that, or if they want to break through the deadline that is a matter for them, but we are happy to nominate ministers tomorrow."
He said the Irish language was a touchstone issue.
"We want to show absolute respect to people's language and culture and are working extremely hard to identify what people's bottom lines are and how we can move those issues forward.
"Education and health is a greater priority for me than languages.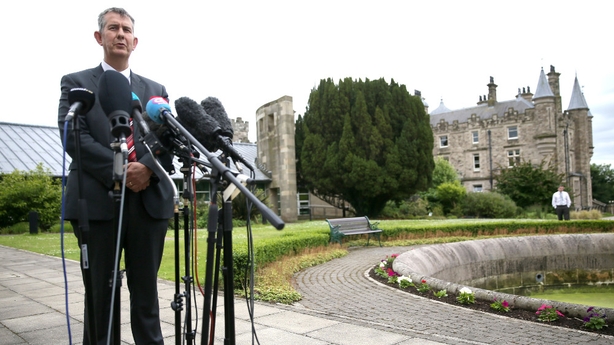 "Sinn Féin have identified language as their highest priority.
"We want to work with them to try to find a way through."
Sinn Féin's chairperson Declan Kearney has said his party's stance will not change.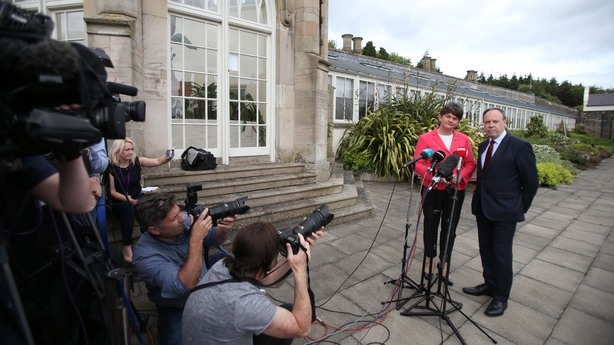 Ulster Unionist (UUP) leader Robin Swann said his party would not provide "cover" for the DUP if it signed up to an Irish Language Act.
Revealing that the DUP and Sinn Féin did not attend a scheduled round table meeting inside the castle this afternoon, he also warned that his party should not be taken for granted.

He said there were many issues the UUP wanted to raise, including mechanisms for dealing with the legacy of the Troubles and pensions for conflict victims.
---
Additional reporting: RTÉ Northern Editor Tommie Gorman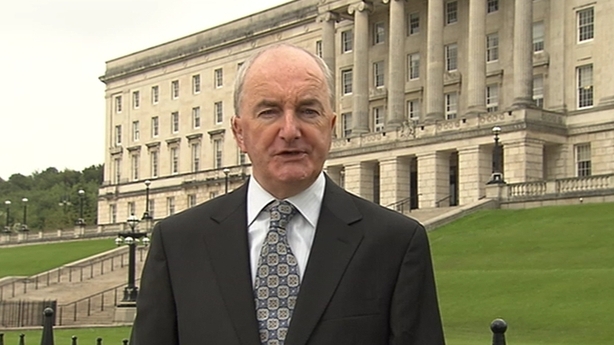 The DUP pulled off an extraordinary stroke on Monday by nailing down a deal with the Tories.
The £1 billion of new finance extracted from Prime Minister Theresa May in return for propping up her minority government should greatly help Northern Ireland over the next two years.
However, the distraction of that London negotiation has left the DUP playing catch-up in Stormont talks, and tomorrow's deadline for a deal is in doubt.
The most benign scenario would have the DUP recognise a stand-alone Irish language act, really a Sinn Féin bottom line in these negotiations, and see this and other matters signed off by tomorrow.
Another, less tidy option, would see a meeting of minds by all five parties, about the content of an agreement but the formal deal postponed, until a new deadline has a legislative basis.
A third possibility would involve a missed deadline, a dust up and angry departures from the negotiating table.
For the moment, the signs are all five parties want to find a solution.
---
Sinn Féin has hinted movement was possible on one precondition - its opposition to DUP leader Arlene Foster returning as Stormont first minister while a public inquiry into a botched green energy scheme is ongoing - if the DUP gave ground on other matters.
Mrs Foster was forced from office in January when Sinn Féin's then deputy first minister, the late Martin McGuinness, quit in protest at the DUP's handling of the Renewable Heat Incentive - a scheme that left the administration facing a £490 million overspend.
His move triggered a snap assembly election in March.
A number of attempts to restore power-sharing between the five main parties following that poll floundered, with three British government deadlines for a deal having already been missed.