Several Fine Gael TDs and Senators have declared their support for Simon Coveney and Leo Varadkar, the contenders to lead the party following the resignation of Enda Kenny.
Under party rules the leadership is decided by an electoral college which gives members of the parliamentary party 65% of the votes, ordinary members 25% and councillors 10%.
A list of who's supporting who in the race for Fine Gael leadership pic.twitter.com/sz1lpmFf4J

— RTÉ News (@rtenews) May 18, 2017
Earlier, Mr Coveney handed his nomination papers into Fine Gael party headquarters surrounded by a dozen supporters from the parliamentary party.
He said he had not promised any ministries to anyone, and that he wanted to be constructive and positive as leader of Fine Gael and taoiseach.
Speaking on RTÉ's Prime Time, Mr Coveney said that one of the jobs that the new taoiseach and Fine Gael leader will have is to keep the Government together. He said that he is well placed to do that, having been involved in putting the Confidence and Supply Agreement in place.
He said: "People need to think about the talents that we need to one, run the country; two, to keep a government together and three, to actually build a stronger political party in Fine Gael. I believe that I have a track record that can do all three of those things."
Simon Coveney: 'Don't confuse somebody who is good at putting deals together with somebody who is weak.' pic.twitter.com/pawsq5h51L

— RTÉ News (@rtenews) May 18, 2017
When asked about his image as a boring politican, he said that if people are looking for the X-Factor, people should look at the US "where they voted for someone with the X-factor and look how that's turning out."
Earlier, Tánaiste and Minister for Justice Frances Fitzgerald and Minister for Education Richard Bruton both ruled themselves out of the leadership race.
Furthermore Minister for Finance Michael Noonan said he does not want to be considered for a Cabinet position by the next taoiseach and Senator James Reilly has resigned as deputy leader of Fine Gael.
Live: Political developments, Fine Gael leadership
In a statement released this morning Ms Fitzgerald said she had "decided that entering the contest is not the right decision for me".
She also praised the work done by Mr Kenny as Taoiseach and leader of Fine Gael.
Ms Fitzgerald's statement said Mr Kenny "strove for the best in a way that was tireless, relentless, enthusiastic and compassionate.
"His zest for what he does has no equal. His belief in Ireland is phenomenal and it did the country a great service.
"There was also kindness and support for colleagues and it has been a privilege and honour to serve at his side."
She said she "seriously considered contesting the leadership election" but decided that "entering the contest is not the right decision for me".
Meanwhile, Mr Bruton also ruled himself out of the leadership race and declared that he is backing Leo Varadkar as the next party leader.
He said Mr Varadkar would be a decisive, reforming leader and has a great capacity to deliver.
Mr Bruton said Minister Varadkar understands the frustrations people feel with politics and as a leader he has the capacity to bring people with him.
He said this is a "critical moment in the history of the country" and decisive leadership is needed.
He also said it is a "real opportunity" to build a strong future for all on the basis of a sustainable economy.
However, he warned of the dangers of a "spend all" mentality in politics on the strength of the economy.
While he found it difficult to choose between Simon Coveney and Mr Varadkar, both of whom he said were friends of his with "huge capacity", he said Mr Varadkar's track record stood out to him.
Noonan to step down as Minister for Finance
Mr Noonan said he has been "honoured to serve as Minister for Finance since March 2011".
He said he believes now is a good time for a new Finance Minister to take up office.
Mr Noonan said he will continue his duties as Minister for Finance until a successor is appointed.
He also said he will not be seeking re-election to the Dáil at the next General Election.
Taoiseach Enda Kenny has paid tribute to Mr Noonan, saying that his "contribution to the restoration of the Irish economy has been extraordinary".
He described the Finance Minister's taxation measure as "fair, balanced and among the most progressive in Europe".
Mr Kenny said: "I respect his decision completely and the people of Limerick and the Mid-West understand fully the transformative influence of his years as Minister for Finance.
"Above all else, Michael remains a close personal friend of mine."
Elsewhere, speaking on RTÉ's Today with Sean O'Rourke, Senator Reilly said he could no longer continue in his deputy leader role as doing so would leave him conflicted in his eagerness to be involved in the election of a new party leader.
---
---
"I believe my position is not of consequence but the future of the party is critical and I want to make sure that the best person is the person chosen, I'm going to sign nomination papers of Simon Coveney," said Mr Reilly.
"I believe he has the temperament, a hardworking ethos, a sense of collegiality, not afraid to take on the hard issues of housing and Irish Water.
"He's an experienced negotiator, he manages to be polite but firm, he doesn't antagonise people.
"The new leader needs to be able to negotiate with the Independent Alliance and Fianna Fáil."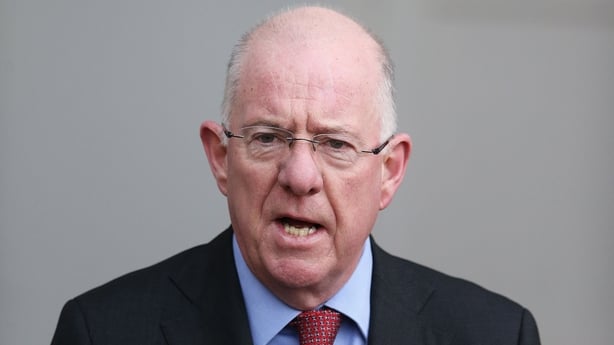 Minister for Foreign Affairs Charlie Flanagan will not be running either. Speaking to RTÉ News, Mr Flanagan said he will be engaging with candidates in the leadership race over the next few days and will announce who he is supporting before voting commences.
Fine Gael MEP Brian Hayes has said he is supporting Mr Varadkar for leader.
Also speaking on Today with Sean O'Rourke, Mr Hayes said: "I think he has all of the characteristics and strengths that you need to survive in Irish politics and I think he's ultimately the change candidate for the party.
"He has grown into a politician of some standing in recent years since his election and, I think, more than anything else he really appeals to a diverse Ireland; and Ireland that is rapidly changing and I think with him at the helm he will do very well.
"He gives that diverse appeal to us [Fine Gael] and he also appeals to a younger generation."
Minister for Arts, Heritage, Regional, Rural and Gaeltacht Affairs Heather Humphreys has declared that she will be supporting Leo Varadkar in the leadership contest.
Speaking on RTÉ's Six One News, she said she believes Mr Varadkar is "dynamic, decisive, courageous and hard working, and he is not only the right person for the job of Fine Gael leader but also to lead the country."
Minister Heather Humphreys says she will support Leo Varadkar in the Fine Gael leadership contest pic.twitter.com/SLi21vpdVJ

— RTÉ News (@rtenews) May 18, 2017
Meanwhile, Minister for Health Simon Harris reiterated his support for Simon Coveney as Fine Gael leader.
Also speaking on RTÉ's Six One, he said that Mr Coveney is the best person to lead the party as he has the experience and solutions required by a leader.
Minister for Health Simon Harris says he supports Simon Coveney as the next leader of Fine Gael pic.twitter.com/RTfuLb2Qkb

— RTÉ News (@rtenews) May 18, 2017
So far much of the canvassing has been focused on the parliamentary party made up of TDs, senators and MEPs.
It will be a short campaign with four hustings taking place around the country.
The hustings will take place on 25 May at the Red Cow Hotel in Dublin; 26 May at the Barrow Centre, IT Carlow; 27 May at the Shearwater Hotel, Ballinasloe, Co Galway and 28 May at the Clayton Hotel Silver Springs in Cork.
That will be followed by four days of polling of councillors and party members in around 25 locations nationwide.
Finally, the parliamentary party will vote on Friday 2 June after which a result and Mr Kenny's successor will be announced.
Taoiseach arriving for Brexit event: says he's feeling very well on a beautiful morning. pic.twitter.com/iAvN5vPbvY

— Sandra Hurley (@sandra_hurley) May 18, 2017