A €10 million plan to convert Dublin's College Green into a pedestrian plaza has been unveiled.
The scheme, which involves a ban on all private cars and East/West public transport, will go to An Bord Pleanála next week.
The design will cover nearly 7,500 square metres and will involve a two-way cycle track, wooden benches, fountains and trees.
Edward Jones of Dixon Jones, who along with Paul Keogh Architects won the design competition, said the vision is to reclaim College Green as a public space which would be a "living room" for the city.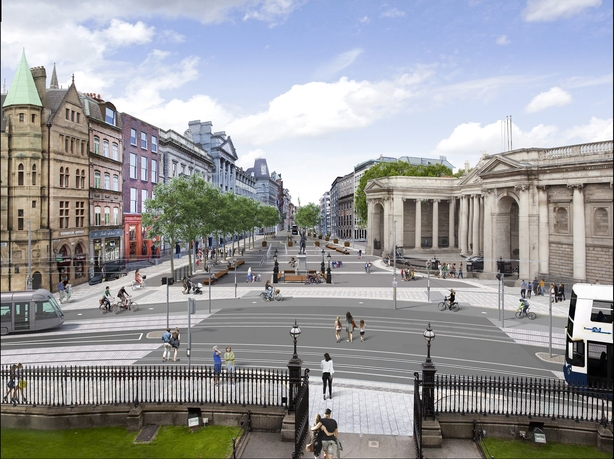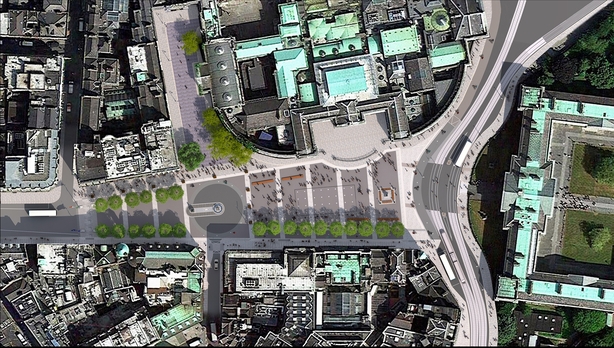 The space has been specifically designed to allow for public gatherings and processional events with the capacity to accommodate up to 15,000 people.
However businesses have expressed concern as the plan will see private cars banned from travelling through College Green entirely. Buses, taxis and trams will be restricted to North/South routes passing in front of Trinity College.
Graeme McQueen of Dublin Chamber said the business community wanted more clarity about how private motorists will be able to access the city centre.
Brendan O'Brien, head of Technical Services with Dublin City Council, has said that access to car parks and routes for deliveries will be maintained.
Bus routes normally travelling East/West through College Green will be rerouted and there will be a turning point opposite Foster's Place for buses to turn back up Dame Street.
Plan for plaza at Dublin's College Green announced https://t.co/KapRveXMbd pic.twitter.com/6Pty2YWzI2

— RTÉ News (@rtenews) May 8, 2017
The Thomas Davis monument will be moved westwards to be the centre of this roundabout.
Traffic flows on Trinity Street and Church Lane will now remain the same - under a previous draft of the scheme the flows were to be reversed.
And the council has gone back on plans to make Parliament Street a two-way bus-only street. However, buses will now be able to turn left onto Parliament St from the Quays.
After the plan is lodged to An Bord Pleanála there will be a six-week public consultation period.
The board is expected to give its decision on an Environmental Impact Assessment of the traffic plan in October ahead of the Cross City Luas beginning operation in December.
If it refuses permission the council will have to allow some East-West traffic and that will halt plans for the public plaza.
If the board grants permission the council plans to start work in January with construction taking 18 months.