North Korea has test-fired a ballistic missile from an area north of Pyongyang, a news agency report said, as the United States pushed for tougher sanctions to curb the country's nuclear threat.
"North Korea fired an unidentified missile from a site in the vicinity of Bukchang in Pyeongannam-do (South Pyeongan Province) early this morning," Yonhap reported, quoting a statement issued by South Korea's military.
The report added that Seoul was analysing the type and flight distance of the projectile.
A US government source said that initial indications suggest that the North Korean missile test was unsuccessful.
North Korea disrespected the wishes of China & its highly respected President when it launched, though unsuccessfully, a missile today. Bad!

— Donald J. Trump (@realDonaldTrump) April 28, 2017
The Trump administration could respond to North Korea's latest failed missile test by speeding up its plans for new US sanctions against Pyongyang including possible measures against specific North Korean and Chinese entities, according to a US official.

With North Korea acting in defiance of pressure from the United States and North Korea's main ally, China, the US could also conduct new naval drills and deploy more ships and aircraft in the region as a show of force, the official said, speaking on condition of anonymity.
"It's possible that something could be sped up," the official said of the potential for imposing a limited package of targeted sanctions on North Korea. "Something that is ready to go could be taken from the larger package and expedited."

The launch comes with tensions high on the Korean peninsula, with this the latest in a series of missile launches by the North and warnings from President Donald Trump's administration that it was running out of patience.
US Secretary of State Rex Tillerson warned earlier that failure to curb North Korea's nuclear and ballistic missile programmes could lead to "catastrophic consequences", while China and Russia rebuked Washington's threat of military force.
The showdown in a meeting of the UN Security Council on North Korea highlighted the diplomatic challenges of resolving tensions over Pyongyang, with the Trump administration aggressively pressing Beijing to rein in its ally, and China and Russia pushing back against Washington's rhetoric.
Chinese Foreign Minister Wang Yi told the 15-member council it was not only up to China to solve the North Korean problem.
"The key to solving the nuclear issue on the peninsula does not lie in the hands of the Chinese side," Mr Wang told the council in blunt remarks that Mr Tillerson later rebuffed.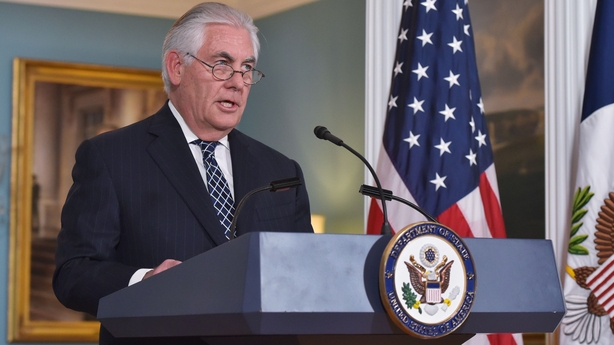 The ministerial meeting of the council, chaired by Mr Tillerson, exposed old divisions between the United States and China on how to deal with North Korea. China wants talks first and action later, while the United States wants North Korea to curtail its nuclear programme before such talks start.
"It is necessary to put aside the debate over who should take the first step and stop arguing who is right and who is wrong," Mr Wang told the council. "Now is the time to seriously consider resuming talks."
Mr Tillerson responded: "We will not negotiate our way back to the negotiating table with North Korea, we will not reward their violations of past resolutions, we will not reward their bad behaviour with talks."
Since 2006, North Korea has been subject to UN sanctions aimed at impeding the development of its nuclear and missile programmes. The council has strengthened sanctions following each of North Korea's five nuclear tests.
North Korea chose not to make a statement and did not take part in the meeting.
Earlier, Mr Trump said a major conflict with North Korea is possible in the stand-off over its nuclear and missile programmes, but said he would prefer a diplomatic outcome to the dispute.
"There is a chance that we could end up having a major, major conflict with North Korea. Absolutely," Mr Trump said in an Oval Office interview ahead of his 100th day in office.
Nonetheless, Mr Trump said he wanted to peacefully resolve a crisis that has posed problems for multiple US presidents.
Trump says 'major, major' conflict with North Korea possible pic.twitter.com/eydjZttHpv

— RTÉ News (@rtenews) April 28, 2017
He and his administration are emphasising the preference for a peaceful resolution by preparing a variety of new economic sanctions while not taking the military option off the table.
"We'd love to solve things diplomatically but it's very difficult," he said.