Tens of thousands of scientists and supporters are taking part in marches around the world today to defend the integrity of science.
The main demonstration is happening in Washington DC, with 500 other satellite marches taking place in towns and cities all over the world, including Dublin.
The March for Science movement was formed in the US earlier this year in response to US President Donald Trump's appointment of Scott Pruitt, a leading climate change sceptic, as head of the Environmental Protection Agency there.
US-based researchers were also concerned about proposed research budget cuts, threats to stop certain publicly funded scientists communicating their findings and the growing problem of so-called "alternative facts" replacing hard scientific evidence.
Since then a plan to hold a march in the US capital has grown into a global movement, with scientists and supporters from hundreds of other locations around the world planning separate demonstrations.
The Dublin march began at Grand Canal Square in the city, with the crowd then walking to Government Buildings where a short rally took place.
Organisers said the aim of the Dublin march is to ensure science and evidence are part of our national policies, conversations and culture.
Among those attending the march were former president and climate justice campaigner, Mary Robinson; the Provost of Trinity College Dublin, Patrick Prendergast, and lecturer and science communicator, Aoibhínn Ní Shúilleabháin.
"Climate justice has to stay true to science," Mrs Robinson told RTÉ News.
"We need the science, we need fact-based, evidence-based science. It is incredibly important at this time when climate change is posing an existential threat to our world.
"So I felt it was very important to be part of this global march today," said Mrs Robinson.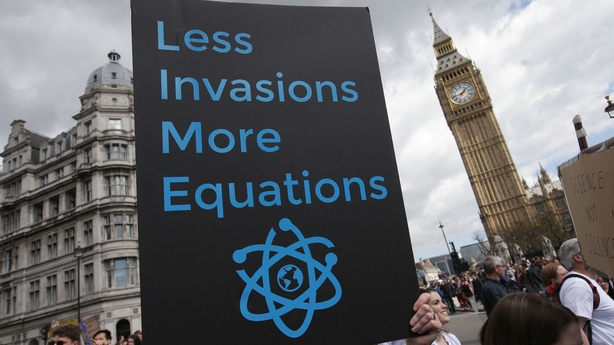 The organisers of the main US march said it aims to champion robustly funded and publicly communicated science as a pillar of human freedom and prosperity.
"We unite as a diverse, nonpartisan group to call for science that upholds the common good and for political leaders and policy makers to enact evidence-based policies in the public interest," the March for Science website said.
"The March for Science is a celebration of science. It's not only about scientists and politicians; it is about the very real role that science plays in each of our lives and the need to respect and encourage research that gives us insight into the world."
The main March for Science in the US is supported by several hundred organisations with a direct or indirect interest in science or research.
The march coincides with Earth Day, an annual event to demonstrate support for environmental protection.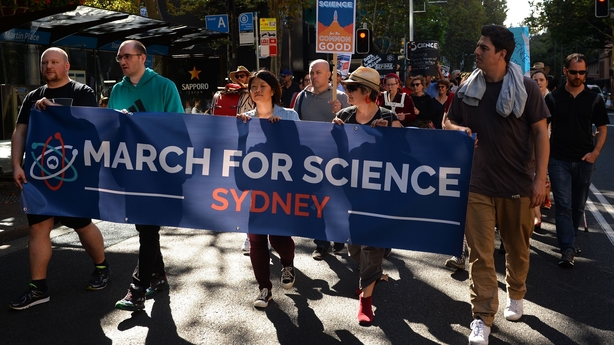 In Sydney, protesters wearing white lab coats called on politicians to support the scientific community, carrying banners reading "without science, it's just fiction" and "we need thinkers not deniers".
Others held up slogans such as, "What do we want? Evidence-based science. When do we want it? After peer review".