The father of a woman who was shot and maimed by her partner has called for a public inquiry into the garda handling of her attacker Crevan Mackin in the months prior to the shooting.
Mackin killed Garda Tony Golden on 11 October 2015 and shot and maimed Siobhán Phillips before killing himself.
Seán Phillips has called for the inquiry following the broadcast of an RTÉ Investigates programme that examined the events leading up to the murder of Garda Golden and the maiming of Siobhán Phillips.
Mr Phillips said that "following the new and shocking revelations in the RTÉ Investigates programme there must be a full public inquiry which has the powers to investigate all aspects of the case and which will provide answers to the many questions that remain unanswered".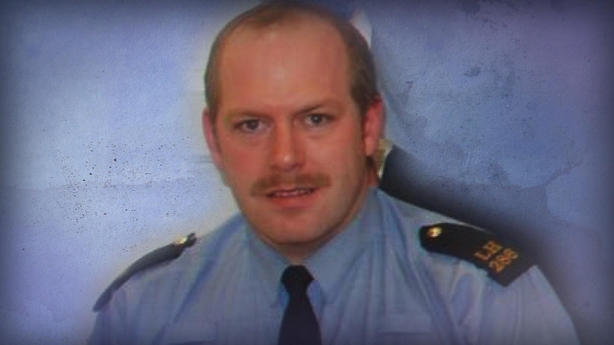 When contacted by RTÉ Investigates, a spokesperson for the Garda Representative Association said the Garda Síochána Ombudsman Commission (GSOC) is currently investigating events surrounding the murder of Garda Golden and other related matters and as a result it was not in a position to provide any comment at this time.
GSOC has confirmed that it has launched an investigation into the murder of Garda Golden and the maiming of Ms Phillips.
Mackin, 25, had convictions in Northern Ireland for criminal damage, possessing extreme pornography and gun and ammunition possession.
In January 2015, less than halfway through a three-year suspended sentence for the latter crime, he was arrested after gardaí found explosives material at his home in Omeath, Co Louth.
According to transcripts of his subsequent interrogation at Dundalk Garda Station, seen by RTÉ Investigates, Mackin admitted illegally buying and importing parts for six guns and materials that could be used in bomb-making, including pipe bombs.
He also admitted during questioning to storing two pistols at a derelict cottage in Louth.
Fianna Fáil's justice spokesperson Jim O'Callaghan said a number of questions need to answered by State authorities in relation to Mackin.
He said politically he will be holding Tánaiste and Minister for Justice Frances Fitzgerald to account on the matter.
Speaking on RTÉ's News at One today Mr O'Callaghan said the authorities need to make clear why Mackin was charged with IRA membership and not the serious offences he had admitted to; why was the term of his bail lowered; why was information about him not brought to the attention of local gardaí; and if he was an informant, did that go through the appropriate channels?
Mr O'Callaghan says he welcomes the investigation by GSOC, but added that we should not have to wait a number of years for the investigation to conclude.
He said the person who was politically responsible for the matter was Frances Fitzgerald and that she is the only person he can hold to account for it.
"There are questions that need to be answered. I welcome the fact that GSOC are investigating it.
"I think it is important that we don't have to wait for years for a GSOC investigation to complete and to conclude.
"I think this isn't simply a question for the Garda Síochána, there are also issues in terms of the DPP and the charges that were posed against the individual when he was arrested and I think the person who is politically responsible for this is the Tánaiste. So I would be trying to hold her to account."
Sinn Féin has said revelations in the RTÉ Investigates programme merit the immediate recall of the Dáil.
"There are very serious questions to be answered surrounding the arrest of Crevan Mackin in January 2015 and events in Omeath later that year, TD Louise O'Reilly said.
"Siobhan Phillips and Garda Golden should not have been in this highly dangerous situation.
"This has been a horrific tragedy for the families of Garda Golden, Siobhán Phillips, and for the Mackin family."
She said Sinn Féin leader Gerry Adams has "written to the Taoiseach asking that he recall the Dáil to deal with this very important matter".
This evening, the Policing Authority welcomed the announcement by GSOC of its investigation into the circumstances leading up to and including the death of Garda Golden, the death of Mackin and the serious wounding of Ms Phillips.