Last year there were 1,056 same-sex marriages in the Republic, 606 of these were male unions and were 450 female. There were more than 22,000 marriages and civil partnerships overall in 2016.
Last year is the first full year for which there are figures on same-sex marriages.
Central Statistics Office figures out today also show that in 2016 religious ceremonies accounted for 64.8% of all marriages.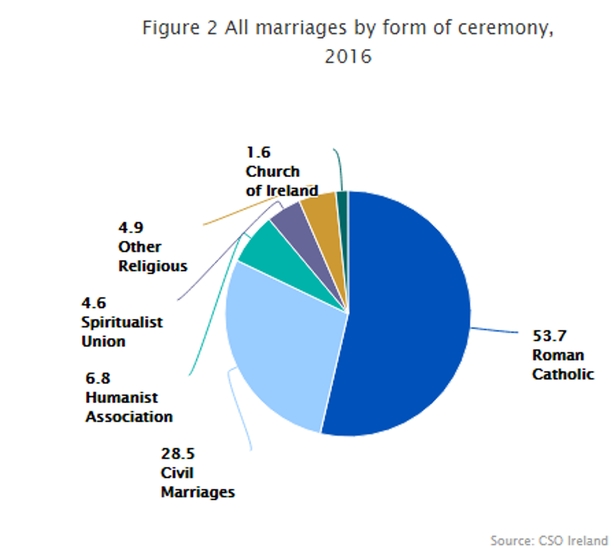 Same-sex marriage was legalised in November 2015, and that year there were 91 marriages. This rose to 1,056 in 2016.
In same sex marriages the average age of a man was 40.5 years, and female 41. The CSO says that over time it is expected these ages will fall.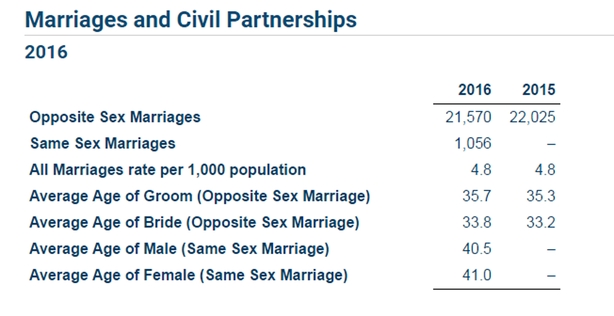 The average age of heterosexual couples continues to rise - in 1966 the average groom was 29 years old, and in 2016 he was 35.7; for brides the average age has moved from 25.7 in 1966 to 33.8 in 2016.
There is also been a consistent rate of marriage in Irish society - it remained steady between 1864 to 2016 at 4.8 marriages per thousand people.
The CSO also reports that July is the most popular month for heterosexual marriages, while same sex couples prefer September. Sunday is the least popular day for a wedding.