Poll suggests gap between FG and FF has narrowed
A new opinion poll suggests that Fine Gael would get a bounce in support if either Simon Coveney or Leo Varadkar became the next leader.
The Ireland Thinks poll for the Irish Daily Mail also suggests that Fine Gael would do slightly better under Mr Varadkar.
More than 1,200 people were interview between 27 February and 3 March, just after Taoiseach Enda Kenny came under pressure to stand down following the disclosures concerning garda whistleblower Maurice McCabe and Tusla.
The findings on the state of the parties down Fianna Fáil at 27%, down 4; Fine Gael down 3 at 25%; Sinn Féin at 17%, down 1; Labour at 5%, down 1; AAA/PPB (before AAA name change to Solidarity) at 3%, down 1; no change for the Green Party at 3%; Social Democrats are up 2 at 4% and Independents/Others are up 5 at 15%.
---
Flanagan in Luxembourg for foreign affairs meeting
Minister for Foreign Affairs Charlie Flanagan is due to attend a meeting of EU Foreign Affairs Ministers in Luxembourg today.
This will be the first meeting of the Foreign Affairs Council since the UK formally triggered Article 50.
Syria, Yemen and Libya are on the agenda.
Minister Flanagan will also have bilateral meetings with his counterparts from Sweden and Estonia focusing on preparations for the upcoming Brexit negotiations.
---
Croatian president in state visit to Ireland
Croatia President Kolinda Grabar-Kitarović is in Ireland for a three-day state visit.
She planted a tree at Áras an Uachtaráin this morning, and will be guest of honour at a State dinner in the evening.
It is a return for the State visit to Croatia by President Higgins in 2013 - just weeks before the country's accession to the European Union.
---
Thousands rally in Hungary in support of Soros-founded university
Thousands of Hungarian and foreign students, professors and civilians rallied in Budapest yesterday demanding the government withdraw legislation that could force a university founded by financier George Soros out of the country.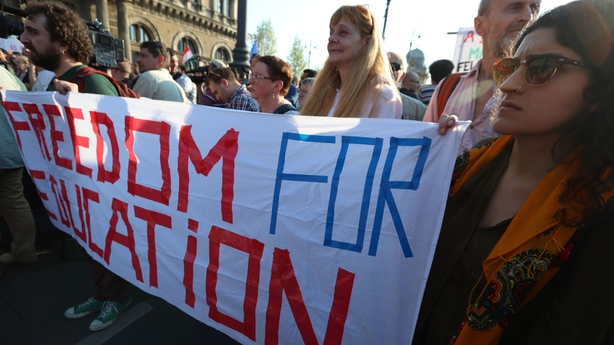 The demonstrators, who walked from Budapest's Corvinus University to the Central European University (CEU) founded by Mr Soros in 1991 and then to parliament, said the bill was an attack on freedom of education.

Parliament is due to discuss the bill this coming week.

Prime Minister Viktor Orban, an outspoken critic of liberal civil organisations funded by Mr Soros, said on Friday that the CEU had violated regulations in awarding its diplomas, an allegation that the college had firmly rejected as false. The CEU said it operated lawfully and was accredited to award Hungarian and US degrees.
---
Leopard briefly shuts down Nepal airport
Nepal had to close its only international airport for around half an hour today after a leopard was spotted close to the runway.
A spokesman for the airport in Kathmandu said wildlife and security officers were searching for the animal, believed to be hiding in the drains, after it was spotted by a pilot.
One international flight was delayed but no other flight was scheduled during the closure.
In the past birds have posed serious safety problems at the single-runway airport, although stray cattle and dogs have also been known to disrupt flights.
---