Senior gardaí ordered an examination of more than 13 months of garda whistleblower Sgt Maurice McCabe's activity on the force's Pulse IT system on two separate occasions between 2012 and 2014, according to confidential documents seen by RTÉ's This Week programme.
However, Garda Commissioner Nóirín O'Sullivan (below) has denied that this constituted "monitoring" the whistleblower's use of the Pulse system, letters seen by RTÉ show.
Both documents were submitted late last year to a review headed by Judge Iarfhlaith O'Neill, into two protected disclosures made by Sgt McCabe and Superintendent David Taylor.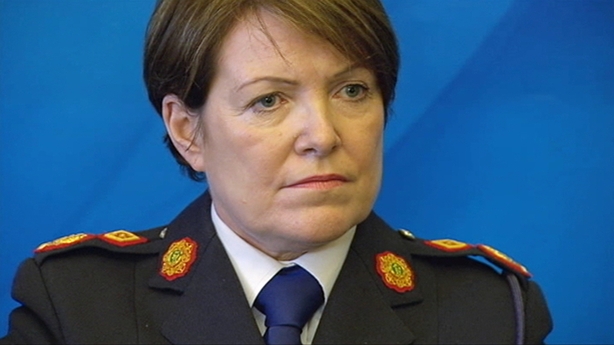 One of the allegations made by Sgt McCabe was that his Pulse use was "monitored".
According to a document submitted to Judge O'Neill by the Garda IT Planning unit, two retrospective examinations of audit logs relating to Sgt McCabe's use of Pulse was conducted by the Garda ITC Information and Analysis unit.
It stated that both requests for this data was ordered by a senior garda.
That document does not state why the retrospective review of the whistleblower's Pulse use was carried out.
The letter from the IT planning unit is dated 11 November 2016. It says that all details of Pulse user searches and updates are recorded in what are called Pulse audit logs, and that any requests for details in these logs must be processed by the Garda ICT Information Analysis Service.
It says that two such searches of the audit log on Pulse specifically relating to Sgt McCabe were requested.
The first request was made on 4 June 2013, and as a result, the relevant data was extracted by the Garda Information Analysis Service three days later, covering Sgt McCabe's use of the Pulse system for the period from 14 December 2012 to 4 June 2013.
The document then goes on to detail a second request relating to Sgt McCabe's use of Pulse.
It includes a significant crossover of the earlier request.
The second request resulted in a search of Sgt McCabe's Pulse logs over the period of 1 December 2012 up to 8 January 2014.
It is understood garda management is entitled to request access to a member of the force's IT user logs.
In a separate letter to the judge, dealing with the same subject, the garda commissioner denied a claim made in Sgt McCabe's protected disclosure that there was any "monitoring" of Sgt McCabe's Pulse use, according to her response to the review conducted by Judge O'Neill, a copy of which has also been seen by RTÉ's This Week.
Commissioner O'Sullivan told Judge O'Neill that both retrospective searches of Sgt McCabe's use of the Pulse system were ordered in 2013-2014 to see if Sgt McCabe was complying with a direction issued by then Commissioner Martin Callinan, that Sgt McCabe should not have unauthorised or unsupervised access to Pulse.
She said she had no role in that particular issue but she became aware of it because at least one of those requests to the garda IT unit was also circulated to her office at the time, when she was deputy commissioner in charge of Operations.
She also pointed out to Judge O'Neill that out that she had removed any curbs from Sgt McCabe's access to Pulse when she took the role of acting garda commissioner in 2014 following Mr Callinan's departure.