Army called to deal with suspect device in Offaly
An Army Bomb Disposal team has made safe a suspect device that was discovered on open ground in a business park in Tullamore, Co Offaly.
A number of houses were evacuated for a time this afternoon as a precaution.
The Improvised Explosive Device (IED) was removed to a secure military installation for further examination. A garda investigation is underway. 
---
31 workers convicted over killing at Indian car plant
An Indian court has convicted 31 workers over an outburst of deadly violence at a car plant in 2012, including 13 for murder, during one of the country's worst episodes of labour unrest.
The court cleared 117 accused who were also facing charges of murder, arson and rioting after hundreds of workers clashed with managers over wages and appointments at the Maruti Suzuki factory in Manesar.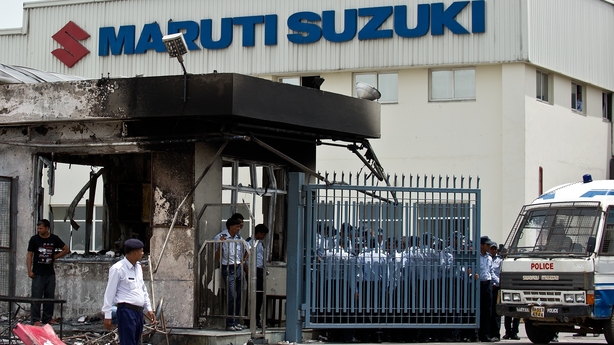 The hearing in Gurgaon, on the outskirts of New Delhi, found 13 workers guilty of murdering Awanish Kumar Dev, whose charred body was found in the remains of a building following the riots in July 2012.
The court will announce the sentences next Friday.
---
Bus Éireann talks to resume on Monday
Talks at the Workplace Relations Commission aimed at averting industrial action and insolvency at Bus Éireann will resume on Monday, after being adjourned early this morning.
Unions had threatened to mount an all out indefinite strike from last Monday if the company proceeded with unilateral cuts in pay and conditions which management insisted were required to prevent potential insolvency at the loss-making firm.
However, the strike action was deferred when management agreed to postpone implementation of the cuts to permit talks at the WRC.
It is understood that at the WRC, Bus Éireann management and unions have been trying to establish where efficiencies could deliver savings, but sources said that process was proving to be "extremely complex".
---
Spain confirms atypical mad cow case - OIE
Spain has confirmed a case of bovine spongiform encephalopathy (BSE), commonly known as mad cow disease, in the northwestern province of Castilla y Leon, the World Organisation for Animal Health (OIE) has said.
Routine testing showed a positive result for atypical BSE type L disease in a tissue from an animal in a cattle farm in Horcajo Medianero, near the town of Salamanca, the Paris-based OIE said, citing a report from Spain's agriculture ministry.
Widespread cases of mad cow disease hit cattle herds in Britain and other European countries in the 1990s.
The so-called atypical cases have occasionally been detected in recent years and can lead to temporary trade restrictions.
---
Paper proposes increasing training levy on employers
The Departments' of Education and of Public Expenditure and Reform have begun a consultation process on proposals that employers pay more towards the training of workers and future workers.
A consultation paper published proposes that an existing training levy on employers be incrementally raised from its existing 0.7% of employee earnings to 1% by 2020.
This would deliver an additional €200 million in additional funding from employers.
The levy would be paid into the National Training Fund and used by both the higher and further education and training sectors.
---
.africa joins the internet
In the beginning was .com, followed by a host of other .somethings, but today, 32 years after the world's first domain name was registered, the African Union has launched .africa for the continent.
Africans who want to register a website will be able to apply for a .africa domain name in the coming months, which outgoing AU commission chair Nkosazana Dlamini-Zuma said would allow the continent's people and businesses to better reach the world.
"With .africa, I would say Africa has finally got its digital identity," said Dlamini-Zuma, who will next week hand power to Chadian Foreign Minister Moussa Faki Mahamat after four years at the helm of the continental body 
Sub-Saharan Africa has one of the lowest rates of internet penetration in the world, according to the World Bank, with only around 22% of people online compared to the global average of 44%.