An Irishman and a French woman have spoken of "waves the size of buildings" after being rescued from a terrifying ordeal when their yacht capsized in bad weather off Australia.
Nick Dwyer, 55, and Barbara Heftman, 44, were sailing from New Zealand to Sydney as part of a circumnavigation of the globe when disaster struck.
Treacherous seas broke their rudder then rolled their 12-metre boat, forcing them to activate an emergency beacon on Tuesday.
Irishman Nick Dwyer says he is extremely grateful after being rescued from his capsized yacht off the coast of Australia pic.twitter.com/l1YkSGejsC

— RTÉ News (@rtenews) March 9, 2017
A New South Wales police vessel responded, battling six-metre swells and gale force winds on a 13-hour voyage to reach the yacht and safely haul the pair on board.
"We encountered enormous seas, waves the size of buildings coming at you constantly, winds that you can't stand up in, seas breaking, whiteness everywhere," Mr Dwyer told reporters after abandoning ship and arriving in Sydney late Wednesday.
"We weren't sure whether we were going to be rolled again and each time a wave hit, we thought 'is the one that's going to take us?'"
It wasn't really until we got capsized that we felt we really couldn't survive this one without assistance.
He added that it was the worst weather they had ever encountered on their decade-long global adventure, calling their rescuers "absolute heroes".
Police Sergeant Paul Farquharson told the Australian Broadcasting Corporation the couple was overjoyed to see the rescue team.
They'd been bobbing around on a 40-foot boat for the last four days and spent the last ten years at sea so to hop on board our boat was a bit of a luxury for them.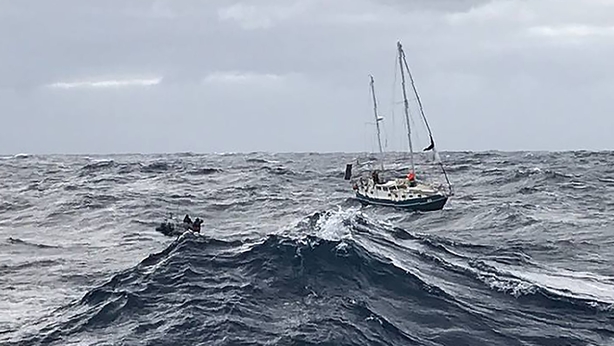 Mr Dwyer's sister, Sarah Byrne, told RTÉ's News at One that her brother and Ms Heftman were both seasoned sailors and the experience was unlikely to be put them off from returning to the sea.
She also said that the couple are hoping to retrieve their boat 'Val' but "we don't know if that is actually going to be achievable ... but even if they don't, I'm sure they will continue living the dream in another boat."