A postman who was savagely attacked by a German Shepherd dog as he delivered post in Dublin has been awarded €103,000 at the High Court.
James McCreary, 53, from Rush in Co Dublin has three permanent scars on his leg and suffers from post traumatic stress disorder since the attack in October 2014.
He told the court he feared for his life during the attack.

Warning: This report contains an image some viewers may find distressing
The court heard he had previously warned the dog's owner to keep him inside as he appeared to be vicious and would frequently bark at him while frothing at the mouth.
He had been assured by the owner that the dog would be kept in.
On the day of the attack, the gate was left open at the house in St Margaret's in Co Dublin.
When Mr McCreary went to the back of his van to get the post for delivery he was set upon by the dog who knocked him to the ground.
In the witness box, Mr McCreary said it was a cliché that postmen were bitten by dogs adding "it's often a joke but this was no joke".
The court heard he was initially attacked in the chest area but managed to push the dog off.
The dog then grabbed his leg, knocking him over again.
Despite hitting and kicking the dog repeatedly he could not free himself.
The owner's son pulled the dog off him.
He managed to drag himself back to his van and was taken to hospital by ambulance.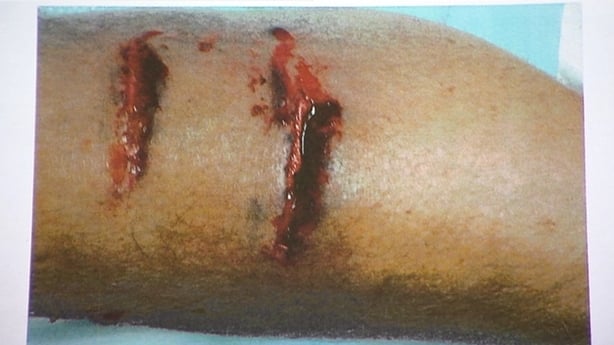 He suffered severe wounds to his leg.
The court was told dog bites cannot be stitched or sealed and must be left open.
His leg then became infected and he required daily treatment for two months followed by treatment every second day for a further month.
He has three permanent scars on his leg, the largest measuring five centimetres.
The court was told he suffers from post traumatic stress and anxiety and has a fear of dogs now while going about his work as a postman.
He also suffered from flashbacks and is hypersensitive to cold weather in the area of his scars.
He said the dog was "not just going in for nip, he was not going to stop."
He said he could not get the dog off him despite hitting and kicking as hard as he could.
"I have no doubt if that man had not come along I would not be here today. There is no way the woman who owned him would have been able to get him off me."
He also said he could not help thinking about children who passed by the house to go to a nearby school and that it could have been a child who was attacked.
"There was no way a child would have survived that attack," he said.
It was put to him that the dog had been destroyed hours after the incident.
This did not offer him any comfort because, he said: "I don't blame the dog, I blame the owner".
He sued the dog's owner, Sheelagh Morris from Mill Head, St Margaret's Co Dublin for negligence, breach of duty and nuisance in the ownership and management of a dog.
Liability was accepted and the case came before the court for assessment of damages only.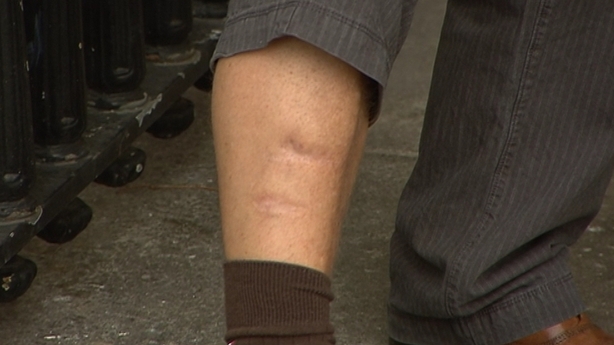 Mr Justice Kevin Cross said Mr McCreary was a pleasant and truthful witness who had suffered significant injuries from the attack.
"He will be left with scars and the memory of what occurred for the rest of his life," the judge said.
While the injuries were not catastrophic, they were significant and warranted significant compensation.
He awarded him a total of €103,000.
In a statement afterwards, Mr McCreary's solicitor Dermot McNamara said his client was "relieved" following the decision in today's case.
Mr McNamara added that "postal workers cannot defend themselves against dogs who attack however many precautions they take.
"Dog owners have a responsibility to keep their pets under control at all times.
"In this case, a momentary lapse resulted in Mr McCreary suffering significant and permanent injury."